JEFFERSON CITY, Mo. — The Missouri Department of Agriculture hosted an event celebrating FFA Week on Feb. 19 at the state capitol in Jefferson City.
Gov. Mike Parson spoke to a group of FFA students about the opportunities and challenges they faced as the future of agriculture.
"You guys are going to have the daunting task of figuring out where do we go in Missouri," he said.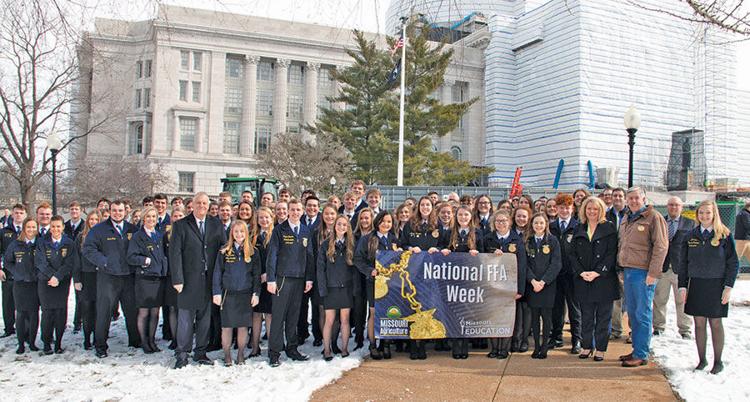 As part of the day's festivities, Parson paid homage to the FFA Week tradition of "drive your tractor to school day" by driving his tractor to work, traversing the few blocks from the governor's mansion to the state capitol building in a John Deere tractor. Missouri FFA President Paxton Dahmer, from Nevada, Mo., rode along.
The governor, who raises cattle in southwest Missouri, said it hadn't been long since he was on a tractor.
"I was asked, 'When was the last time you drove a tractor?'" he said, "and I said, 'Sunday.'"
Parson said the young people in FFA could play a crucial role in talking about agriculture and helping the industry connect with people outside it.
"You're going to have to tell our state, and also this country, why agriculture is important," he said. "You are the ones who will tell the story, you are the ones who will make a difference for our state going forward."
The governor, who issued a proclamation in honor of FFA Week, said one of his goals was to make sure there are lots of paths to succeed in agriculture.
"I will do everything to make sure agriculture is supported going forward, so you can have the same opportunities that I had," Parson said.
Missouri Director of Agriculture Chris Chinn, a northeast Missouri farmer, said the state's FFA students were the future of the industry.
"The future of Missouri agriculture lies in the hands of these students," Chinn said. "It's important that we invest in them as young leaders now so that they can invent the next agriculture technology, return to the family farm or help us share the story of Missouri agriculture."