DECATUR, Ill. — With current commodity prices, paying the right rental rate for farmland may mean the difference between making a profit this year and not.
Land rental prices and popular farming practices were among the topics of interest at the Illinois Society of Professional Farm Mangers and Rural Appraisers annual meeting in Decatur, Illinois, on Feb. 7.
It may be difficult to get a handle on what that right price should be in a specific area. One new tool available to farmers, landowners and farm managers is tillable.com, said Jamieson Potter, vice president of the website, based in Chicago, who was a guest speaker at the ISPFMRA event.
The goal is to help farmers and landowners determine fair market price for rent. It's also meant to give farmers an opportunity to expand their operations by learning about land that is available, he said.
Tillable.com founder Cobette Kull had a friend who inherited Wisconsin farmland and didn't know what price he should be asking for it. The inheritor's mother had been receiving $50 an acre in rent, but upon researching it, he found the going rate for that area was actually $150 per acre, Potter said.
"Landowners lose an estimated $8 billion because they undervalue their land," the website states.
On the other hand, it may the farmer who has been overpaying for land.
"It's kind of like the Kelley Blue Book for land rentals," Potter said of the website.
Farmers may be using the USDA county average, but that average might not be right for certain soil in certain areas, he said. Or farmers may need to factor in costs of certain practices, to prevent soil erosion or control weeds for example.
Certain landowners and farmers consider these sustainable practices a priority, said Megan Baskerville, manager of the Upper Sangamon River Watershed for the Illinois chapter of The Nature Conservancy. She demonstrated to farmers how cover crops and reduced tillage can lessen soil and nutrient losses in rain events.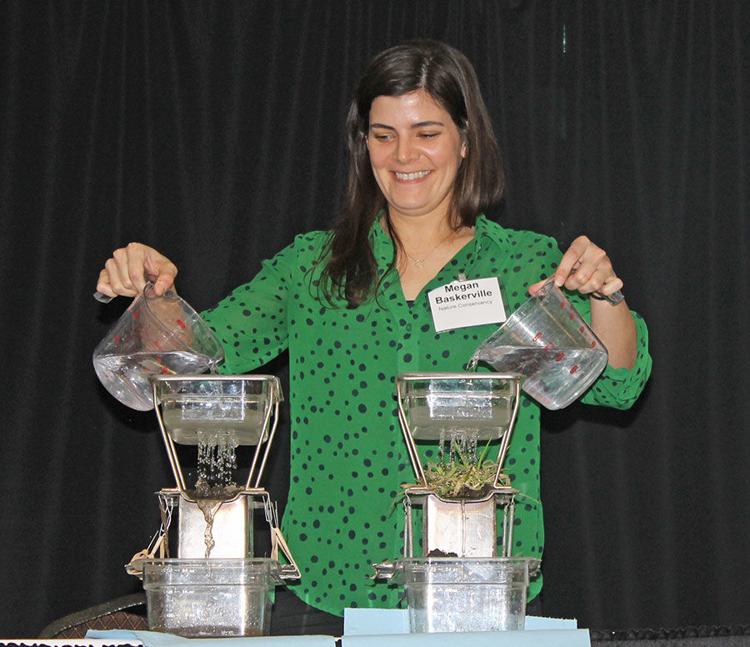 Some farmers are joining the STAR program, a system where they can take credit for the conservation practices they use. Started in Champaign County, it promotes practices that align with the Illinois Nutrient Loss Reduction Strategy, she said. Today 20 counties across the state are using the program.
The STAR program is field-based. A field earning five of five stars through the program may be more desirable for farmers or other land buyers — a "competition edge," Baskerville said.
One farmer at the meeting asked if there is measureable financial value to farms that use conservation practices.
"The economics question is a very big one that multiple groups are trying to answer," said Jim Iserman, field manager for the Soil Health Partnership and an employee with the National Corn Growers Association.
He has been involved with field trials over the past five years which are trying to establish a baseline and measure the cost-benefit balance of various conservation practices.
Farmers and landowners will get an in-depth look at Illinois land prices and rental rates when the annual 2019 Illinois Farmland Values and Lease Trends publication is released March 21.