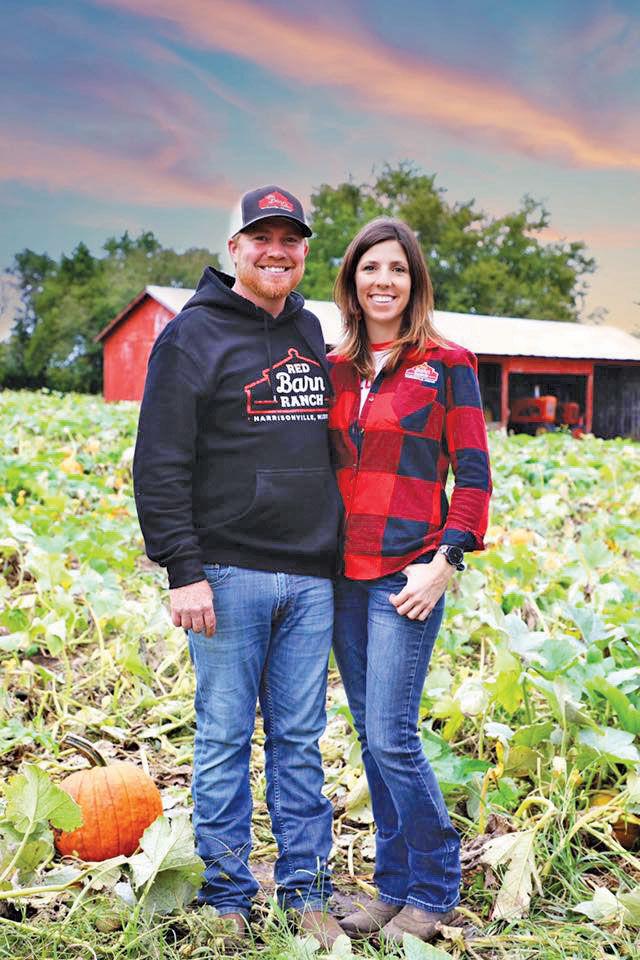 When Matt and Kelly Moreland welcome people out to their farm in Cass County, they want it to be a place that celebrates the history of farming and the ideas people have about farm life. Matt Moreland says their agritourism operation, called Red Barn Ranch, embraces that farm heritage.
"We try to be everyone's vision or picture of grandpa's farm," he says.
Red Barn Ranch started as a u-pick pumpkin patch, and grew into a variety of activities, including a petting zoo, playground equipment built out of farm materials and live music on some days. Moreland says the farm has six buildings built from 1918 to the early 1930s, and it is a diversified farm.
"We are a working farm," he says. "I raise cattle, hogs, corn and soybeans, and of course I grow the pumpkins."
Moreland says he didn't set out to have an agritourism venture, but it grew into one.
"We sort of got into this accidentally," he says.
He bought a farm in the area where his family farms, and it had several 3- to 5-acre paddocks that had been part of a rotational grazing operation.
Moreland took some fences out, but he thought about what to do with the paddock closest to the house. He didn't want cattle right in the backyard, and it seemed like a fairly small area to be turning around large modern planting equipment. He is involved with the Missouri Corn Growers Association and Missouri Farm Bureau, and he remembered talking with other farmers about how growing pumpkins was a good option for small acreages.
The first year he grew pumpkins was 2013.
"We had a bumper crop," Moreland says.
He took some pumpkins to grocery and hardware stores in the area, but Moreland says none of them were buying because they had contracted the pumpkins they buy years in advance. With a lot of pumpkins and unsure how to sell them, Moreland says they came up with an idea. On a Wednesday in September they created a Facebook page advertising a pumpkin patch where people could come pick their own pumpkins starting that Saturday. The name for the venture came to them fairly quickly.
"All of the barns had just been painted red," Moreland says.
Just like that, Red Barn Ranch was born, and that Saturday several people showed up to pick pumpkins. The farm is located near Harrisonville, just south of the Kansas City metro area. That first day, Moreland says they saw the interest in getting out to a pumpkin patch, with one car coming from north of Kansas City.
"Somebody had driven over an hour to a business that was created virtually just four days before," he says.
One carload looked around and asked where the activities were. Moreland says he quickly realized people expected other things to do when they visited a pumpkin patch.
"Before we opened for our second weekend, I wanted to solve this problem," he says. "I didn't want to let anybody down."
Moreland utilized a large open lean-to on one of his barns, put mulch down, and built a hay tunnel. He took water tanks and filled one with corn and another with cotton seed hulls they had bought to feed dairy cows. He also built a slide.
Visitors would ask what the cotton seed hulls were, as no cotton is grown in Moreland's area, and that was the starting point for him to talk about his farm. He mentioned dairy cattle, and that led to questions about hormones in milk and antibiotics. These conversations about food and farming continued, he says.
"We'd start out talking about hormones in milk, and end up talking about Monsanto and GMOs," Moreland says.
He says they did not push the conversations or ag education aspect of the business, but rather let it happen naturally as they interacted with visitors.
"People came out to pick pumpkins," Moreland says. "That was kind of the byproduct, ag education. I enjoyed talking with the customers, engaging with them."
The Red Barn Ranch tries to add new activities and events each year, and Moreland says all games and play areas are built from products used on the farm, like a grain truck slide, a silo slide or a swing-set hung on a center pivot irrigation system. They also have a small tractor pulling a barrel train, as well as antique tractors on display. The stage for live music performances is an old silage wagon.
"Every single thing we build out here is an education opportunity," he says.
Moreland says many visitors to the farm come from the city and suburbs, including several school field trip groups, although they also draw people from the more rural areas to the south. He says he enjoys having a venture that he can have more control over, as opposed to the regular farming part of the operation where weather and price fluctuations provide several wild cards.
He also enjoys the conversations with people, and getting to be creative and find ways to repurpose things on the farm into ways to have fun.
"Everything we do has to be made out of agriculture," he says. "I enjoy the challenge."