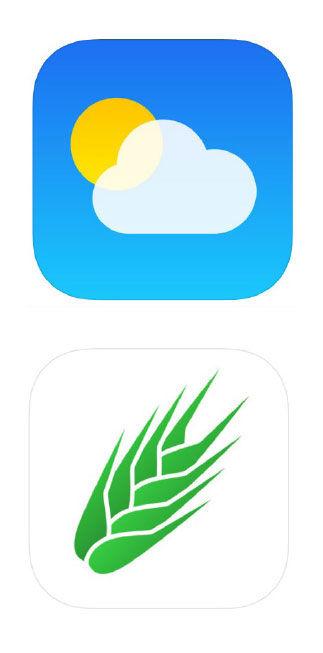 For farmers in 2019, smartphones and web applications, or apps, can help them run their operations, learn about what's going on in the world and the markets, and stay connected with other farmers.
"From GPS mapping to prescription farming to weed management and markets, mobile devices are an integral extension of the office," says Becky Frankenbach, Missouri Corn Merchandising Council director of communications. "Just like all other industries, farmers are depending on the latest apps to monitor, aggregate and analyze data, to make smarter business decisions and stay informed of today's rapidly changing events. We don't see this trend changing anytime soon."
The uses for apps and smartphone technology are as varied as the types of farming operations. Christine Tew, director of communications for the Missouri Soybean Association, says technology innovations drive agriculture.
"And with advances in technology reaching into nearly every area of our lives, it's especially interesting to see how farmers use a broad range of apps to get the job done — from managing farm inputs and records, to staying connected to other people and keeping an eye toward the latest news and markets," Tew said.
Farmers use Amazon to check prices and see deals available on supplies, and social media like Snapchat to share photos of fields with other farmers and Twitter to see what's going on and hear from other farmers across the country. Farmers can also remotely control pivots and irrigation with apps, as well as robotic milkers on dairies.
Weather apps are some of the most popular for farmers, especially during spring planting. Examples include Accuweather, NOAA, Weather Underground, Windfinder, Weather-
Link, Weatherbug, Storm Radar, eWeather HD, The Weather Channel, the iPhone weather app and Wind and Weather Meter for records and data.
Farmers can search for and download apps on their phone or tablet. Some are free and others range in price.
Here are some other popular apps for farmers:
HP 12C Financial Calculator: This app helps farmers handle the numbers side of the business, including calculating loan payments, cash flow and amortization.
AGP, POET, ADM, other grain elevator and market apps: Cash bids and grain price information, including futures and market info.
Pandora: For finding music to listen to during long hours in the field.
Amazon: The modern-day Sears, Roebuck catalog, where farmers can buy a wide variety of products. Some farmers also mentioned using Amazon for music.
Fertilizer Blend Calculator: Helps farmers quickly calculate fertilizer blends and potential costs.
Ag PhD apps: These apps provide information on a variety of topics, including nutrient deficiencies, modes of action, corn diseases, soybean diseases and soils.
FarmLogs: Helps farmers create grain marketing plans and field records. It also monitors rainfall on different fields, which farmers say is particularly helpful when operations are spread out over many miles.
ID Weeds: This University of Missouri Extension app helps farmers identify weeds and how to combat them.
Performance Beef: Helps producers track feed deliveries and cost, as well as other farm data.
GPS Fields Area Measure (or other GPS apps): This field evaluation tool helps calculate distance between objects, determine property lines and find out the exact area of a field. Can use GPS apps if GPS in tractor quits working, or if not every tractor has a GPS monitor.
Climate FieldView: Collects and stores field data, monitors and measures impact of agronomic decisions on crop performance. Farmers can use it for mapping, field records, yields and planting prescriptions.
Pocket Spray Smart: Shows wind speed and direction while spraying and keeps records.
Encirca: Provides satellite imagery and nitrogen tracking.
Wind & Weather Meter for Ag: Helps keep spray records.
Granular: Helps keep application records.
Cattle Market Mobile: Helps cattle producers monitor current auction prices across the U.S. Can also view commodity futures pricing.