Stop for lunch at any country café across the Midwest, and you're bound to find a parking lot packed with farm work trucks of every vintage and brand — Dodge 3500s, Ford 350s and Chevy 2500s to name a few.
Many are outfitted with steel flatbeds stacked with feed and minerals or attached to a gooseneck livestock trailer. (And seems there's always one or two rigs with a Border Collie standing guard.) No doubt, when it comes to farm and ranch equipment a reliable, rugged work truck is as essential as a tractor.
But unlike tractors which are made by a handful of manufacturing giants, the work-truck bed conversion industry is highly fractured with dozens of fabricators scattered across the Corn Belt and Southern Plains. This highly competitive market has spawned a tremendous number of work bed configurations, styles and spec-levels.
The simple steel flat bed, however, continues to be the mainstay among farmers, according to Randy Meyers, business development manager at Hillsboro Industries, a leading maker of work truck beds located in Hillsboro, Kansas.
"We introduced a new hybrid aluminum/steel model a couple years ago and it has really taken off," said Meyers.
Designed for snow country and other corrosive environments, the hybrid design features a heavy-duty steel top deck with aluminum used extensively in the corrosion zone.
As new heavy-duty trucks have become pricier and more difficult to source, more folks are choosing to convert their older, high-mileage three-quarter and one-ton trucks into flat-bed workhorses.
"A lot of farmers and ranchers might have an older truck around — from the '80s and '90s. And while the original bed might be rusted and battered, if the engine and transmission are still good then it makes economic sense to repurpose the truck with a new flat-bed," Meyers said.
The cost for a new Hillsboro flatbed generally runs between $3,000 to $10,000 depending on the model and added features, according to Meyers. Utility boxes mounted on top or beneath the bed are popular. So is the gooseneck trailer conversion kit.
Paul Zimmerman, owner of Zimmerman Truck Bodies located in southeast Iowa, has also seen a surge in flatbed conversions. Zimmerman, who has been manufacturing truck bodies since 2013, said, "In order to spec the right truck body it's important to understand how the truck will be used. Will the customer be using it mostly to pull trailers, or using it primarily to haul loads of pallets, seed bags or other material?"
One of Zimmerman's most popular models among farmers and ranchers has been the XL 6000. It comes standard equipped with underbed storage units (ideal for storing DEF or cattle ear tags), a 30,000-lb.-rated B & W turnover gooseneck ball welded into the frame and a 20,000-lb.-rated weld-in rear hitch.
Cattle producers have long relied on bale forks mounted to the pickup bed to haul round bales. Now dedicated bale beds are gaining traction throughout cattle country.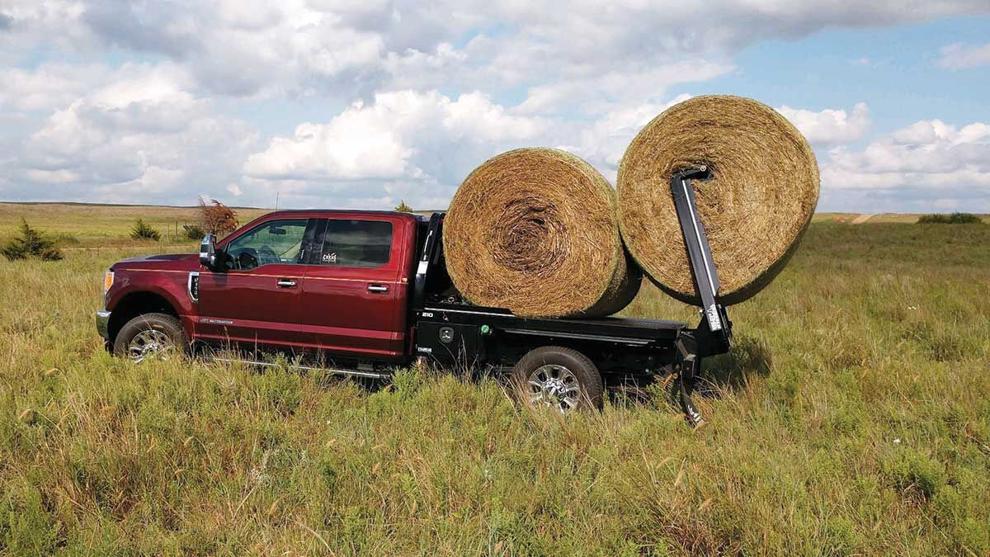 "Bale beds are becoming more popular in places like southern Iowa and Missouri — areas with high numbers of cow-calf producers," according to Corey Cress, owner of C5 Mfg. in Kingman, Kansas, one of the leading producers of bale beds.
"A large percentage of cattle producers also have a 9-to-5 job and like the convenience and faster feeding that a bale bed provides over a utility tractor for transporting and unrolling bales."
"The lack of new trucks has had a significant impact on our business over the past 18 months," said Logan Wilson, sales specialist at Future Line Truck Bodies, a truck bed manufacturer and dealer in Cedar Rapids, Iowa, that represents Knapheide, Rigby and other prominent truck-bed brands.
"Like farmers everywhere, our customers are careful with their money and most opt for the steel models. But our younger farmer customer like their trucks to look good and they prefer the all-aluminum bodies," he said.
Like so many other businesses, the truck-bed conversion industry has been hit with supply bottlenecks, component and labor shortages and hefty price increases for raw materials. With 14- to 16-week production lead times for new flat-beds, Wilson advises customers to "order their work bed at the same time they order their new truck."
Just one more item to add to your early order list.
---
Rick Haun has more than 35 years' experience writing about ag and industrial equipment, much of that time with John Deere. He resides in Shawnee, Kansas.