There are stretches along I-80 in Iowa and Illinois where you can drive for miles and not spot a single acre of alfalfa — nothing but an immense sea of corn and beans stretching on seemingly forever.
Still, you might be surprised to learn that according to 2021 USDA data, Iowa produces more than 1.1 million acres of hay, while its neighbor Missouri grows some 3.1 million acres, making it the second-leading hay producer in the country. (Texas is tops with more than 5 million acres.)
So, if you're a farmer, livestock producer or custom harvester where haymaking makes up a serious chunk of your operation, there's a long and growing list of manufacturers vying for your business.
That's especially true for round balers where there's been a fresh crop of new and improved models introduced over the past year or so. Here's a quick recap of a few of the latest entries in this highly competitive market.
After years of gathering feedback from producers throughout the U.S. and Canada, German hay tool maker Krone has introduced its first round baler engineered for North American fields and conditions.
As the first Krone baler designed with belts, the new VariPack baler produces dense, high-quality bales, makes the most of short haymaking windows and delivers more "R" in ROI, according to Krone press materials.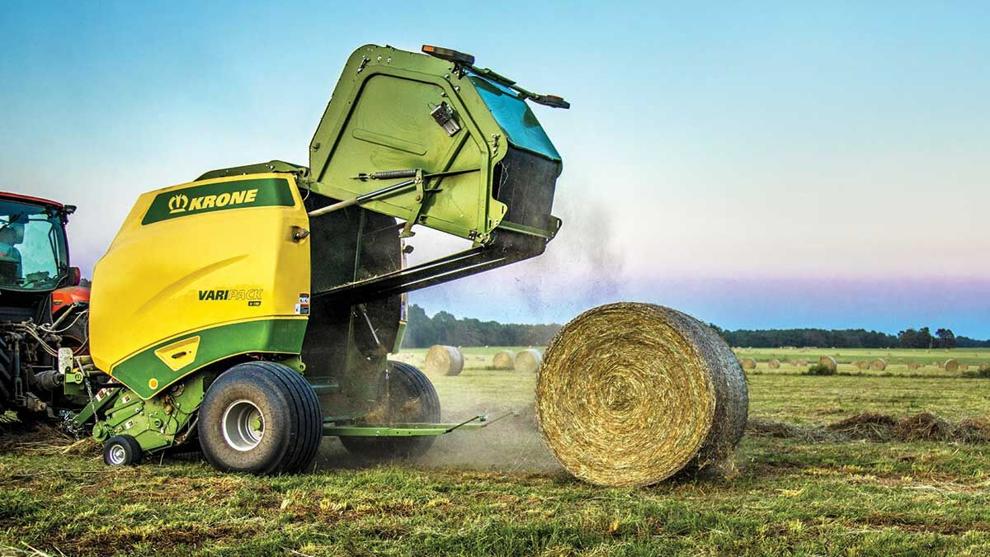 Start with the exclusive bar chamber design. It features four belts with a smooth surface and closely spaced rollers which provide fast bale starts and consistent hay density as the chamber fills.
Operators can select from three densities from 0 to 100% for the inner, middle and outer section of each bale. For example, choose a looser bale core that can breathe and denser middle and outer layers to maintain the desired bale form for better transport and storage.
This new baler also features Krone's EasyFlow pickup — a camless design that provides high crop flow to the bale chamber. This 7-foot-width pickup handles wide windrows while a pivoting, spring-loaded suspension allows the pickup to ride over uneven terrain, reducing crop loss. And a quick 5-second gate cycle ejects bales fast, maintaining a brisk haymaking pace.
The VariPack is available in 4x5 or 4x6 models The Model 165 produces bales from 3- to 5-foot diameter and the Model 190 from 3- to 6-foot diameter. Both units let you change bale diameters on-the-go.
Case IH has also added a new member to its popular RB5 series of balers. The Case IH RB565 Premium HD has been updated to more efficiently handle wet hay, while offering the versatility to handle wet silage to dry hay to straw and stalks.
"More and more producers are baling wet hay due to shorter production windows and added feed value," said Brian Spencer, Case IH hay and forage marketing manager. "To accommodate those customers wanting to produce baleage in a 5x6 bale, we added the proven, robust design of our 4-foot silage baler to our 5-foot baler with some additional features."
Building on the larger platform and improved bale-ejection system of the RB5 series, the RB565 offers a higher-torque cutout clutch, larger main gearbox with heavier output shaft, beefier main drive chain, sprockets and chains — heavy-duty updates designed to improve bale density.
And for producers looking to relieve the stress and strain of long days in the hay field, the RB565 can be equipped with Case IH Baler Automation. With this system, once the target bale size is reached, the tractor stops, the bale is wrapped and ejected automatically.
The operator then simply moves the tractor shuttle lever to the forward position and resumes baling. Baler automation is compatible with Puma or Maxxum tractors with a CVX drive, PowerDrive powershift or ActiveDrive 8 transmissions Kubota also continues to expand its line of hay tools and has recently introduced new rakes and disc mowers along with a new BV5160R round baler and the new WR1600C, a high-capacity, high-speed wrapper.
"With the BV5160R, we have expanded our 5160 range to meet the increasing demand for our customers who are looking for a premium ISO, high-capacity silage and dry hay baler," said Justin Fuhrman, Kubota product manager for hay implements.
"The BV5160R doesn't need a chopping system so it allows for higher capacity capable of handling high moisture silage as well as dry crop." 
The WR1600C offers dual wrapping and twin film binding with a high-speed turn table that offers more capacity and output than previous models. 
And in other hay tool news, John Deere has announced that it has established an allied agreement with Mike and Jason Grady of Twin Pak to better serve existing and future John Deere small square baler customers in the United States.
The high-output Twin Pak baler — designed by custom hay harvesters Jason Grady and his father Mike — can deliver 85% of the tonnage of a large square baler and can produce up to two to three times more bales than the fastest small square balers on the market.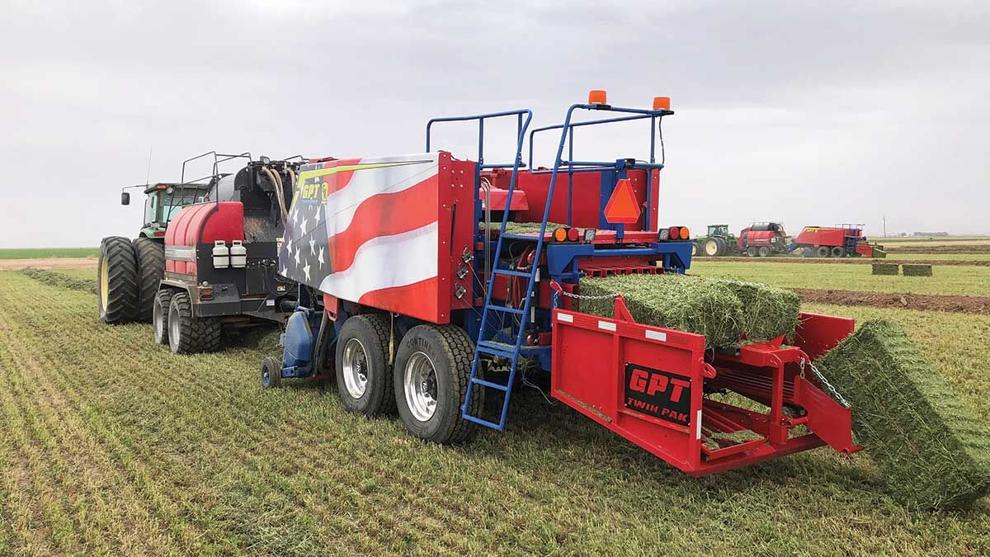 As part of the agreement, select U.S. John Deere dealers will begin distributing Twin Pak-branded three-string balers beginning in 2023 with plans to further expand distribution as capacity expands.
---
Rick Haun has more than 35 years' experience writing about ag and industrial equipment, much of that time with John Deere. He resides in Shawnee, Kansas.