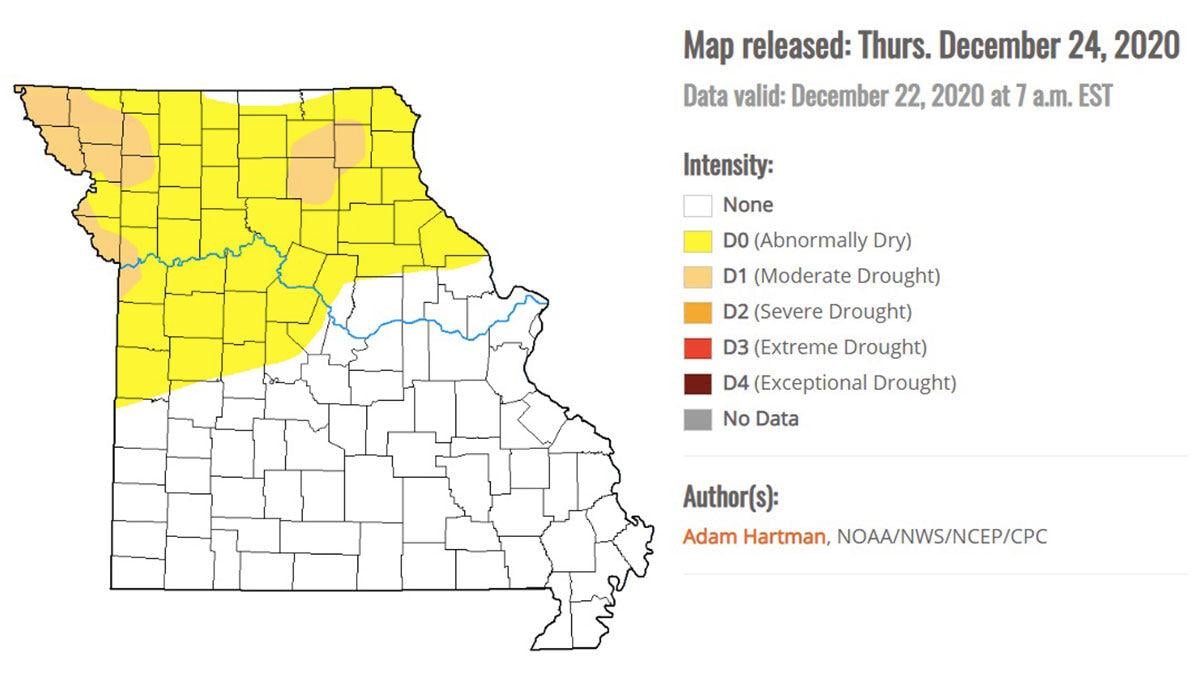 Missouri weather can be difficult to predict, but University of Missouri atmospheric sciences professor Tony Lupo is watching some weather trends to see what they might mean for 2021.
One of those trends is the below-average precipitation during the fall and early winter. Lupo says continued dry weather patterns could set the stage for significant drought next summer. But for now, he is expecting the first few months of the year to produce more normal levels of precipitation.
"I think that January and February are going to be a little colder, and we might see a little more snow than we've seen in December," Lupo says.
Looking at Dec. 1 to March 1 as the winter period, Lupo says temperatures overall in Missouri have been above normal, with a little below normal precipitation. He expects that to change to start the new year, with colder weather and more snowfall.
"The pattern may change in the early part of January," he says.
Those winter snows, or any precipitation in the winter months, serve an important role for farmers.
"This is the time of year we like to recharge the soil," Lupo says.
The possible change from the dry weather pattern is needed, or Lupo says it could set the stage for challenges ahead.
"If we don't change or start getting more precipitation in the spring, we could be looking at a very miserable, hot summer. That's possible if we don't see much change in the pattern," he says.
Predicting the long-term shifts in Missouri's weather can be tough because a lot of it can depend on shifting La Niña or El Niño conditions in the Pacific Ocean. These conditions refer to sea surface temperatures, and Lupo says they are "the 800-pound gorilla of seasonal forecasting."
Right now Lupo says it is a weak La Niña situation.
"Transitioning to El Niño, that tends to be better for our summers, with lower temperatures and more precipitation," he says.
Lupo says it is more important to see which direction the process is moving than simply whether conditions are El Niño or La Niña.
"That's what makes predicting summer so difficult, you have to go with the direction of the transition rather than El Niño itself," he says.
As for this current winter, Lupo says it's looking like a more normal winter after some ups and downs.
"The last two winters have been pretty snowy," he says. "That followed a series of winters, three consecutive winters, where we were well below normal. I think this winter will continue that trend with normal or near-normal snowfall."
For mid-Missouri, 15-20 inches of snowfall in a winter is normal, Lupo says, with northern parts of the state receiving more and southern areas receiving less. The state sometimes has wide disparities in annual snowfall.
Beyond El Niño and La Niña, Lupo says jet stream conditions play an important role in long-term forecasts. Since Missouri is situated near the middle of the continent, it can experience a wide variety of effects from the jet stream.
"Missouri is in the worst place of all (for long-range forecasting) in the U.S., because we're about right in the middle," Lupo says. "You could see a ridge trough or a trough ridge formation, and we could be affected by a western trough or eastern ridge, or vice versa. Missouri is really the most difficult place to make long-range forecasts."
Speaking in late December, Lupo said in about another month he and other forecasters should have a better idea what Missouri's summer will look like.
The federal government's National Weather Service is currently projecting a spring of above-normal temperatures in Missouri, with an even chance of above- or below-normal precipitation, with eastern Missouri seeing slightly higher chances of above-average precipitation.
For the remainder of winter, the weather service is projecting an even chance of above- or below-normal precipitation in western Missouri, and higher chances of above-normal precipitation in eastern Missouri.
The weather service is currently predicting above-average temperatures with above-average precipitation during the summer months.