While much of the focus on biosecurity looks at farm traffic and hog movement, Derald Holtkamp says a dirty pair of boots can cause as much trouble as a dirty trailer.
Holtkamp, a veterinarian and professor at Iowa State University's College of Veterinary Medicine, says early results from a project funded by the Iowa Pork Producers Association beginning in 2012 indicated employee and visitor entry into a hog building were major contributors to disease outbreaks.
"The project was put together to help improve outbreak investigations and to find a better approach to biosecurity," he says. "We looked at doing things the same way every time so we didn't miss things."
Holtkamp says many sow buildings were constructed nearly 30 years ago, and while those buildings have showers, they were inadequate when it came to keeping pathogens out of the facility.
"They are often very dirty. You see towels on the dirty side of the shower," he says. "That clean/dirty line has been violated."
Shoes are a major culprit. Holtkamp says employees enter a building, walk down a hall and enter the shower area with their shoes on.
"It wasn't uncommon to see this," he says. "You bring in a lot of dirt and other things on your shoes."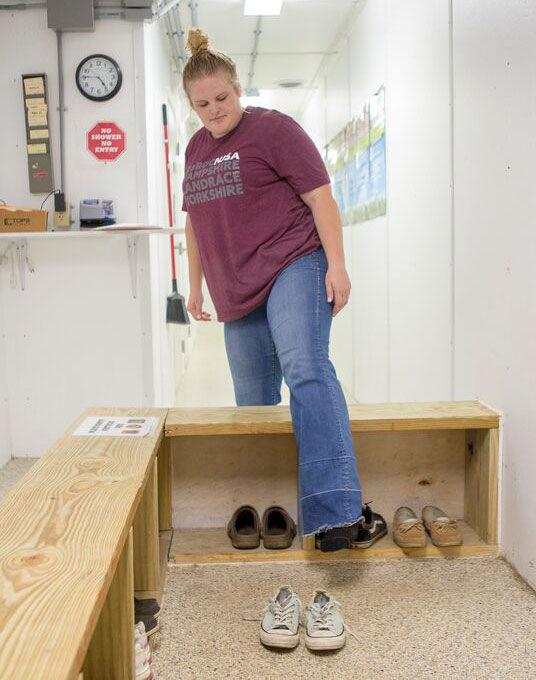 A simple solution, he adds, is placing a bench in the hallway. Employees can remove their shoes then swing their legs to the other side of the bench before entering the shower area.
"That's your first line of separation," Holtkamp says. "We can create layers of protection. It doesn't cost a lot of money or take a lot of time."
Hog producers continue to address biosecurity issues, says Abbey Canon, a veterinarian and director of communications for the American Association of Swine Veterinarians.
She says even the best operations can improve, with the goal of keeping pigs and products moving.
"Every farm is different, so any biosecurity program needs to be site-specific," Canon says.
She says the Secure Pork Supply program offers advice on addressing biosecurity concerns. It can be found online at www.securepork.org/.
Canon says swine veterinarians are constantly working with their clients on biosecurity protocol. She says they are focusing on the smaller details as well, such as the prospect of bringing in pathogens on jewelry or watches.
She likens the process to a castle.
"The farm is the castle, and that first line of separation is a moat surrounding the castle," Canon says. "There is no way to cross the drawbridge into the castle unless you control everything that is coming in and going out."