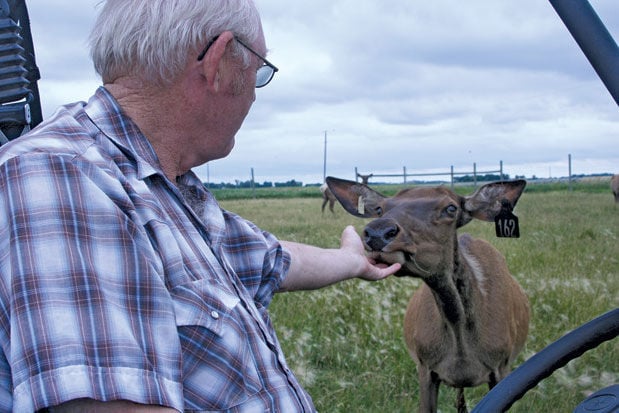 Comparing elk to raising beef cattle, producers say elk require less feed and less land and are generally less expensive.
But there's one investment an elk producer needs for sure: a tall, sturdy fence.
The fence surrounding Wayne Kuper's property near Lennox, S.D., is the recommended 8 feet high.
After one night when his gate was left unlatched, some bulls from Kuper's herd spent the summer on the lam.
When elk escape, they can't be herded easily and rounded up like cattle. And despite the 8-foot fence, they will get out, Kuper said.
"It's not if they get out, it's when," Kuper said.
He failed to latch the gate after checking his bulls one Memorial Day weekend. The next morning, he found hoofprints in the driveway and knew something was amiss. When he and family set out looking for his herd, they found that some had made it to the Vermillion River near Davis about 12 miles away. They were able to round some up and bring them home in a trailer. Others had to wander their way back. A few roamed the countryside until Labor Day weekend. They came home in time for the rut.
Some never made it back.
Kuper said fish and game department staff spotted one of his animals in Minnesota east of Brookings, S.D. They never were able to catch it and return it to Lennox. Kuper suspects it was bagged by a hunter.
"I figure it ended up in the freezer someplace," he said.
Kuper, 66, has been raising elk since 1998. It's a venture he started before he got out of the dairy business. Milking was too much work, he decided, so at age 50 he sold his 60 cows.
Elk are pretty self sufficient. In the winter, he puts out a bale of hay for them about once a week and feeds them silage. When their water freezes, they can get their fill by eating snow. They don't require a building or even bedding. They prefer to lie in the snow, he said.
"They're pretty easy that way," he said.
The Lincoln County farmer also raises hay, corn, soybeans and some oats.
Driving through a pasture in his utility vehicle, Kuper tried to spot where the cows had hidden their new calves in the long grass. Like they do in the wild, mothers will hide their young for about a week after they're born, Kuper said. After that, the young ones follow their mother around.
The tall grass was a good cover on the overcast morning when Kuper drove through his pasture. He had no luck spotting the calves, but they were out there somewhere. When he returned later, three young ones were following their mothers around.
Last year, his cows had 19 calves. This year, there were only five calves by the end of June, and he didn't expect many more.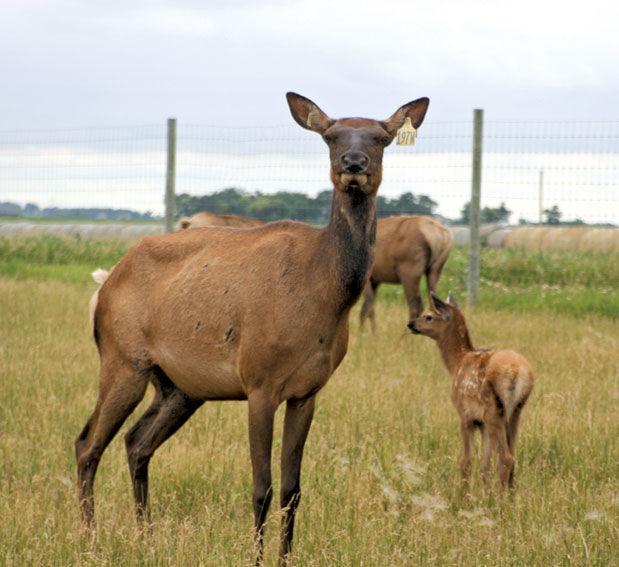 He said he isn't sure why birth numbers are down.
Breeding isn't the biggest part of his operation or his revenue stream. When prices were low, he didn't breed his herd at all.
The animals stay productive for a long time. Kuper pointed out one cow that was about 13 years old and still breeding. It's about that age when the animals typically are butchered for their meat.
In addition to butchering about a dozen cows from his herd, Kuper sells six or seven bulls each year as game animals to hunting businesses.
The most consistent source of income is the antlers. Elk shed their antlers at the end of February. By early June, they've grown tall again, and that's when they're harvested.
Kuper lifted his deep-freeze lid to show this year's take. The heavy, velvety antlers will be delivered to a company in Minnesota. Kuper said most of the antlers go to China, where they're used for their purported healing properties. They can be ground up and put in a capsule or thinly sliced and brewed as a tea. Such products have been known to help arthritis sufferers.
Kuper got into raising elk when it was a booming market. For the first few years, he was able to sell antlers for more than $100 per pound. The market slumped about 2002 when chronic wasting disease hit elk and deer. Kuper said it didn't affect most commercial elk herds, but it did bring down the price of antlers to $7 a pound.
There are 46 herds permitted in South Dakota, including elk, deer and antelope.
Lane Cammack has a small elk herd in Meade County in addition to raising beef cattle and bison. Like Kuper and many others, he said he got into raising elk partly for the novelty of it.
"Most everybody is wanting to try something a little different and try to make some money with it," he said.
Cammack, a member of the South Dakota Elk Breeders Association, said he has been raising elk for about 15 years. He currently has nine animals.
"They're kind of fun to watch," he said.
Follow reporter Janelle Atyeo on Twitter @JLNeighbor.