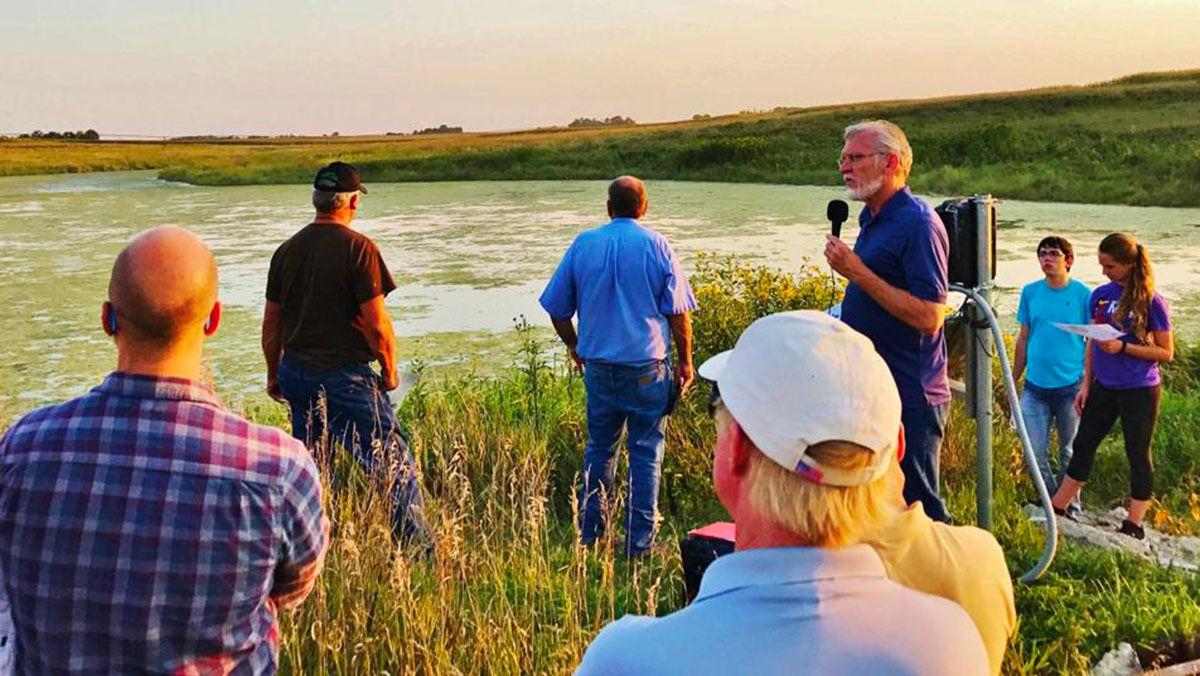 Fifteen years of wetland research by Iowa State University clarifies their performance as beneficial systems for reducing nitrogen pollution.
The research outlines the potential of wetland systems to improve water quality in agricultural landscapes. It also provides extensive data to better assess the costs and benefits of wetlands.
Even under variable conditions through many years, the wetland systems studied worked as expected and removed significant amounts of nitrate, said William Crumpton, professor of ecology at Iowa State University.
The Iowa Nutrient Reduction Strategy identifies wetland development as an integral conservation practice to achieve nitrogen-reduction goals, according to an ISU Extension news release. But with considerable variability among wetlands, there's a lack of information regarding how restored or created wetlands can impact water quality.
Between 2004 and 2018 the team monitored multiple wetlands subject to wide-ranging weather conditions. The nitrogen concentrations in water entering the wetlands also ranged widely, from almost zero to more than 50 milligrams per liter. Seventy percent of the daily inflows had nitrate-nitrogen values exceeding the drinking-water standard of 10 milligrams per liter.
All the wetlands had been drained and cropped. They were predominantly characterized by poorly drained and wet soils. Many had been restored through Iowa's Conservation Reserve Enhancement Program; they were designed to filter tile-water drainage from agricultural land.
Researchers found a 35% average reduction in nitrate loads for the 26 study wetlands, with pools ranging from 0.25% to 3.5% of their watershed area. The wetlands removed an average 1,340 pounds of nitrate nitrogen per acre of wetland per year.
The removal rates are substantially more than typically reported for Corn Belt wetlands, but they're comparable to smaller studies of systems receiving extreme nitrate loads.
The results of the study show substantial capacity of wetlands to reduce nitrogen loads in a broad range of weather and loading conditions. An additional benefit of the research has been to build more-accurate models to predict expected wetland performance in tile-drained areas. That can help farmers and conservation planners balance costs with likely impact.
The prediction model is based on three factors:
concentration of nitrate entering the system.
water temperature — microbes process nitrate more quickly in warmer water.
wetland's hydraulic loading rate.
Nitrate-removal efficiency for the wetlands studied ranged from 9 to 92%. That was primarily due to a wide range in hydraulic loading rate.
Nothing can be done about the first two factors, so the main thing to adjust is the hydraulic loading rate. That's basically the size of the wetland compared to the amount of water it intercepts. By adjusting it, researchers can predict the nitrate reduction expected from a wetland of a specific size receiving drainage from a specific area.
A wetland's ability to reduce nitrate can be enhanced by improving hydraulic efficiency. That means providing more contact time and minimizing short-circuiting of flows between the inflow and outflow. Newer Conservation Reserve Enhancement Program designs are incorporating berms and pools to accomplish that. But that can add to the cost.
Even during extreme-rainfall periods when the time the water stays in the wetland can be quite short, a wetland can still significantly reduce the overall amount of nitrate headed to the stream. That's what matters most for water quality.
Models were applied to the Iowa Conservation Reserve Enhancement Program. It is estimated that wetlands restored in that program through 2019 remove more than 600 tons of nitrogen per year from their combined wetland pool area covering about 900 acres. The level of nitrate reduction achieved by the wetlands would be comparable to retiring about 44,000 row-crop acres.