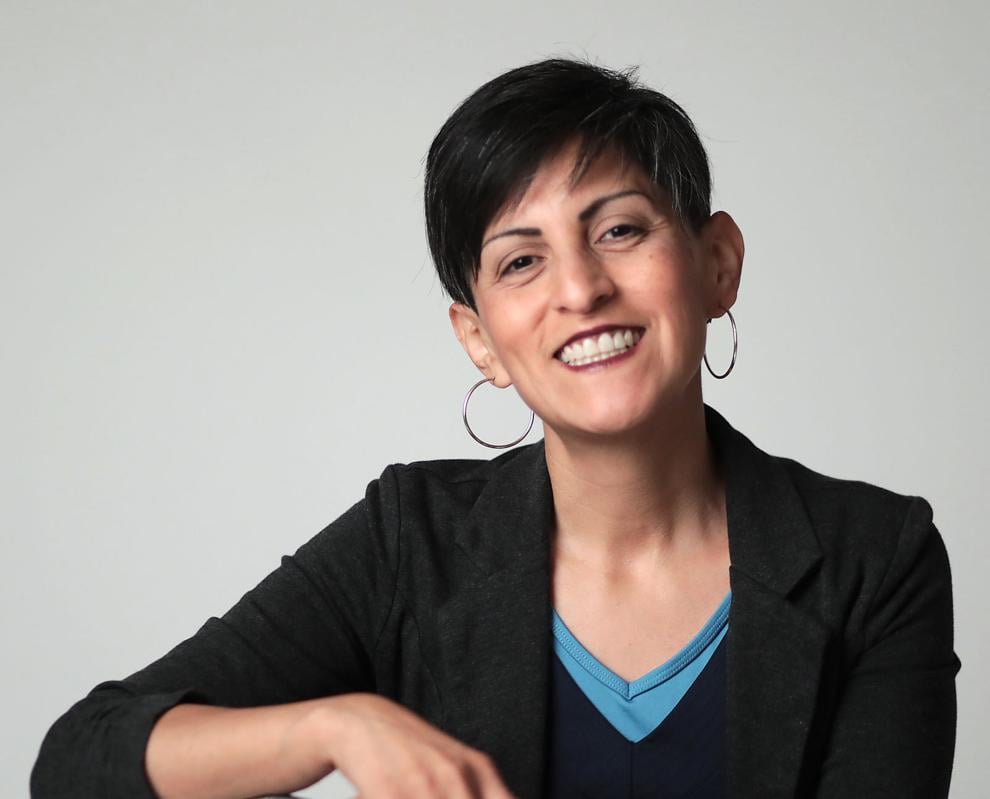 For the past few weeks, I've been meeting up with powerful women in Madison — from politicians to business owners, health care workers and academics — and we all remarked on how teeth-gnashingly hard the past 19 months have been for moms, daughters, sisters and female partners.
During the quarantine we were doing our full-time, out-of-home jobs, plus: Fighting rising hysteria about our family's health, keeping the fridge and cabinets stocked with food, cooking, making sure the house didn't breed small rodents and bugs and, in some cases, being a full-time teacher to young children.
The list truly goes on and on. Every single working woman I've spoken to in the past three weeks was ticked off when talking about how some people got bored during the COVID quarantines and subsequent closures. Others bragged about learning a new craft, getting in shape or catching up on their favorite TV shows.
But even among professional and working women without children, the specter of caring for family members, caring for themselves if they got sick, and simply carrying on has exposed the inequalities that women endure.
And while the disparities in house work and home-life labor are well-documented, things are no better at the office.
Women in the workplace just don't get their due. And even setting aside the issue of pay disparities, lots of women and men don't even see how unfair life is if you're born female because it's so entrenched in our societal consciousness. Hard numbers have an eye-opening effect, however.
The "2021 Women in the Workplace" report by LeanIn.org (the nonprofit that Facebook chief operating officer Sheryl Sandberg started in 2013) and the consulting firm McKinsey and Company, analyzed more than 400 companies and more than 65,000 employees in professional jobs from the entry level to the C-suite. The report found that the softer skills required to support employees' well-being and promote diversity, equity and inclusion (DEI) are being done disproportionally by women.
And those women aren't being recognized, or properly remunerated, for it.
I know, dear reader — I anticipated your resounding, "Duh, now tell me something I don't know."
Writing on the website of the Harvard Business Review, Marianne Cooper, a co-author of the report, called a lot of the very real and important labor that women do "office housework."
"The survey found that at all levels of management, women showed up as better leaders, more consistently supporting employees and championing DEI," Cooper wrote. "Compared to men in similar roles, women managers invest more in helping employees navigate work-life challenges, ensuring workloads are manageable, and providing emotional support. Women managers are also more likely to act as allies to women of color by speaking out against bias and advocating for opportunities for them. Finally, women leaders are also more likely than men to spend time on DEI work outside of their formal job responsibilities, such as leading or participating in employee resource groups (ERGs) and serving on DEI committees. Among women at the manager level and above, Black women, LGBTQ+ women, and women with disabilities are up to twice as likely as women overall to spend a substantial amount of time promoting DEI."
It'd be one thing if women in these formal and informal organizational roles — and the emotional labor, reserves of empathy and patience that such roles require — were well-compensated. After all, decades of research have consistently found that when organizations make employees feel like a part of an efficient and successful community, organizations thrive.
But this latest report says that, though company executives get industry-wide kudos for offering diverse, equitable and inclusive workplaces, women leaders are more likely to get exhausted and chronically stressed at work compared to men in similar roles.
Cooper wrote that more than half of women leaders who manage teams say that over the last few months they've felt "often" or "almost always" burned out at work. Almost 40% of them have considered downshifting their careers or leaving the workforce altogether.
(Many of them will actually leave their jobs — a serious problem for companies as the 2021 labor shortage transforms from concern to runaway train. Just this week the Labor Department estimated that 4.3 million workers voluntarily quit their jobs in August, up from 4 million in July. It is, according to economists, the most in the two decades the government has been keeping track.)
Only about a quarter of employees say that the extra work they're doing is formally recognized either "a great deal" or "a substantial amount." What happens is that stereotyped gender and race roles reduce work by making efforts seem like intrinsic personality traits instead of skills.
For instance, Cooper explains, "When a woman manager provides team members with emotional support during a time of societal crises, it can be overlooked as 'caretaking' instead of being recognized as strong crisis management. When a Black woman manager hosts a panel on anti-racism in the wake of racial violence, she can be applauded for her 'passion' but not rewarded for her time, leadership, or DEI acumen."
And yet, organizations from businesses to universities and nonprofits benefit from all that unacknowledged "office housework." All the soft touches that women bring to their jobs result directly in reports of increased employee well-being, increased job happiness and likeliness to recommend their company as a great place to work. Those who work in such organizations report being less burned out, and less likely to consider leaving.
Women perform all kinds of vital, indispensable work (whether it happens in an office or anywhere else), and they don't whine about it. What they do is help other women claw their way up to "the top" and then push for research to name and shame this behavior.
If you are not a woman and you're reading this: Feel suitably horrified. And then do something. Literally anything you can do to take a task off a woman's to-do list will come back to you five-fold if you're just willing to see women's time as having equal value to men's.
White folks must help end pot prohibition
Beloved white people: Your neighbors of color need you out in the streets.
If the past few years have taught us anything, it's that politicians pay attention when citizens protest in large numbers.
And, if you'll recall, one of the defining characteristics of the protests against police violence last summer was the remarkable presence of white people out in the streets. Sometimes they stood beside people of color, sometimes behind them, other times they went so far as to form human shields to block police from harming Black demonstrators.
It's been over a year since people of all ages, ethnicities and races protested in the streets to ask local law enforcement agencies to stop automatically treating people of color as dangerous suspects who deserve the least slack and the harshest handling.
At the time, it was said that white people were so passionate about protesting because they were the likeliest to be home, quarantined, and have the free time to understand the complex issues surrounding how police treat people of color in this country.
Today, things are looking grim.
Most people are, basically, back to their pre-pandemic activities, including work, and that naturally results in fewer people having the bandwidth to think outside their own life bubble.
That's human.
But, beloved white people, we people of color need you.
Case in point: Last Sunday, about 100 or so people (myself included) marched from the UW-Madison Library Mall to the Capitol to protest our fine state being an island of prohibition of marijuana.
Let's say that, considering COVID concerns, the Great Midwest Marijuana Harvest Festival was decently well-attended. Billed as "the longest running cannabis legalization rally in the nation, and quite possibly the world," I was interested to see who would show up.
The crowd was, as you'd expect, older and there was a lot of focus on health and safety concerns, i.e., access to medical marijuana and safe legal weed for those without documented medical needs for cannabis.
I marched with a sign that read, "Marijuana is medicine." Other signs said, "Stop wasting police resources on weed," "Marijuana is safer than alcohol," and "A plant is not a crime."
There was much talk of votes "counting" and of not letting the criminal justice system suck people in because they use non-prescribed weed to manage anxiety, depression, pain and a whole host of other ailments.
But I saw only one hastily drawn Black Lives Matter sign.
Yet, legalizing pot would be such an important step toward keeping young men and women of color out of the pipeline to prison.
"As the conversation around the country centers on policing, criminal and racial justice, and social equity, the topic of the War on Drugs must play a central part," John Hudak, a senior fellow at the Brookings Institution wrote on the Brookings blog. "For decades, the War on Drugs has been a tool to target Black and Brown Americans and change life trajectories in those communities for millions of people."
Hudak's book, "Marijuana: A Short History," was updated and re-released in 2020. It "highlights how politicians across the political divide spent much of the 20th century using marijuana as a means of dividing America. By painting the drug as a scourge from south of the border to a 'jazz drug' to the corruptive intoxicant of choice for beatniks and hippies, marijuana as a drug and the laws that sought to control it played on some of America's worst tendencies around race, ethnicity, civil disobedience, and otherness."
Worse, Hudak says that although cannabis usage rates between whites and non-whites is similar, Black Americans are arrested for cannabis offenses at a rate of nearly 4:1, compared to whites. And in a nation with nearly 700,000 cannabis-related arrests each year (a number that was over 800,000 a few years ago), these policies affect an enormous number of Americans."
Really there's no easy fix to the legacy of drug criminalization policies because there are few programs in place to right past wrongs or to offer record-expungement for low-level cannabis offenses. There are even fewer checks in place to ensure that business owners of color in communities of color are able to reap the benefits of being able to sell marijuana legally in their own neighborhoods.
There are so many angles to consider, they're far too many for this column. But the point is that it's usually very simple to be an active and helpful ally to people of color in these matters.
Whatever your particular political triggers are — access to abortion rights, legalization of cannabis, gerrymandering and voting restrictions — consider going the extra step and reading about how that particular issue affects people of color.
You can also, as the Syracuse University guide to being a "better" ally suggests, listen more to people of color, gently call fellow white people out on their biases, let people of color lead discussions and get comfortable with discomfort.
Most importantly, though, is showing up. When white people show up for people of color — whether to march in a protest, donate funds, sign petitions, call politicians or do other anti-racism work — it gets noticed.
White Madisonians: You are well-meaning, you are potential allies and you want to help. So get out there and represent for what — and who — you believe in.