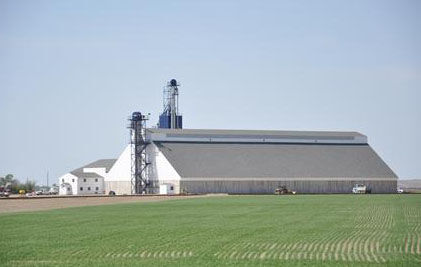 October is National Co-op Month, where the benefits and services a cooperative provides for its members are recognized. There are thousands of agricultural co-ops across the U.S.
An example of an ag co-op in Montana is Ag Partners, LLC, which has several locations in eastern Montana.
Ag Partners Co-op is a joint effort between Agland Co-op, based in Wolf Point, Mont., and CHS Farmers Elevator based in Circle, Mont. The two co-op businesses came together as one co-op to address challenges in agriculture.
"Over the last few years, the ag industry has become more volatile, especially in sectors dealing with supplies of crop inputs such as fertilizer, seed, and crop protection products," said Brandon Babb, general manager of Ag Partners, LLC. "Both Agland Co-op and CHS Farmers Elevator saw the need to address some serious challenges that would surface in years to come – staying competitive, offering quality products and timely services, and ensuring an ample supply of fertilizer for farms in the region."
Their many locations in eastern Montana and one in southwestern North Dakota include: Wolf Point, Vida, Brockton, Froid, Glasgow, Circle, Richey, Baker, Glendive, Mont., and Golva, N.D.
"We have many farmers that continue to use our services year after year because we provide the kind of services ag producers need in this region," said.
Babb said some of their services include agronomy services, fertilizer, seed, crop production products, services and all kinds of crop inputs.
"We work closely with farmers in our region and make recommendations about seed varieties, soil fertility products, and growing their crops in a way that helps them benefit from higher yields and crops that are protected from pests," Babb explained.
In addition to the service it already provided, the co-op built the Hub Fertilizer Plant facility on a rail loop that benefits all its locations.
First co-op in nation
The first co-op was started in Philadelphia in 1752. It was a mutual fire insurance company called the Philadelphia Contributionship for the Insurance of Houses from Loss by Fire. The business was started by Benjamin Franklin and is still in operation today.
In 1867, ag and rural cooperatives started being formed. The Grange organized stores to sell goods and clothing and general farm supplies to local farms and ranches and rural homes.
Iowa began utilizing grain elevator co-ops around that time, as well.
During the 1890s and through the 1920s, some 14,000 farm co-ops were operating.
National Farmers Union and the Farm Credit System started. Electric co-ops and telephone co-ops flourished.
In agriculture, co-ops range from wholesalers, purchasing co-ops, to grain elevators and oil products' co-ops.
It was established that members have general responsibilities toward their co-op. They should patronize their co-op, stay informed, be conscientious when selecting and evaluating directors, provide necessary capital and help evaluate the performance of the co-op.
Babb at Ag Partners said farmers are welcome to call and see what Ag Partners has to offer.
For more on Ag Partners in Wolf Point, see http://www.agpartners-llc.com/index.cfm, or talk with a representative at their locations.