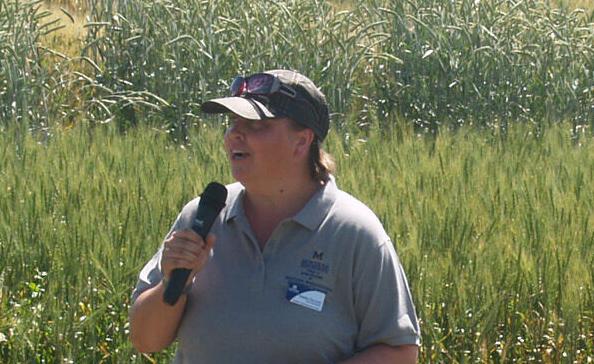 When a producer finds patches of yellowing in a pea field, it could lead to yield loss, especially if it is Fusarium.
"When you have a problem, you'll go out to your fields and you'll seed yellowing starting at the base of your plant," said Frankie Crutcher, plant pathologist at Montana State University's Eastern Ag Research Center.
Crutcher talked about the effect of long-term rotations on root rot control.
"While there are lots of root rots, Fusarium tends to be severe and causes major losses," she said.
Producers will find plant germination issues, excessive weeds, and poor canopy establishment.
"There are a lot of weeds because they are unable to be choked out by the pea plant," Crutcher said. "If you pull that plant up by the roots, you will see a decrease in nodulation, root volume, root vigor and less secondary roots."
With pea and lentil acres a major part of rotations in the Montana/North Dakota region, root rot diseases have also increased.
"Montana is the number one pea and lentil producer in the nation, followed closely by North Dakota, which is number two," Crutcher said. "Root rot pathogens have been found in these systems."
Audrey Kalil, NDSU Williston Research Extension Center plant pathologist, asked Crutcher to join her in a rotation study on the impact of crop rotation and Fusarium and Aphanomyces.
"Audrey Kalil invited me into the project because I work a lot with Fusarium," she said.
The main types of Fusarium infections Crutcher is finding in the study include: Fusarium root rot, Fusarium avenaceum, and Fusarium solani f. pisi.
In mature plants, Fusarium will show as stunting, gradual yellowing of plants, lodging, and reduced crop uniformity. At the very end of the disease, there is decreased yield.
"That may be the first symptom farmers see when they are looking at their fields," she said.
Back in 2018, the Risk Management Agency (RMA) was considering eliminating pea/wheat, pea/lentil two-year rotations because of emerging root rot problems.
"They held a lot of public comment sessions and talked to a lot of scientists and the industry," she said. "What happened was there was a lot of disagreement over if it would be a problem in Montana's cropping systems."
Later that year, after public comment, the RMA decided it would not change the dry pea and lentil rotation statements for the 2019 crop year.
The USDA-ARS had conducted a lot of long-term rotation experiments, and the scientists decided to use those rotations to start the studies on root rots and rotations.
"We could see what was going on in the fields, similar to what farmers face in their own fields," she said.
At the beginning of the project, Crutcher thought that the rotation length and the previous crop would have an affect on root rot severity, population makeup, and species characteristics.
"We would expect to see more of those species with a tighter rotation and those species would have different characteristics that would impact those rotations," she said.
The scientists collected pea plants and rated them for root rot severity and isolated the Fusarium.
"We pulled the pea plants at flowering, a little later than Kalil did," she said.
They collected the pea plants, 15 per plot, and washed and rated the roots for root rot severity on a 0-5 scale.
"A scale of 5 would have completely rotten roots," she said. "Even so, the foliar part could still be alive because peas are able to hold more water, but the plant is still stunted and not healthy."
Crutcher also identifies the species of Fusarium in each of the pea plants pulled in the study.
"Once we identify the species, we can identify it for aggressiveness and other characteristics important for disease development," she said.
Why is it important to identify the species of Fusarium?
"Aren't all these Fusariums the same? The reality is they are not," Crutcher said.
The species diverged and now they are completely different. Each species responds differently to resistant varieties and treatments, including a different sensitivity to fungicides.
"The different species produce different mycotoxins that affect quality, such as head blight, and will affect your ability to market your crop," she said.
Some species will disseminate their spores differently, whether on the wind or in water or other ways.
Different species reproduce differently and require different environmental factors for infection.
"Knowing which species of Fusarium is in a complex helps us make better recommendations," Crutcher said. "It will give more information to breeders to help them with their variety selections."
It will also help fungicide companies look at different pathogens and be able to focus fungicides for different regions that are having problems.
Fusarium can be easily "confused" with other diseases, so Crutcher wants to examine how it reproduces and is looking at several structures on it, which will help to identify Fusarium and the species correctly.
They are making morphological, as well as molecular identifications.
"We want to make a molecular identification and sequence DNA to make sure the identifications match," she said. "It can be difficult to do."
They have been working on the project for two years, and have not found a lot of statistical differences within the same field conducting the same studies.
However, in 2019, the effect of the previous crop on late-season root rot severity in pea caused by Fusarium solani f. pisi did show statistical differences.
Crutcher found that the average severity of disease in fields where the previous crops were durum and canola were higher in disease than when those previous crops were safflower and camelina.
"Camelina is a brassica crop, and there have been studies using camelina and other brassicas as a green manure to inhibit pathogens," she said. There has been some successes using camelina, depending on what is being looked at.
The scientists did not see any differences between the previous crops and disease in 2020.
They collected isolates for two years of pea only. In 2019, they had 468 isolates, and in 2020, they had 404 isolates.
"This can be quite time consuming," she said.
They found all three species of Fusarium present in the fields in both years.
"All the species are present, so that is kind of interesting," she said.
Kalil has added an additional rotation study with lentils and EARC may do the same in the future.