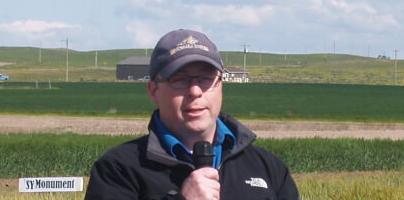 Montana State University's new spring wheat breeder, Jason Cook, begins his new role at the university already knowing a lot about Montana farmers, small grain farming in the state, and the MSU breeding program.
He previously held the position of assistant research professor at the university since 2015, where he helped support the spring wheat and winter wheat programs.
After a nationwide search, Cook was officially hired as MSU's tenure track spring wheat breeder on Sept. 1.
Cook grew up on a small grain farm near Big Sandy, Mont., in the state's Golden Triangle, where wheat is king.
"Growing up (there) helped me understand the needs of Montana farmers," he said. "Having familiarity with the environment and the growing conditions, things that people are concerned about, it's a huge advantage to me as a wheat breeder."
On the family farm, wheat was the main crop in the rotation.
"We grew primarily wheat on the family farm. Growing up, it seemed as if I was always curious about different varieties and what made them work – why some varieties performed better than others," Cook explained.
Around the farm, Cook's father would talk about pests like the wheat stem sawfly and how they impacted yields.
"The wheat stem sawfly – it comes and goes, but it has been in Montana for a long time," he said. "Sawfly is probably the biggest issue we have dealt with."
After high school, in 1999, Cook attended MSU Northern in Havre, earning an associate's degree in ag technology with a focus on agronomy.
"A lot of the people I went to school with in Havre are now farmers or work in the ag industry along the Highline up there. Just from that, I have a good network of people I know," he said.
He remains friends with many farmers he met at home and at different colleges. It gives him a direct line to some of the needs of farmers in the state.
From Havre, Cook went to Bozeman, receiving his bachelor's degree at MSU in plant sciences in 2001. He later received a master's degree in 2003 in plant sciences, also at MSU.
"I had the opportunity to get my master's here at MSU and then I had another opportunity to go to the University of Wisconsin for my doctorate in plant breeding and plant genetics," he said.
Toward the end of his doctorate program, Cook started working more with maize genetics.
"That led to me getting a postdoc (in August 2009) at the University of Missouri-Columbia, where the whole research program was focused on studying genetic diversity in maize," he said.
Maize allowed Cook to gain more tools for studying genes in plants.
"By having the opportunity to work in maize at first, it gave me a jumpstart on the tools that were coming on in wheat some 8-10 years later," he said. Cook pointed to the sequence genome and how that happened for maize much earlier than it happened for wheat.
"It took a while for wheat to be sequenced because it is a lot more complicated and much larger than maize is," he said. "By working in maize, it gave me the building blocks to be able to use the tools that came online later in wheat – tools we currently have available."
After that program ended in the fall of 2012, Cook went to North Carolina State University for more postdoc research with the same research team.
"I went to North Carolina because I wanted to learn more about statistics and they really specialize in that," he said.
In 2013, Cook had a unique opportunity to work for Monsanto, a major seed and ag products company.
"It was an incredible educational experience to learn how a very large commercial breeding operation works and get an opportunity to use their tools and learn how they use those tools, and what considerations they have that are different from a public breeding program," he said.
At Monsanto, Cook bred spring and winter wheat varieties in the Pacific Northwest, California, and Montana.
"We bred wheat for the entire western half of the U.S., and I got exposure to environments I never knew about. I learned what their issues are and the objectives they use for breeding their wheat," he said.
For example, in California, Cook learned there were different uses for wheat than just grain. California farmers included forage wheat in their rotations for use as high quality feed for their dairy cows.
Monsanto had some excellent technology that Cook was able to utilize, which include learning different ways of managing a breeding program that could help with eliminating errors.
"Having that background really helps me here at MSU when we see a problem coming up on the horizon and are looking for genetic resources that could help us develop varieties and solve problems early," he said.
In 2015, Cook began working as an assistant breeder at MSU.
"Eventually I got the opportunity to work in Luther Talbert's (former MSU spring wheat breeder) lab and that is where my work in wheat breeding and genetics really took off," Cook said. "In Luther's lab, I decided that wheat breeding was the career for me."
In his new role, Cook will now be leading a "really great" team of students and employees, including: Nancy Blake, MSU research associate; Hwa Young Heo, MSU research associate; Mei Ling Wong, MSU research assistant in the spring wheat program, who has been involved with the project since the 2000s; a few undergraduate students that work for the project through the fall, winter, and spring; and some students during the summer.
Also a part of the MSU spring wheat program is a new doctorate student, Jared Lile, who is focused on yield component traits and is "trying to understand the genetic architecture that is controlling it," Cook said. Lile will be co-advised by fellow MSU researcher, Jennifer Lachowiec.
A master's student, Paul Lorenzo, co-advised by Mary Burrows, MSU plant pathologist, also works in the department and is conducting important research.
"His project was started under Phil Bruckner (former MSU winter wheat breeder), studying wheat streak mosaic virus (WSMV) resistant genes and genes that are resistant to wheat curl mite, which is the vector for the virus," Cook said. "So he is studying resistant genes brought up from the Central Plains' winter wheat varieties to evaluate them here in Montana, and use them to develop varieties that will have resistance to WSMV."
What happens after the program acquires gene sources from Central Plains states like Kansas?
"We bring those varieties up and make a cross to our adapted lines, and that is how we transfer the resistant genes from non-adapted Central Plains material into the adapted Montana varieties," he said.
The spring wheat program works closely with the durum breeder, Mike Giroux, to conduct cereal quality analysis work and Cook also works with the Cereal Quality Lab, which is the lab they send all their samples to.
"We send our samples for milling and baking quality to the Cereal Quality Lab to make sure all our varieties meet the standards that we have for quality so it meets the needs of end-users," he said.
In addition, Cook and his program work closely with all the research centers.
In fact, working with Sidney's Eastern Ag Research Center's plant pathologist Frankie Crutcher led to the most recent spring wheat release. Cook released Sidney EARC's first hard red spring wheat with moderate resistance to Fusarium head blight.
For the future of the spring wheat breeding program at MSU, Cook hopes to continue to utilize many of the new and evolving breeding technologies that are available.
He enjoys getting feedback from farmers around the state – in fact, he attended field days at most of the research centers this past summer and spoke about the program.
"We want spring wheat varieties with better yields, better disease resistance, resistance to insects, such as the wheat stem sawfly, and ones that have great end-use baking qualities," Cook explained.
All new experimental spring wheat lines are put through years of testing in the field.
While they are always looking to increase the speed of breeding varieties, the "bottleneck" is that testing has to be done out in the field, and there is no skipping over the process.
"We have to ensure we have tested these experimental lines out in the field for enough years so that we have high confidence that we know how these varieties are going to perform," he said.
But the overall goal of the program hasn't changed over the years.
"We continue to develop and release new and improved varieties that have as complete a package as possible for farmers in Montana to grow and make their operations possible," Cook concluded.