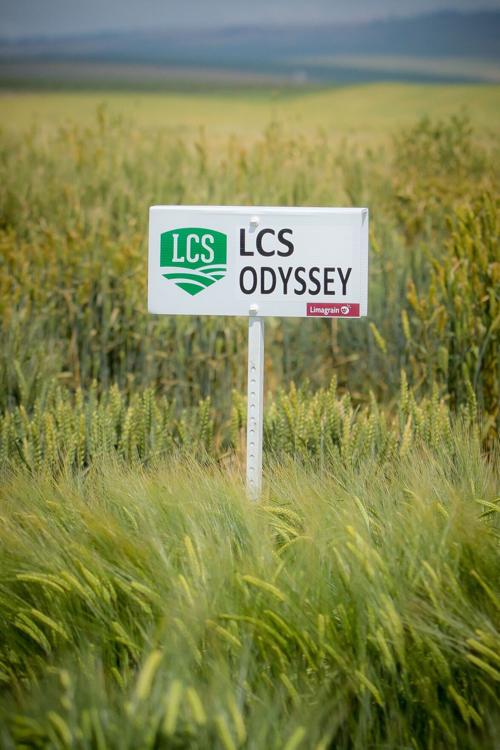 Limagrain Cereal Seeds (LCS) and German barley breeding partner, Breun, submitted six different barley varieties into Montana State University's 2020 spring barley variety trials. The six submissions performed extremely well across the different trial locations in Montana, and ultimately, all six LCS and Breun varieties ended up in the top spots.
The six LCS and Breun spring barley varieties were studied at eight dryland and two irrigated sites scattered all across Montana. Averaging the best across all of these locations was BC Leandra, dominating with a mean yield of 81.7 bushels per acre.
BC Leandra is a new variety from Breun's line of what they call "flexi-malt barley." In Germany, Breun has been working on developing barley varieties that can be successfully malted with less water use. These flexi-malt barley lines not only save the maltsters time and energy costs, they can also be more forgiving during the malting process.
"I can see BC Leandra being a barley variety the maltsters are really going to jump all over because there could potentially be some really significant cost and processing savings," noted Dr. Blake Cooper of American Farm Seed Services. Cooper works as a consultant for LCS to help expand their barley breeding program.
It is more than just maltsters that could find appeal in Breun's newest barley. BC Leandra, like all of the European varieties from Breun, has a shorter, stiffer straw then anything found in domestic varieties. The stronger straw allows the variety to hold up better in the field, mitigating lodging.
"These varieties, like BC Leandra, have really high yield potential, so they need that extra straw strength to hold up a heavy crop," Cooper added.
BC Leandra offers good disease resistance as well since it was bred over in Europe, a place that has more diseases then are seen here in Montana. Cooper did note, however, that BC Leandra was bred to withstand cooler European temperatures. Because of this, it is a later maturing, more full-season variety.
"Even though BC Leandra does not have the ideal maturity range, it starts out with so much more extra yield potential," he said.
A close runner-up in the trial was LCS Odyssey, yielding an average of 81 bushels per acre. Like BC Leandra, LCS Odyssey is more than just a powerhouse producer in the field. It too has traits that appeal to the value-added side of the industry.
LCS has been at the forefront of developing barley varieties that are low in glycosidic nitrile (GN), a compound that can react with other products while breaking down during the distilling process and produce an unfavorable by-product known as ethyl carbamate. Since LCS Odyssey is very low in GN from the get-go, it is proving to be an ideal base for making spirits.
In addition to being liked by distillers, LCS Odyssey also fits right into the wheelhouse of craft brewers because of its reduced enzyme production.  
Rounding out the remainder of the top four places in MSU's spring barley trials were LG Diablo, LCS Opera, LCS Genie and BC Ellinor, respectively. Cooper says the majority of the LCS and Breun varieties will be tested again in 2021, in addition to a couple new varieties. With their extraordinary yield potential coupled with their appeal to maltsters and distillers, the varieties tested this year make for a good option for Montana barley growers.