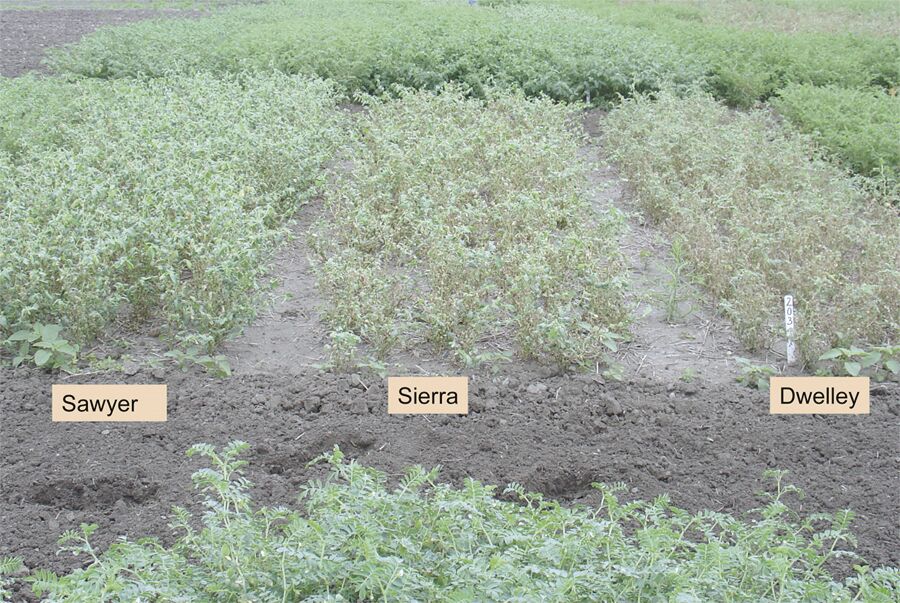 While Montana State University's pulse breeding program released its first-ever public green pea two years ago, PS0877MT457, producers are already looking ahead to the next release.
Crosses for public pulse varieties – peas, lentils and chickpeas – continued on in spite of the coronavirus pandemic this year.
"It is a young program here – we are in our fourth season," said Kevin McPhee, MSU pulse crop breeder.
Nevertheless, McPhee said he is aggressively moving forward with work toward new releases.
"I am happy where the program is right now, being more aggressive with moving forward and getting the pipeline filled up," McPhee said. "Within the next two years, we will see yield trials at the various research centers around Montana."
A year ago, McPhee said he "jumped the pipeline," pushing the schedule forward. From populations harvested in 2019, he made single seed selections.
"I selected those for characteristics such as seed size, shape and other characteristics we would see, and we planted 225 of the best seeds in the greenhouse," he said. "They are currently in the plant-rows program in the field. I am really quite pleased with them."
McPhee said the plant height varies with some of them being taller.
From the lines he has selected, there were some small greens, large greens, small reds and medium red lentil plants growing in the field this summer.
"It is pretty exciting to be at that stage," McPhee said.
Next year, he will have a large plot to see how the varieties perform.
"Some seeds I picked will hopefully fit the market and the end user," he said.
McPhee explained he has several things he has to work on at once with the pulse program.
"If you look at the pulse program, there is quite a lot of different objectives, a number of different studies we are working on, including protein content, end-use quality, pests and diseases, processing and harvest ease, and more," he said.
Looking at end-use protein is a big focus with the pulse industry, and McPhee has been making crosses just for that.
"We haven't tested a wide range of germplasm widely across the state to know if the pulses will be high protein in Montana, yet," McPhee said.
With yellow peas, he is looking at quality for fractionation.
"The next step is finding out what the functionality of the protein is that is within the legume. We need to know what we are looking for, and once we know that, we can use those technologies to see which to keep and which not to keep," he said.
With disease resistance, McPhee has been working on Fusarium wilt and the root rot complex, Ascochyta blight, viruses, powdery mildew, bacterial blight and anthracnose.
The challenge he has had is moving forward with early stage material where there is not a lot of seed to make selections for the greenhouse.
McPhee has found some selections that do have resistance to Fusarium wilt.
"We will use the material in the greenhouse and learn about new and different lines, and continue that for race 1 and then race 2," he said.
McPhee is working with Clain Jones, MSU Extension soil fertility specialist, on the ability of peas and lentils to fix nitrogen.
"What are their abilities to set N? What we have found is that it looks like there are differences across varieties," McPhee said. "We will use that information to make crosses."