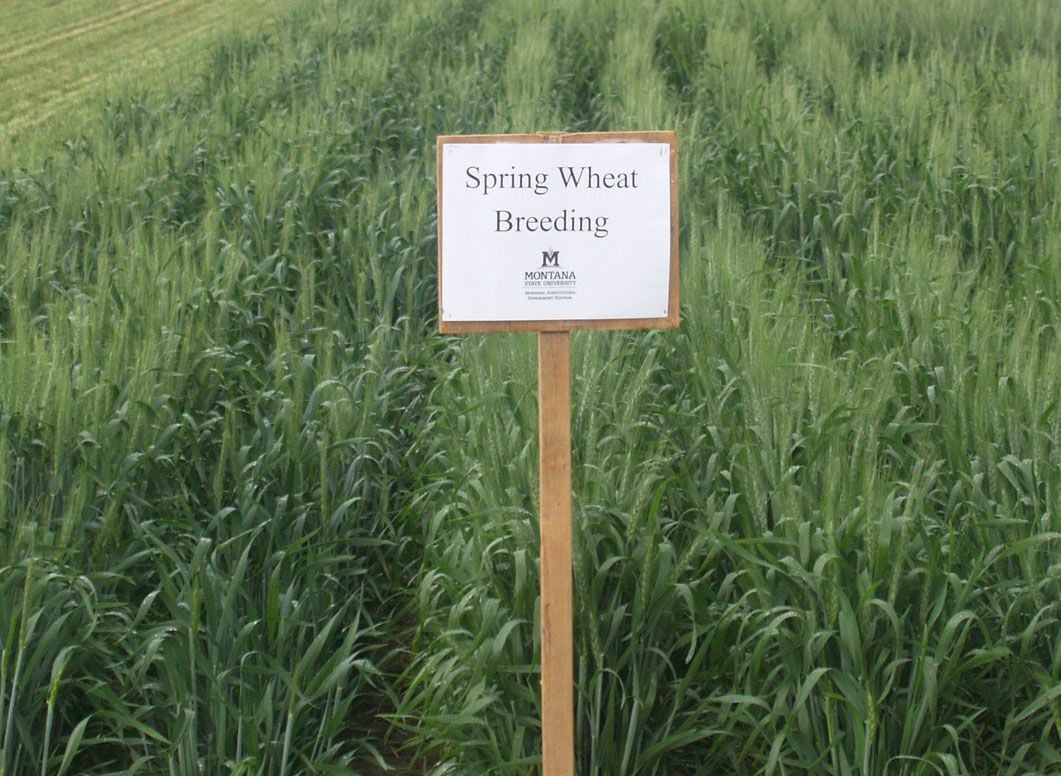 At Montana State University's Central Ag Research Center, Dagmar is yielding as well as Vida, which is the number one spring wheat variety grown in Montana, and Lanning, a 2018 release.
"Dagmar brings Lanning/Vida yield with Lanning's good protein," said Doug Holen, MSU's Foundation Seed Program manager.
Montana's Wheat and Barley Committee's survey among growers in 2019 showed the main reason for making a certain seed variety decision was overall yield potential, number one, followed by overall protein content potential.
Jason Cook, MSU trait integration breeder and geneticist, who is currently assisting the spring wheat and winter wheat breeding programs, said Dagmar is a hard red spring wheat released by the Montana Agricultural Experiment Station in 2019.
"MAES released Dagmar because of its excellent yield potential in dryland areas of Montana, its more solid stems and superior end-use quality," Cook said.
The solider the stems, the more likely there will be no wheat stem sawfly damage. In the past, the more solid the stem, the lower the yield. But Dagmar overcomes that.
Dagmar has a stem solidness of 15 out of 25 on the stem solidness scale.
"Stems of Dagmar are more solid than those of Vida, suggesting increased resistance to the wheat stem sawfly. In addition, Dagmar has higher grain protein and stronger gluten than Vida," he said. "Dagmar should be useful in Montana and adjoining states facing drought and wheat stem sawfly pressure.
Holen said breeder seed of Dagmar was grown by the spring wheat program in 2019.
"In 2020, we grew three fields of Foundation Dagmar, which is available for seedhouse distribution for 2021," Holen said.
Registered seed production that is available this year to produce Dagmar certified seed, will be available for commercial 2022 production.
"There is good interest in Dagmar, and I don't expect to have any inventory left after this planting season," Holen said. "I'll produce more Foundation seed in 2021 for 2022 distribution."
Holen said Dagmar is probably best described as a semi-solid variety targeting areas where Duclair is grown for sawfly pressure. 
At CARC, plots were limed the year before seeding several spring wheat varieties, including Dagmar.
"Liming the year before will likely improve yields regardless of variety," said Simon Fordyce, MSU research associate at CREC. "Planting resistant varieties (for low soil pH) may be a lower cost alternative to liming, if only a short-term solution."
"In 2018, MT 1621 (now Dagmar) and Vida yielded statistically equivalent to Lanning. In 2019, Dagmar, Vida, and Alum yielded statistically equivalent to Lanning (yields in this report are averaged across limed and unlimed conditions)," Fordyce said.
At MSU's Eastern Ag Research Center, Dagmar, averaged from 2018, 2019 and 2020 under dryland, yields were 42.7 bushels/acre, with test weight of 63.7 pounds.
At MSU's Southern Ag Research Center, under irrigation, averaged from 2017-2018, Dagmar averaged a yield of 81.3 bushels/acre (the highest in the group of varieties) and a test weight of 61.5 pounds.