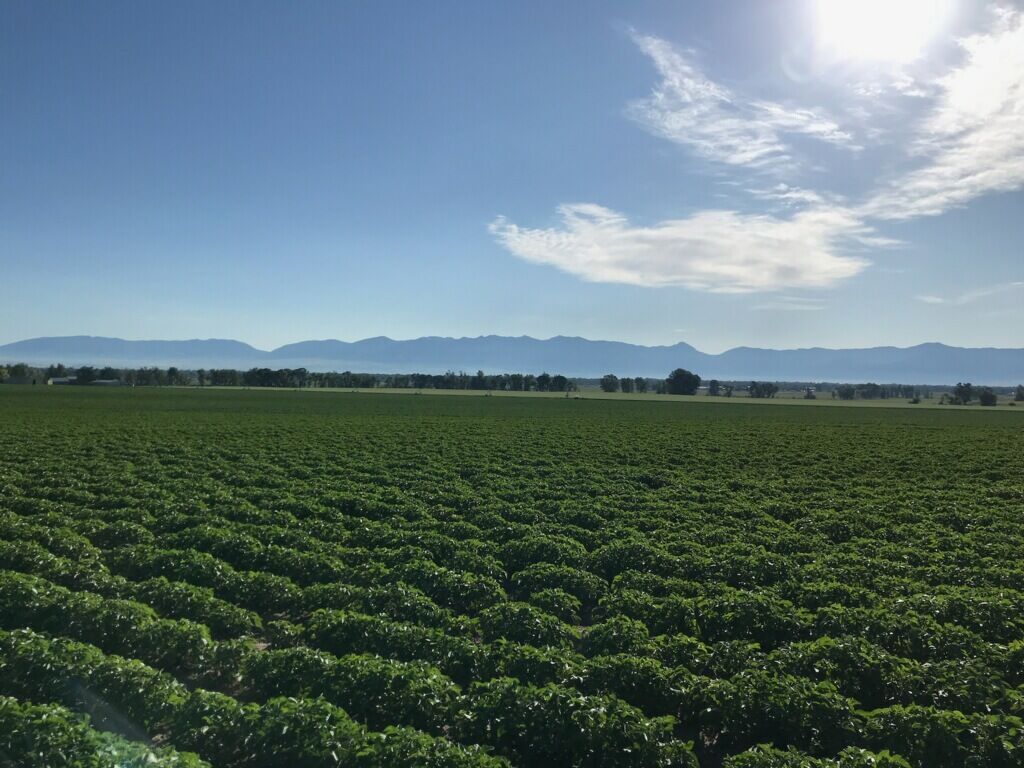 Montana's Gallatin Valley has become one of the state's most sought-after places, but the valley has more to offer than just stunning views. Its ideal elevation, annual precipitation, and access to irrigation water also makes the valley the perfect climate for raising seed potatoes.
Travis and Melissa Stuber are beginning their fifth year as seed potato farmers in Manhattan, Mont., located in the heart of the Gallatin Valley. The couple is farming land originally homesteaded by Melissa's family five generations ago. For the Stubers, a passion for growing quality seed potatoes runs as deep as their Dutch heritage.
They grow approximately 180 acres of certified G3 Russet Burbank, Russet Norkota, and Russet Clearwater seed potatoes each year. Beings as G3 tubers are the last stage of the seed potato process, the Stubers sell their crop beginning in late March to commercial potato growers across the Pacific Northwest and North Dakota. The potatoes eventually are used in processing for such things as french fries.
Travis Stuber says he has chosen to stick with raising exclusively G3 seed potatoes largely due to the fact that the farm has always been set up to do just that. In the state of Montana, growers can only plant early-generation seed potatoes grown within the state. The blessing of farming in the heart of Montana's seed potato country means there is plenty of access to early-generation potatoes.
"Our neighbors do such a good job of growing seed potatoes and we are more than happy to buy from them," Travis Stuber said.
Seed potatoes are extremely sensitive to disease, so after every crop of G3 tubers are sold, the Stuber's cellars have to go through a rigorous washing and disinfecting regime to prepare for the incoming G2 tubers.
"Everything has to be washed and cleaned because we are going into a new generation and so anything that might have been on the previous generation we don't want to transfer over," Stuber explained.
To prepare the tubers for planting they must first be cut and then they are treated. Montana seed potatoes are of the highest quality and that is largely due to the strict agronomic practices followed by all the growers. The G3 tubers are planted in fields according to variety, and after a summer of growing, they are harvested and prepared for commercial growing.
Not all of the Stuber's seed potatoes find their way into the commercial operation. Interestingly enough, seed potatoes over 12 ounces are considered too big to be used for seed. Rather than going to waste, the Stubers directly market their oversized Russet Norkota seed potatoes to U.S. Food and Town and Country.
"What we do is size off the bigger potatoes at harvest and put them in a different part of the cellar, and then through the winter we wash them and run them through our grading shed," Stuber said.
Also known as fresh potatoes, the Stubers wash and box up their oversized seed potatoes every Monday throughout the winter. Selling fresh potatoes is a great way to get rid of an otherwise difficult-to-sell product and it also adds another layer of diversification to their farming operation.
As someone who is relatively new to seed potatoes, Stuber is quick to recognize and respect the challenges of the industry. Seed potatoes cannot be insured, so a farmer takes on a lot of risk when they are planted. Yes, the income after the sale of the crop can be impressive, but average input costs for seed potatoes can equal or surpass $2,000 an acre. Hard-hitting economic years, like the supply chain crisis during the heart of the COVID-19 pandemic, has the potential of being extremely crippling to a seed potato operation.
Stuber said he was lucky enough to ride out the turmoil caused by the pandemic, but 2021 has been no cake walk either. Stuber's seed potato operation is entirely irrigated, but even so, the record drought of this past summer has negatively impacted yields.
"We are probably down 10 percent this year when last year we were up 10 percent, so that is a 20 percent difference in yield. It was just a tough year for us and we had water all the way through. We just feel like in June, when those potatoes were putting on their sets and starting out, there was really intense heat," Stuber added.
The positive side to tightened potato supplies is a rise in demand, which therefore equates to a rise in prices. With that being said, Stuber and his family are looking optimistically toward next spring when they will start moving their G3 tubers.
Although the seed potato industry can be a difficult one to grab a toe hold in, Stuber is proud to be carrying on the legacy of the generations before him. He is grateful for the opportunity to be part of such a forward-moving industry and for the chance to raise his family in one of the prettiest valleys on earth.