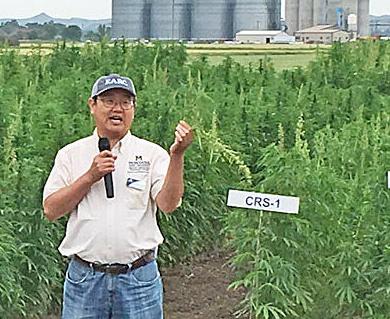 SIDNEY, Mont. – With more states' producers choosing to grow hemp as an alternative crop in the rotation, whether for grain (oil), fiber, certified seed and/or CBD, new seed varieties that will work for Montana producers are important.
Montana hemp growers not only want to know which cultivars are suitable to grow, but they want to know the best agronomic practices to follow to compete in the marketplace with hemp.
At Montana State University's Eastern Ag Research Center (EARC), variety and planting date trials are in their second year of study.
"We are evaluating the performance of varieties and experimental lines for producers," said Chengci Chen, MSU EARC superintendent and cropping systems agronomist. "We are finding some of the varieties have very good potential for Montana producers."
In addition, Perry Miller, MSU professor of cropping systems, has been looking at organic hemp in Bozeman.
EARC increased the number of varieties in the 2020 variety trials from the two varieties that were tested in 2019.
"We are testing more hemp varieties to see which varieties will do better for seed production and biomass," Chen said.
The hemp variety trial is part of a nationwide testing program conducted by land grant universities, and Chen has procured seed from various countries for the trial.
In 2019, EARC evaluated Katani and CRS-1, both from Canada. The two varieties were planted on the early planting date of May 9, 2019, as well as the late planting date of May 29, 2019.
The varieties were planted under irrigation, with the previous crop being sugarbeets, and it was replicated four times. EARC applied 100 pounds of nitrogen per acre and 30 pounds of P2O2 per acre.
In 2019, varieties were harvested on Aug. 29. Results showed that Katani had a seed yield of 941 pounds per acre and CRS-1 had a seed yield of 1,055 pounds per acre.
In 2020, EARC evaluated 13 varieties, including Katani from 2019. While CRS-1 was not a part of the variety trial, the cultivar was tested in the planting date study.
The other varieties included: Altair, Anka, Bialobrzeskie, Henola, Hlesia (Glesia), Hilana (Giliana), Hlukhovskii 51, NWG-2730, NWG-452, and X-59.
Bialobrzeskie is a variety from Poland that shows strong dual cropping potential for fiber and grain. It was originally developed in the 1960s for textile production. Henola is also from Poland.
Altair and Anka are from Canada and can be used for grain and/or fiber. They have both shown good yields and oil content.
NWG varieties are from New West Genetics in Colorado. NWG-2730 is a CBD grain variety, while NWG-452 has dual cropping abilities.
Hlukhovski 51 was developed for fiber quality and has shown a high fiber yield.
Varieties were evaluated for plant stand per acre or plant population, pre-flowering plant height, post-flowering plant height, stem diameter, biomass in pounds per acre, and seed yield.
These varieties were planted on June 3 at a seeding rate of 20 pounds per acre, under conventional tillage. The fertilizer applied was a blend of 100 pounds nitrogen per acre and 30 pounds P202 per acre. The trial was replicated four times, with the previous crop sugarbeet on Savage silty clay loam soils under irrigation.
The top three varieties in yield were: X-59 at 2,359 pounds per acre; CFX-1 at 2,285 pounds per acre; and Altair at 1,892 pounds per acre.
"X-59 had the highest yield at 2,359 pounds an acre," Chen said.
Neil Reiten, owner of Legacy Hemp in Petersburg, N.D., is a certified seed grower who only grows X-59.
"Legacy Hemp's X-59 has a sweet, nutty flavor, and is noted for being high in protein, as well as high in omega fatty acids, which makes it ideal for the food and health food market," Reiten said. "With X-59, I am looking for an alternative rotational crop that can depress weeds and diseases."
While EARC grew some hemp that turned out to be very tall plants, with a lot of biomass for fiber, most processors in the current marketplace want the grain for oil.
"Some of the plants are not as tall as others, but Bialobrzeskie was more than 94 inches after flowering – 8 feet tall is too tall for most Montana farmers to combine for seed production," Chen said. "Katani, at 43 inches or X-59 at 57 inches post-flowering, is shorter and easier to combine at harvest. Katani is looking very good for Montana."
Suitable for the northern U.S., Katani has been recognized for superior harvestability and consistently higher CBD levels than other varieties.
EARC checked the biomass, which is the total plant weight, including leaf and stalk.
The top three varieties in terms of biomass were: NWG-2730 at 8,874 pounds per acre; Altair at 7,925 pounds per acre; and X-59 at 6,697 pounds per acre.
The lowest three yielding varieties were: Bialobrzeskie at 277 pounds per acre, although the biomass was 6,033 pounds per acre; Hlukhovskii 51 at 327 pounds per acre and a biomass of 5,460; and Hlesia (Glesia) at 596 pounds per acre and a biomass of 5,755 pounds per acre.
EARC also conducted a planting date trial with an early and a late planting date. Katani and CRS-1 were the varieties used in the planting date trials.
"We continued conducting planting date trials in 2020 with the early planting date of April 30 and the late planting date of May 19," he said.
Mid-May was the best seeding date for planting hemp under irrigation. That date coincided with the date range from 2019.
"From early to mid-May is optimal for planting hemp under irrigation in Montana," he added.
With CRS-1, the average plant height was 73.9 inches, while the biomass was 6,902 pounds per acre. The seed yield was low at 770 pounds per acre.
There was severe bird damage in this trial, and lower yields in some of the varieties were likely due to seed shattering from birds.
"Our main problem was birds. Birds really like hemp seed, and the bird damage resulted in seed shattering. In the future, we may use netting when we conduct our hemp trials," he said. "Without the bird damage, yields might have even been higher."
American Harvest is growing hemp seed for Montana farmers.
"They contracted some acres in eastern Montana to grow seed," Chen said.
Miller has also tested some of the varieties, says Chen, and most of the varieties that performed well in Sidney performed well in Bozeman.
Miller said hemp could be viable as an organic crop.
"We have had variety trials over the past three years under organic conditions," Miller said. "However, we are having tremendous problems with bird predation, which makes it difficult to record accurate yield."
Yields have ranged from 400-1,000 pounds per acre based on hand harvesting.
"There were no real 'aha' moments regarding varieties other than earlier-maturing varieties appear to be yielding better. But I'm quite sure that's because we harvested them before the birds really moved in and hammered the later maturing ones," he said. "Last year, we tried netting off the later-maturing hemp varieties, but it didn't work as well as we'd hoped."
Miller said they found an interesting relationship between variety maturity and rooting depth.
"The early-maturing varieties we grew rooted more shallowly than spring wheat," Miller said. "So it is similar with water use."
Miller said hemp could break up some disease cycles for spring wheat, and it has suppressed weeds, which is important in organic systems.
"I am very concerned that generally, hemp may be ill-adapted to much of dryland Montana, but I do think there are some angles under organic production that could be profitable in Montana," he said.
Hemp needs more research.
"There are different market opportunities for it, whether it be fiber, oil, seed, or CBD. All of those might require different research," Miller said.
With the new law passing in Montana allowing recreational marijuana, some producers may consider growing both marijuana and hemp, but each requires a separate license.
The Montana Department of Agriculture issues licenses for hemp through its Montana State University Hemp Program.
The 2021 legislative session will determine how licenses for recreational marijuana are issued.
But medicinal marijuana licenses are currently issued by the Montana Department of Public Health and Human Services through its Montana Medical Marijuana Program.
"If a grower plans to grow both hemp and marijuana, they must be grown in separate buildings, or one can be indoors and the other outdoors," said Chelsi Bay, Montana Department of Agriculture. "They would also need both a hemp license and a marijuana license."