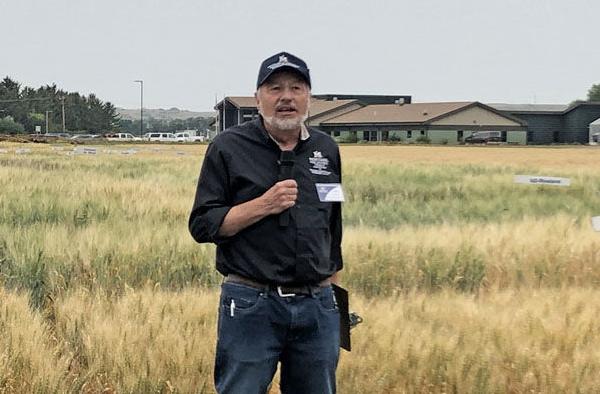 SIDNEY, Mont. –Montana State University's Eastern Ag Research Center in Sidney has been a good nursery to test winter wheat varieties - for the entire state.
"Not many of our farmers (in Sidney) grow winter wheat. We mostly grow spring wheat. However, our dryland winter wheat nursery at Sidney is a perfect place to screen varieties for winter survival," said Chengci Chen, MSU EARC supervisor and cropping systems agronomist at the 2021 EARC field days. "Last year, we got really good winter kill on our dryland nursery."
Jim Berg, MSU research associate in the winter wheat breeding program, was at Sidney's field day, speaking officially for the first time. Berg said Phil Bruckner, MSU winter wheat breeder, officially retired in March, although Bruckner remains at the university. Berg plans to retire in September 2021 and has worked with Bruckner for 27 years.
"Because Phil Bruckner is not here, I have been going to all these field days and this is my 10th field day," Berg said. "I have been working under Phil as his associate for the last 27 years, and I have done more talks this summer since he has been gone than in the previous 27 years."
Berg said a new winter wheat breeder, as well as a new spring wheat breeder, should be in place by the time Montana farmers finish planting winter wheat this fall.
"I'd like to thank you for keeping this winter wheat breeding nursing going in Sidney. This nursery is a more winter hardy nursery than anything else," he said. "But this year, it will also test drought."
At Bozeman, Berg said they focus on sawfly resistance in winter wheat as one of the main components to building a new winter wheat variety.
"Sawfly is not as big of a deal out here, but we do have lines growing here that do well for sawfly resistance," he said.
In the MSU winter wheat variety survey for northeastern Montana, two-thirds of wheat grown in 2020 was Yellowstone winter wheat, while 5 percent was Northern winter wheat.
"Northern was named after Northern Ag Research Center (for its 100th anniversary). If you combine data from Sidney and Williston (N.D.), it is top dog out here," he said. "Northern is consistently a top yielder."
In addition, Northern is a low PPO line and makes excellent noodles.
"Northern can get a fit not only as a blender wheat in southeast Asia, but it can go into straight noodle products," Berg said.
Wheat stem sawfly is a persistent and economic problem for wheat growers in Montana.
"Stem solidness has been effective in reducing sawfly losses in winter wheat (and spring wheat) varieties," he said.
Bruckner said the sawfly persisted primarily in the north central and south central cropping districts.
One of the breeding targets for the winter wheat program is pest tolerance, which includes diseases, insects and weeds.
"In our program, for pest tolerance, we are very interested in wheat stem sawfly resistance," he added.
Current solid-stemmed winter wheat varieties include Judee, released in 2011, Bearpaw, 2011, Warhorse, 2013, Loma, 2016, Bobcat, 2019, and StandClear CLP in 2020.
StandClear CLP, formerly MTCS1601, was a Montana release licensed to Loveland Products, Inc. in Loveland, Colo.
Berg also feels AAC Wildfire, a 2013 release from Alberta, Canada, is a good fit for the eastern region.
"The breeder said it was the first Canadian wheat to have the quality of Montana wheat. So I am going to take that as a pat on the back for our program," he said.
AAC Wildfire is being crossed with sawfly resistant varieties and for higher winter hardiness levels.
Another winter wheat that has done well is FourOSix.
"It was released in 2018, and is a Yellowstone type. I wanted to name it before anyone else did, because we have to honor our telephone code here. It has done well in Havre, and traditionally, Canadian lines have done well out here," he said.
MT1745, with Decade crossed into a Nebraska line, is 5 percent better yielding than Decade alone.
Berg said he came out to Sidney in April.
"We had about a 34 percent stand. AAC Wildfire was the highest stand at 84 percent. Some only had 1-3 percent stand," he said. "But we will have a good test this year for drought, as well as winter survival."