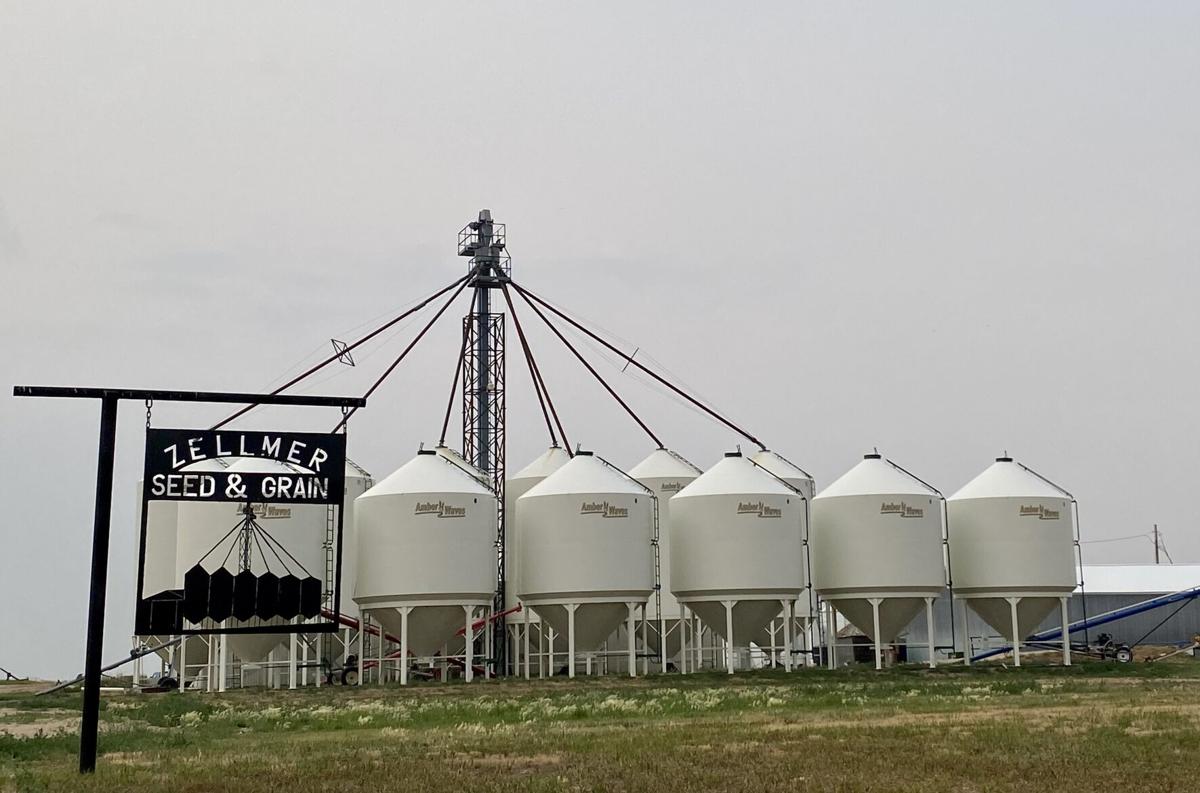 Just south of Hogeland, Mont., in the upper reaches of Montana's Golden Triangle, is where Zellmer Seed and Grain calls home. It is here, beneath the shadow of the Medicine Line, where the Zellmer family farms, cleans seed, and offers quality winter and spring wheat varieties to their fellow growers in the area.
The family patriarch, Edwin Zellmer, began cleaning seed using a portable seed cleaner about 30 years ago. In 2009, Edwin formed a partnership with son Jordan and the pair decided to take things to the next level.
"We took the portable seed cleaner off the trailer and since then we have revamped our seed cleaning business to completely stationary. We put in some hopper bins, upgraded our plant, and put in a portable scale and we have been running hard ever since," Jordan Zellmer said with a chuckle.
Jordan attests, putting in a stationary seed cleaner was one of the best investments his family has made. Since 2009, he estimates the seed cleaning business has nearly quadrupled in size. On any given year, Zellmer Seed and Grain cleans about 20,000 bushels of their own seed and roughly 50,000 bushels for other producers.
In addition to cleaning seed, Zellmer Seed and Grain sells an intimate selection of winter and spring wheat seed. Jordan is proud to say the family only sells seed they have raised themselves and they exclusively offer varieties developed by Montana State University.
"We like to keep it simple with as good of varieties as we can grow up here," he said.
Since 2009, the Zellmer family has found that MSU varieties simply perform the best in their growing area. They usually grow and keep on hand three different winter wheat varieties and 2-3 different spring wheat varieties.
Currently, Zellmer Seed and Grain's winter wheat selection includes two hollow stemmed varieties: FourOsix and Flathead, as well as one solid stem variety: Bobcat.
Both FourOsix and Flathead produce really well in the area, but in 2020, sawflies started to be spotted. Thankfully they are not in abundance just yet, as most producers are still able to straight cut their wheat, but Jordan has noticed the devastating bug becoming more and more of an issue. Bobcat is a relatively new variety from MSU, but Jordan praises it for being a wonderful yielding solid stem.
He says the growing climate around Hogeland is really quite specific. As a result, the heart of his customer base is farmers from the immediate area. In the past he has sold seed over as far as North Dakota. The seed cleaning portion of Zellmer Seed and Grain services a much larger swath of Montana, however.
"We clean seed for farmers from south of Chinook all the way to north of Havre," Jordan explained.
As a producer first and a businessmen second, Jordan really keeps the perspective of his fellow grower in mind as he determines what varieties of wheat to grow and sell. He wants all parties involved in the transaction to find monetary success from the deal.
"I know what the farmers are going through. I know what I need to make for it to work for me, but I also want it to work for them," he said.
Between harvesting, cleaning, and selling seed, things can get pretty busy for Zellmer Seed and Grain. The family-ran business thankfully has many capable hands willing and able to keep things rolling along. Edwin predominately mans the seed cleaning aspect of the business, while Jordan's brother, Jamie, helps with seeding and harvest. Jordan's oldest son, Caleb, runs a combine during harvest and younger son, Brady, operates the grain cart. Jordan's wife, mom, and sister-in-law cook and help out with the farm and business wherever they can, as well.
"We are a small, family-owned business," Jordan said with pride.
Winter wheat harvest is set to begin around the first part of August for the Zellmers and Jordan says so far the crop is holding its own. The spring wheat, unfortunately, is beginning to struggle under the stress of the heat.
The rest of the summer and fall will be busy for Zellmer Seed and Grain, but as a true family-owned business, they are proud to work hard and deliver the best quality, Montana-developed wheat seed they can.