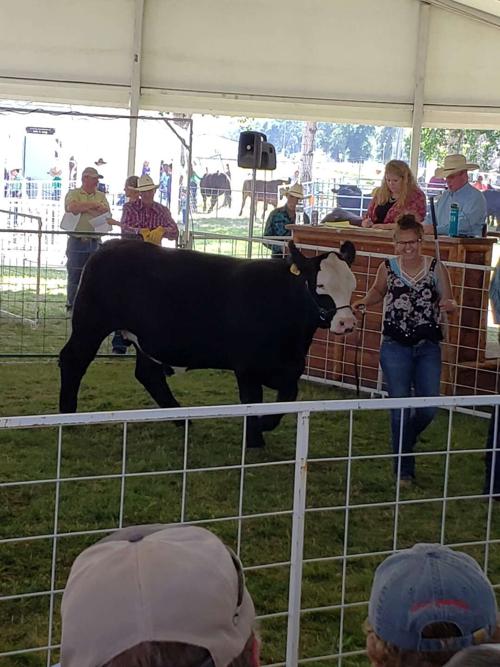 Some people, it seems, are born to be athletes, exhibiting natural talent early on in their lives. Likewise, there are some people that excel early at school, pursuing their talent all the way into academia. Upon meeting and talking with 18-year-old Reace Lannen, it can instantly be deduced that this young lady was born to raise cattle.
As the fifth generation on her family's ranch in Clyde Park, Mont., Lannen has lived the quintessential cowgirl life at the base of the Crazy Mountains in Montana's picturesque Shields Valley, and from a young age she has had her goals set on being a cattle baron.  
"I have always been around cows, but when I was 10 I decided I wanted to have my own cows and they had to be different because my dad's cows were black and I wanted red," Lannen remembers.
Armed with the money she had received after selling her first 4-H steer, Lannen marched out and bought a nice Red Angus heifer. From that single heifer, she has diligently kept or bought replacement heifers over the years and now she is the proud owner of 14 pairs and five heifers.
Although Lannen's true love is for Red Angus, the young stockwoman appreciates hybrid vigor, so her herd is a strategic mixture of Red Angus, Simmental, and most recently, Hereford.
"I like baldy calves and I like the bone and substance those Hereford bulls put into my cows," she said.
Lannen and her father are both certified to AI, so that skill has allowed her to pick and choose the bulls and genetics she most wants. She knows cattle and she knows how to breed them, so not only has she found success raising cattle in a commercial setting, but she has also had great success in the show ring.
Since the tender age of nine years old, Lannen has showed steers at the Park County Fair in Livingston, Mont., and for most of the years since she has shown steers and heifers out of her own herd. Some of Lannen's top show ring accolades include Reserve and Grand Champion Beef Showman, Grand Champion Overall Female, and in 2020 her self-raised steer won a Steer of Merit Carcass Award, which is a coveted statewide carcasses competition. Only Montana's best carcassing 4-H steers can be honored as a Steer of Merit.
Lannen's knowledge of cattle has won her more than ribbons at the county fair. At the conclusion of the 2021 Montana State FFA Convention, Lannen walked away as the Diversified Agriculture Production Proficiency winner. In addition to raising cattle, logging hours AI'ing with her father, and working on the family ranch, Lannen also has therapy animals as a portion of her SAE. The caring young lady has channeled her love for livestock and is in the process of certifying two miniature ponies and a Corriente calf as therapy animals.
As a sophomore, Lannen was diagnosed with juvenile arthritis and while learning to manage the illness she could not ride horses, work with her cows, or do many of the daily ranch tasks she had come to identify with. That time in her life was very difficult on Lannen and she got to thinking there had to be other people who missed interacting with livestock as well in times of convalescence.
"I know there are a lot of people out there that grew up on ranches and they are not able to go out and smell those animals or even pet them. I've seen a lot of people that just love seeing that pony of mine and it makes me feel so good to cheer people up like that," Lannen explained.
As a recent graduate of Shields Valley High School in Clyde Park, Mont., Lannen has managed to accomplish so much at such a young age, but this is nowhere near the end for the ambitious agriculturalist.
First up, Lannen has her last county fair to show in. The 2021 Park County Fair will take place July 20-24 and Lannen will be showing a Red Angus/Simmental cross steer, a Red Angus/Hereford cross steer, and three heifers. Aside from one Black Angus heifer Lannen bought from her dad, the other four head of show cattle are out of her own stock.
Looking further ahead, Lannen plans to continue AI'ing with her dad, helping out on the ranch, working more with her therapy livestock and maintaining her current job at a local veterinary clinic. She is contemplating going on to get a vet tech degree sometime in the near future, but ultimately, Lannen wants to continue the family ranching legacy and further build a heifer development program on the ranch alongside her dad.