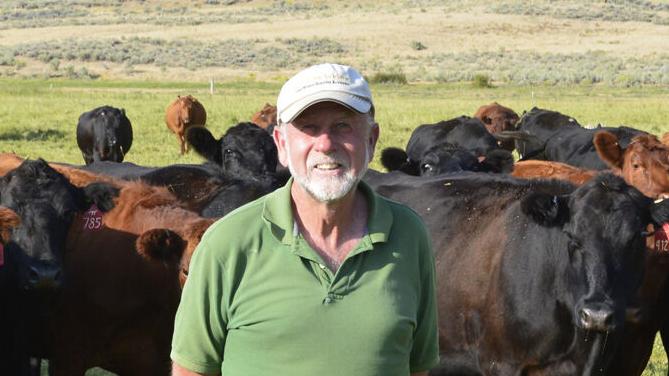 Jim Gerrish, grazing expert with the American Grazing Lands Association, raises pasture-finished beef that grades well because he understands how to graze and finish cattle on grass.
Many Montana producers, among out-of-state producers, have been taking part in the Western Meat School, moderated by Rebecca Thistlewaite, an ag consultant.
Gerrish was a recent speaker, talking about grazing cattle and lambs, nutrition requirements, and how to finish cattle on biodiverse pastures. He has spoken several times at beef workshops throughout the state.
Gerrish's ranching and grazing experience includes more than 20 years of beef forage systems research and outreach while on the faculty of the University of Missouri, as well as more than 20 years of commercial cattle and sheep production on their family farm in northern Missouri.
In the 1990s, there was significant interest in grass-fed beef from consumers, but it wasn't being accomplished in the right way.
"We had lean, tough, dry meat. I had been eating grass-fed beef and it wasn't good, so I was worried about the first grass-fed steers we butchered in 1996 for our family," he said. "We (grass-fed beef industry) knew we needed to do something different than just (produce) this low quality grass-fed beef."
Gerrish and others researched why the beef was so tough and did not grade well. They realized the cattle did not gain enough weight to be finished beef.
"The first and obvious reason (why the beef was not so good) was it was not finished," he said. "The animals did not get enough to eat."
There were not quality grade objectives in most of the early grass-fed beef enterprises.
These grazing and beef experts decided it was important to look at achieving quality grades through grass.
In the end, they learned how to finish cattle on grass or pasture – making sure that the beef marbled, tasted great and had a good quality grade.
Know your customer base. There is a big demand for grass-fed beef, but what kind of grass-fed beef?
"Producers can get carcasses to grade in the high Select and Choice range on pasture-finished beef at an age of less than 20 months with appropriate management – and I emphasize appropriate management," Gerrish said.
However, most consumers prefer Prime beef.
Producers can get cattle to grade high Choice and Prime grades on pasture-finished beef, but it is a higher level of management and it takes a high level of nutrition in grasses.
"It also takes longer and it is more expensive to get there," he said.
Gerrish found that it is "excess energy that drives marbling," which brings tenderness and flavor.
"In order to get there, the grass-fed animal must consume energy above its maintenance and growth requirements at that time," he said.
Gerrish says biodiversity in the pastures creates complex flavors in beef.
Other pointers:
Energy, protein and vitamins are in the top one-third of the grass. When you allow cattle to graze to one-half of the grass length, it reduces cattle performance. Because of that, Gerrish moves his cattle every day.
Cattle need to get a good bite of feed. Many times, animals don't get enough to eat when they are grass-finished.
Complex diets of grass-fed beef, from biodiversity of plants, yields complex flavors. But some consumers only want flavor from what they season the beef with, so know your customer before grazing.
In the beef sector, pasture-finished beef has the highest energy requirement. To get a quality finish, maintain rate of gain in excess of two pounds per day, the Total Digestible Nutrients (TDN) needs to be more than 68 percent.
When TDN drops below 50 percent, you need to supplement the grass-fed cattle to meet maintenance requirements.
Research on grass-fed beef should be done only on good quality pastures.
For quality grass-fed beef or pasture-finished beef, there is a lot of work for producers to do.
"If our marketing claim is 100 percent forage-raised beef – never a bite of grain in their life – you have a job in front of you to make sure those cattle get consistent nutrients into them on a consistent basis," he said.
According to Gerrish, there is a niche market for finishing cattle on rangeland.
"You can finish cattle on native rangeland if the cattle are older. It takes time. These cattle are marketed as "Cowboy Beef" or the kind of beef raised when cattle were driven in Texas and sent up to Oklahoma (for harvesting)," Gerrish concluded.
Gerrish teaches the basic concepts of management-intensive grazing (MiG) at https://www.americangrazinglands.com