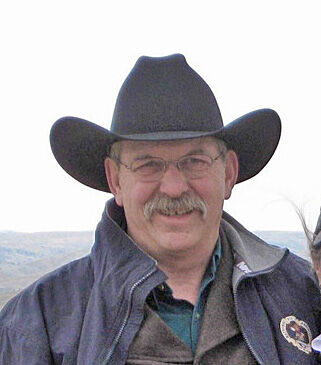 Montana FFA recently honored Lee Boyer, a Montana rancher and a founding member of the Montana FFA Foundation, who passed away in April. Boyer was Foundation board president for eight years.
Gwynn Simeniuk, executive director of the Montana FFA Foundation, said on behalf of every FFA member, "We want to thank Lee and his family for their service towards making a positive difference in the lives of students today and tomorrow."
Boyer's family received the Montana FFA Foundation's inaugural Lifetime Achievement Award on Lee's behalf. "It is a first-time award and the award will carry on after him in his name," Simeniuk said.
The name of the award has been changed because of Boyer.
"This award will continue to be given in his name as the "Lee Boyer Lifetime Achievement Award" for those who have committed their lives at the highest level to furthering agricultural education and FFA in Montana," Simeniuk said.
Simeniuk said that Boyer played a role in the success of the Foundation with his leadership, vision, and service to the FFA Foundation and all of FFA.
Boyer was committed to ag education, supporting all FFA members to become leaders, develop and work toward personal growth and find careers that interested them. All that is achieved today in FFA, something that Boyer and others on the FFA Foundation envisioned.
Boyer was a member of a group of individuals who created the Montana FFA Foundation in 1998 as a support mechanism to enhance opportunities and experiential learning for students in the FFA.
Boyer passed away on April 15, 2020, at the age of 72. He grew up on the Boyer family's Lazy F Lazy 9 ranch, a homestead established by his great-grandfather in 1900, south of Bridger.
Over the years, the family raised crops, cattle, sheep, pigs, and chickens. As a typical ranch kid, Boyer's chores included everything from baling hay, corn chopping, working cattle and sheep, feeding and butchering pigs, and probably his least favorite, cleaning the chicken house, according to the Montana Farm Bureau Federation (MFBF).
After graduating from Bridger High School, Boyer attended MSU-Bozeman and earned a degree in range management. He worked in Pierre, S.D., as a manager at a fertilizer plant, and in Shelby, where he managed a grain elevator. He spent 27 years with the Montana Department of Agriculture in the Ag Development Division – managing marketing programs, ag loans, the hail insurance program, young farmer and rancher loans and more.
Boyer won many national and state awards because of his passion and dedication to the Montana ag industry. He was district director for MFBF.