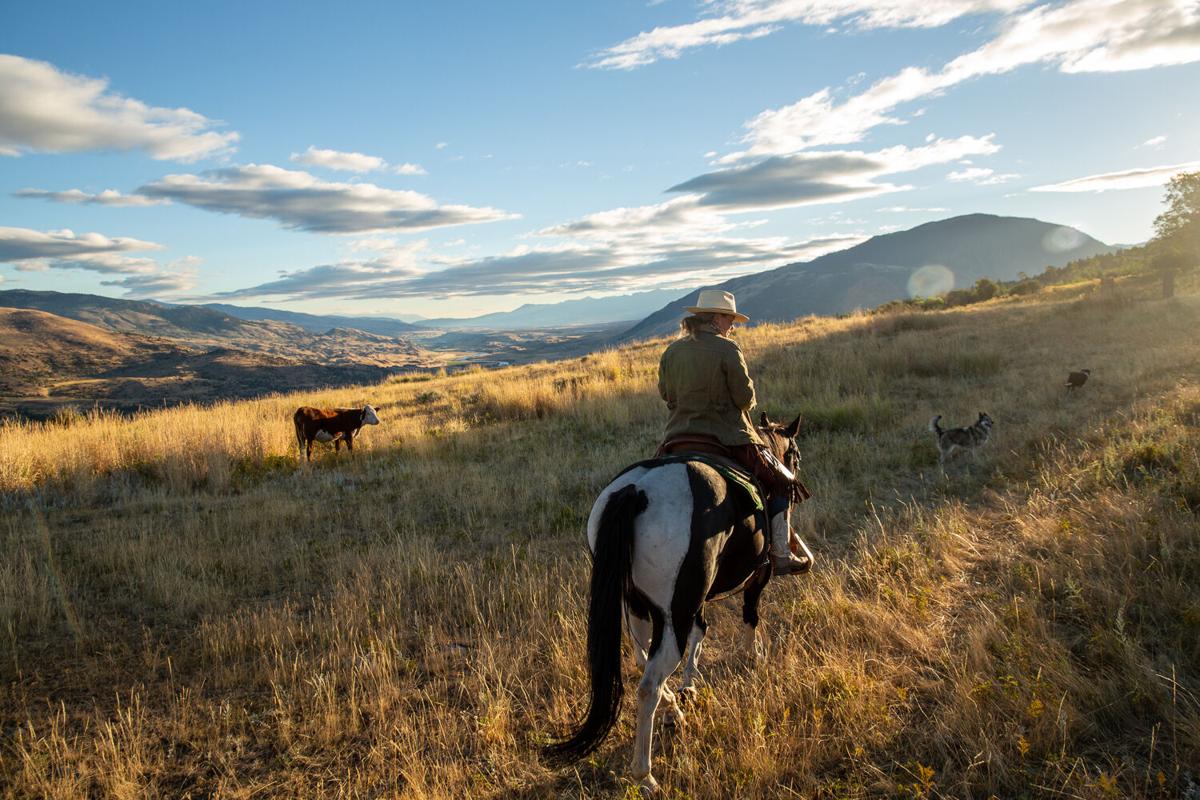 The Tom Miner Basin of Montana is as picturesque as it is historical. Bordering the northeast corner of Yellowstone National Park, the basin was first a summer hunting ground for Native Americans before it became a mountain man's paradise in the mid-1800s. Ranchers and their cattle fell in love with the high mountain meadows shortly after, and to this day, livestock production remains a mainstay of the basin.
Malou Anderson-Ramirez's family first came to the Tom Miner Basin in the 1950s. Although the basin has offered the Anderson Ranch great grazing for their livestock over the years, there are challenges associated with ranching in an area so chiefly wild.
"Tom Miner Basin is on the map these days for the large amount of grizzly bears and large carnivores that are in the area," Anderson-Ramirez explained.
Anderson-Ramirez and her family have long been accustomed to what it means to ranch in the Greater Yellowstone Ecosystem (GYE) and their philosophy has always been to work with the landscape, not try to conquer it.
"We, as ranchers in the GYE, really have a greater responsibility, in my opinion, to figure out things that work so we can all be resilient, and that means the wildlife, as well," she said.
In an effort to promote resilience and co-existence with grizzly bears, the Anderson family, in the past, has employed different techniques such as range riding. The horse and rider combo would spend hours riding around herds of livestock reducing predator conflict, if possible, but mostly range riders would look for sick/distressed animals or carcasses. Only found carcasses that can be confirmed as killed by a grizzly bear or wolf can be turned in for state and federal compensation, so timely finding and documenting of the carcasses is crucial.
While out range riding one day in 2016, Anderson-Ramirez contemplated the risks associated with riding around looking for livestock carcasses in heavy bear country, as well as the sheer fact that the task was akin to hunting for a needle in a haystack.
"I just got to thinking, what if we had a better tag? What if we had a low-cost ear tag or a microchip that could be inserted into cattle that could read GPS location and a fight or flight response?" she remembers asking herself.
The good thing about riding for hours alone in the mountains is one has plenty of time to think and formulate a plan, and that is just what she did. Shortly after asking herself that "what if question," Anderson-Ramirez answered it by creating TEAL Tags (Technology, Education, Agriculture and Landscape).
Anderson-Ramirez's whole goal was to create some sort of product that can alert rancher's smart phones when something is out of sorts with their cattle, like a wellness reading. This reading could help producers potentially ward off predator attacks and better understand predator movements and livestock behavior, among other things. TEAL Tags, however, are able to offer ranchers an exact GPS location of a dead animal, allowing them to find the carcass more efficiently.
Anderson-Ramirez is quick to point out, TEAL Tags are not a for-profit tech initiative. Rather it is a conservation movement and a way to promote harmony and co-habitation between wildlife, livestock and ranchers. TEAL Tags comes at a key time. Especially as the state of Montana continues to see an increase in livestock/predator conflicts.
"This is a possibility for producers, a way they can make it work as grizzly bear and wolf habitat starts to change again. As a producer, I am a firm believer we should manage what we are responsible for instead of trying to change the larger natural system already at work," she said.
TEAL Tags are currently right in the heart of beta testing for different potential products. Anderson-Ramirez has no intention of reinventing the wheel when it comes to this sort of cattle management technology. If there is a way her brain child could be incorporated into an already existing product, she is all about it.
Growing up around ranchers has taught Anderson-Ramirez to keep things low-cost and simple, especially when it comes to technology and she certainly aims to honor those lessons with TEAL Tags.
"We are hoping to have a product we can pilot on a few hundred cattle by the summer of 2022," she said.
The TEAL Tag, Anderson-Ramirez concluded, will hopefully be another tool ranchers can have in their management tool box. One that can help conserve wild landscapes and the ranching traditions that reside within those places.
For anyone interested in learning more about TEAL Tags, please reach out to Malou Anderson-Ramirez at malou@tealenterprises.org.