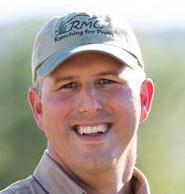 There are five main things that profitable ranchers do, according to Dallas Mount, the owner and CEO of Ranch Management Consultants (RMC).
Mount spoke to some 220 producers and others at the 2021 Montana's Next Generation Conference about RMC's Ranching for Profit School, which has quickly become a business school for ranchers.
The five things profitable ranchers do:
They know their ranch numbers and have the courage to act.
They develop people and do lifelong learning, because when you are through learning, you are through.
They don't do the same thing they have always done.
They have enterprises that match the environment (work with nature).
They build ecological health (examples: they look at soil health first, do good grazing management, and pay attention to the land).
Mount told producers that the Ranching for Profit School was founded on the idea that knowing how to raise crops or livestock is not the same thing as running a business.
"A lot of times we grow up in this (ranching). We do 4-H and FFA and focus heavily on raising crops and livestock, but we neglect the business end. We don't know how to do it," he said. "We are plenty smart and hard-working, but oftentimes no one has taught us how to run that business."
In addition to operating the school, Mount said they are running a program for graduates called "Executive Link (EL)."
With EL, graduates of the school enter a structured process where they help each other with their businesses, look at the big picture about their ranching businesses, and hold each other accountable.
"Graduates look inside each other's business and focus on strategic things and give each other advice and hold each other accountable," he said. "It is based on the theory that when you are self-employed – you work for a lunatic."
RMC received a letter from a rancher of the younger generation living and ranching in eastern Montana.
The rancher wrote he had returned to the family ranch five years ago when prices where stronger.
"It looked like it would work, but the last several years, things have moved backward," the letter read. "We aren't in crisis yet, but I am afraid we are headed that way if something doesn't change. It seems like every year we go deeper in debt."
The letter went on to say that this was happening in spite of the fact that the family "raised good crops and good calves and received top market prices for their calves."
The rancher said he was "afraid he could not afford to give his young family a decent life on the operation and couldn't see a way forward that meets the needs of his family."
"How do we look at our operation with a fresh perspective and find opportunities?" the letter asked.
Mount said this letter that RMC received was very common with what is going on around ranches today. He said this young rancher was probably "looking at his bank account" when he wrote the letter.
So what should this young rancher do?
Producers wrote in the chat box several options, including "evaluate your enterprise and look at your numbers."
Mount liked the answer, and said it all starts with changing "your mindset."
"I think how we respond to situations in agriculture starts with a mindset. We have all these amazing opportunities in agriculture, we are living in wonderful places, so let's make the best of it," he said.
Mount showed a ladder, which is called the "Ownership Mindset Ladder."
At the bottom of the ladder was the mindset of a victim – anger and blame.
"If we are always finding fault, we are at the bottom of the ladder versus people who are climbing up the ladder," he said. "At the top of the ladder, there is happiness, joy, accountability, responsibility and transparency."
Mount presented a sobering fact. Of the people who want to pass their ranches intact to the next generation, only 30 percent are successful.
"This is really the American tragedy in ag," he said. "Knowing how to raise crops/livestock is not the same thing as knowing how to run a business that raises crops/livestock."
Some of the reasons for that include: poor communication and planning, or that the business is not viable and heirs and owners may be incompetent with the business. It doesn't mean they aren't smart or can't raise crops and livestock.
"A competent CEO provides projections of how the business should do and has an accountability situation. He makes sure everyone is crystal clear on their intentions," Mount said. "Viktor E. Frank said, 'When we are no longer able to change a situation, we are challenged to change ourselves.'"
Mount said markets, weather and other pressures, things from the outside, are not really the problem. Change has to come from the inside.
"We have 48 people in Billings (Mont.) right now going through the Ranching for Profit School and I spent a couple of days with them," Mount said. "The number one thing that profitable ag businesses do is they know their numbers, their projections, targets and they have reviews."
Mount presented an example of what he called, a "down and out farm."
"Down and out farms have a few things going on, but at the end of the year, when they look at their financials, they have two classes of sales – livestock and crop sales," Mount said.
What is missing?
"For one thing, they did not pay themselves," he said.
In Mount's example, the ranch had no family living draw and owned everything, including all the land and cattle.
"They have millions of dollars of capital and produce a meager income," he said.
If most farms and ranches operate at an economic loss, why don't they go bankrupt?
"They don't because they have off-farm income and a lot of it goes back into the farm, or they work for free because it is a lifestyle, or they are living on appreciated land values and/or they have inherited wealth," he said.
Mount added, "You can't starve a business into a profit."
Down and out ranches aren't really "down and out" because they can change.
"They can reduce overhead, increase turnover, or improve gross margins/units to change profitability," he said.
For example, if a down and out ranch cut out its hay business, and only grazed its cows, they might free up some cash.
"If they could cut money off overheads, they could also improve cash flow," he said.
Is there a way they can find some gross margin in the cow enterprise on the farm/ranch? Mount pointed out that they need to look at their numbers and make changes.
"American farmers and ranchers are extremely productive. But increasing production is not always profitable. Productivity and profitability are not well correlated," Mount said. "This is a mindset thing. We have to focus on profitability, not productivity."
He added, "When you have numbers in front of you and can pull them apart, you can find changes that improve opportunities and cash flow. We need to make meaningful management decisions on the ranch."
Some other things the down and out ranches can do are to stop the enterprises that are not working, improve the marginal enterprises and "hit the gas on enterprises that are working."
"We need to find the courage to act by using good information," he said. "The hard thing might be to figure out your numbers and then do it. You can go outside and work hard, but things never change."
Mount said he imagined the people and ranchers listening to the presentation "are young people who are looking to step in to their parent's operation or are working the candle at both ends and want change."
"I think communication is always the answer and it needs to involve everybody and everybody needs to understand where everyone is coming from," he said.