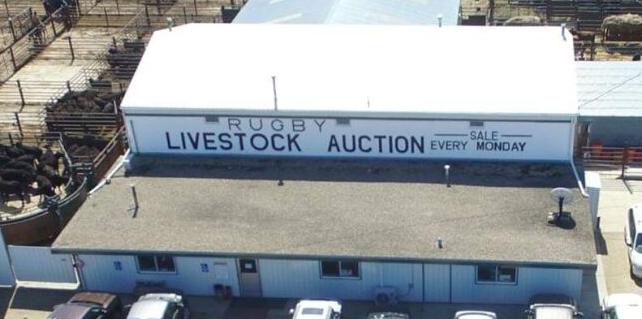 Rugby Livestock has seen more cattle pass through its doors over the summer than ever before because of a lack of rain and high heat.
"A couple spots caught some rain recently (end of July), but we are still extremely dry," said Cliff Mattson, Rugby Livestock Auction on July 28.
With the drought right outside its back door, the auction barn owner was auctioning off some 600-1,000 head every week in June, with half of them cow/calf pairs.
"We have scaled way back on cattle sales compared to where we were (in June). In the weeks to come, I think it will pick back up, whether it is pairs or whether it is kill cows. I think the kill cows are going to keep coming in big bunches," Mattson said.
While it is nearly back to normal where they sell 200-300 slaughter cows every other week, the barn is currently still holding auction every week, selling some 250-300 slaughter cows weekly. But the pairs have slowed down to 30 head for the past two weeks, and 170 head the week before that.
"But everybody got their cows to grass now and are making decisions about what they will do this year," he said. "If they run out of grass, they will bring more pairs to town or start splitting them (weaning them)."
Mattson said many producers in the area are weaning their calves right now.
Some producers always wean early because they realize the economic benefits of it, but some producers that have never done it before are weaning very early for their operations.
"With the dust and the heat, conditions aren't good. I would not want to be weaning in these conditions, but guys have to do something," Mattson said.
Everyone in the region around Rugby has hoped for rain, and some pockets received some.
But July brought serious heat with temperatures staying 90 degrees and higher every day in most areas, and combined with the wind, the grass, crops and hay fields are burning up.
Without moisture, producers assumed feed crops were going to be low in bushels, but they thought they would have something for the winter. They hoped to combine it with such alternative feeds as cattails.
"Our saving grace was going to be silage corn, but now it looks like the corn is starting to burn up and it is tasseling at 4 feet high," he said.
Then the cattle sales started in earnest from older cull cows to replacement heifers.
When no rain arrived, ranchers had to sell good middle-aged cows and cow/calf pairs. Some closed their doors.
Mattson believes cattle sales may increase after harvest.
"After combining, sales will likely gear back up because most people are burning up with this heat. We are seeing quite a few kill cows come in now and this fall," he concluded.