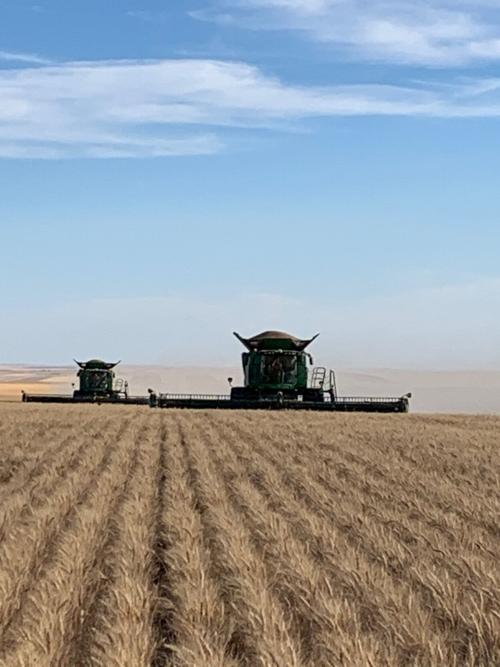 LEDGER, Mont. – Building a house is hard. Harvesting two crops is hard. Raising a toddler is hard. Doing all three of them at the same time while also pregnant with your second child seems like a nearly insurmountable task, but multi-generation "farmHer," Cassie Andrews, is taking it all in stride.
On Aug. 30, after just over five weeks of bouncing around in either a grain truck or combine, the coveted end of spring wheat harvest was in sight.
"We have about 30 acres left, I am so excited. I will finally be able to catch my breath for a bit," Cassie said during a phone update.
Of course, harvest season couldn't just quietly come to an end for Cassie, her brother, Brett, and their dad, Terry. With just a handful of acres left to cut, Terry radioed over to Cassie and informed her he smelled smoke coming from somewhere on his combine.
Pushing to get harvest done in a timely manner, Terry opted to keep his old combine on the working crew through this year. This allowed Brett and Cassie to switch off and on between hauling grain and driving the new combine while Terry held down the fort in the old combine.
The old combine has been plagued, but the curse was emphasized when a chopper bearing went out on the machine and subsequently turned into a hot ball of flaming metal, as Cassie described it.
Terry never heard a clanking noise, but the smell of smoke caught his attention and thankfully forced him to shut down the machine.
"Dad stopped and found hot embers and soot and then the inside of the combine had smoldering chaff," Cassie explained.
Terry had a small fire extinguisher onboard, so he went to work with that. Farming emergencies like a nearly burning combine sure bring into perspective how important family is. A quick call on the radio and Cassie's mom was bouncing out to the field with the family fire rig, and together she, Terry, and Brett were able to soak down the combine and surrounding area. The crisis was safely averted, thank the Lord.
Cassie may be looking forward eagerly to a reprieve after harvest, but it will be short-lived. Blessed moisture has fallen periodically throughout August, so conditions for winter wheat planting are relatively optimal.
"As soon as we can get ready, we will start seeding," she said.
The turnaround won't be immediate, Cassie explained. There is spraying that needs to be done, seed that needs cleaned, a combine that needs cleaning and to be put away for the season, and of course, fertilizer to get lined up. Harvest wrapped up fairly early this year, so Cassie predicts it will take a week or better for Brett, Terry, and her to get things set up for seeding.
In between juggling a busy farming schedule, Cassie and her husband, Mack, are overseeing the building of their house. The construction was supposed to start much earlier this year, but of course, COVID led to manufacturing delays and setbacks, so it was Aug. 4, right smack dab in the middle of harvest, before construction actually began. Trusses for the house were set to be hung the last week of August and Cassie was very excited about that, as well.
With construction on her dream house clipping along, harvest almost done and a combine fire narrowly averted, Cassie was counting her blessings. She has much to be thankful for.