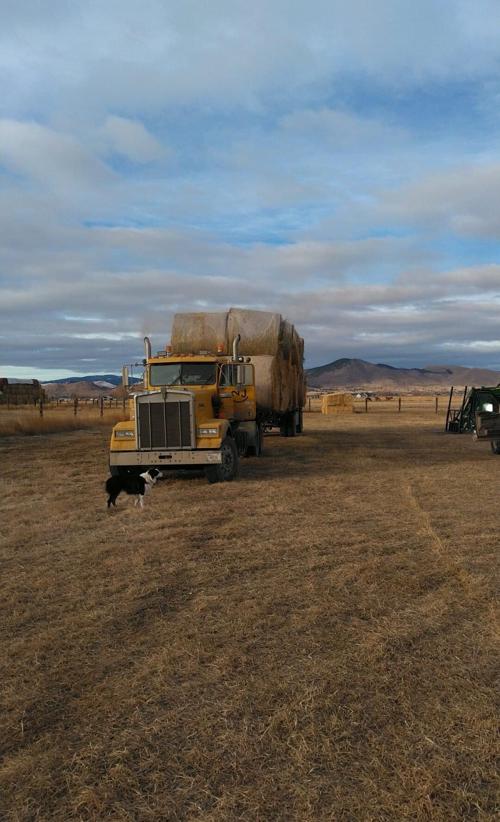 HELENA, Mont. – After weeks of chasing green lines of hay, Joe Dooling is now busy as ever chasing white lines down the interstate. With two cuttings of alfalfa harvested, he is now tasked with delivering all the hay. He will be making several loads to Dillon, some to Butte, Boulder, Billings and Big Sandy, as well.
It will take well over 100 trips for Joe to deliver all of his hay. Just at the tip of the iceberg, he has so far delivered less than 10 loads.
"I am sick of driving truck already, but I've got a long ways to go and a lot more to do," Joe said with a laugh during a phone update on Aug. 27.
Laughs aside, Joe is quick to note that being a trucker has really changed his haying operation. Being able to deliver the hay himself offers him the flexibility he needs to be successful in the business. The only major drawback to driving his truck, he says, is the fact it doesn't have air conditioning. Thankfully, the weather is turning, which is a welcome relief after this year's blistering summer.
For about 48 contiguous days this summer, Joe reported, the Helena Valley never dipped below 90 degrees. That kind of heat intensity is hard on crops, animals, machinery and men. His malt barley crop took the brunt of the heat. He wrapped up harvest by the end of August, and despite his best efforts during the growing season, the crop yielded below average. The sub-par barley crop is a testament to the intensity of the 2021 drought.  
"The pivot just couldn't keep up this summer. When it's 100 degrees and there is a 20 mile per hour wind, you just can't keep up," he said.
With malt barley harvest wrapped up, Joe can now turn his attention to his final cutting of alfalfa. While heat was an issue during the first two cuttings, Joe is becoming leery of the looming chill for this third cutting. It seems like almost overnight the dog days of summer gave way and there is now a hint of fall in the air.
"I need about two more weeks and I am just praying the weather holds. When it turns cold the growth just really slows down," he added.
If the weather holds, Joe is anticipating an average or slightly above average yield for his third cutting.
In addition to hay and malt barley, Joe's third crop, his calves, are also reaching maturity. The pairs he was running on summer lease ground down at Three Forks are now home and contently grazing on the hay barley stubble. Weather conditions up around Augusta continue to maintain, so Joe's pairs up there will be able to graze for a bit longer.
His calves are already contracted with an end of October shipping date on the calendar. Facing the home stretch, he is happy with the way his cattle have fared during this dry summer.
In between trucking loads of hay, Joe will be working on the next project on this to do list: corral maintenance and updates. He will be pre-conditioning calves here in the near future and then hot on the heels of that task will come shipping.
Work on Cedar Creek Land and Livestock seems to almost be never-ending, but Joe proves that if you are doing what you love you never have to work a day in your life.