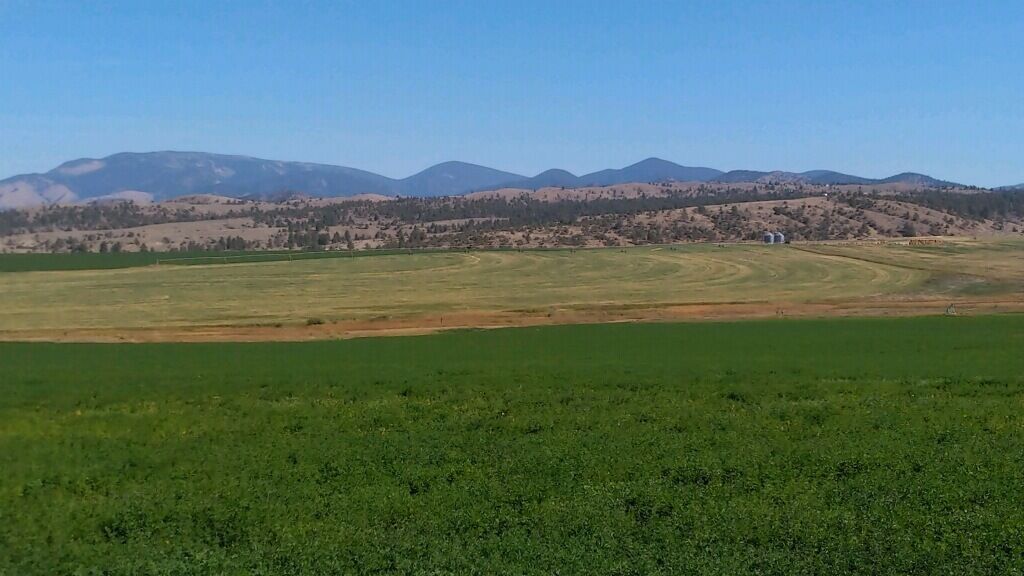 HELENA, Mont. – As summer melts into fall across the Helena Valley, life continues to march on for Joe and Julie Dooling of Cedar Creek Land and Livestock. Joe remains busy as ever hauling hay, and then of course, there is the harvesting of third cutting.
"I am just busy being a rancher," Joe said with a chuckle during a phone update on Sep. 14.
He had just began knocking over his third cutting, and so far, he says the crop looks good with all things considered. With a total of 600 acres to swath, bale, pick and stack, Joe will be running his John Deere haying equipment well into October.
With haying running that late into the year, time becomes of the essence. After bales are picked off the field, Joe likes to ideally turn water back on at least for a little while. Timing is tricky though, the irrigation company will turn the water off the first of October and then all the lines and pivots must be drained before the first hard frost.
Joe says each of his irrigation systems vary. Some lines are self-draining and can expel themselves of water in a rapid fashion. Some of the bigger, more complex pivots need to have the water pumped out and that process can take upwards of a week. No matter what, the systems must all be drained before a hard frost hits or Joe runs the risk of breaking pumps. The worst thing is, Mother Nature isn't always predictable.
"I remember two years ago when the temperatures dropped so quick the end of September that I was out there at midnight draining systems," he reflected.
Needless to say, timing could be tight between water shut off and the first freeze. That being said, Joe is pretty much dedicated to keeping his nose to the grindstone through this fall. After all, there is a lot to be done before winter sets in.
In addition to staying busy being a rancher, Joe set off for Billings on Sep. 17 to interview for a seat on the Montana Stockgrowers Association (MSGA) board. As a rancher, Joe also finds it equally important to be involved in grassroots policy development. He has been a member of MSGA for years, so getting to sit on the board would be quite an honor.
Of course, in true Montana rancher fashion, he has decided to kill two birds with one stone on his trip to Billings. He has donated a load of hay to the Rosebud County Cattle Women to help those affected by the devastating fires that swept through the southern half of the county. He will take the hay over to Rosebud County and then stop in Billings on the way back for his MSGA interview.
Navigating his hay rack through downtown Billings traffic is the least of his worries. Joe is actually most concerned about where he will be able to hang his suit coat in his single cab truck. Between him and his trusty sidekick, Rowdy the Border collie, there just won't be much room.
Looking ahead after the interview, Joe will wrap up third cutting and then work towards getting his pairs home from Augusta. Haying equipment will then need to be serviced. The shorter days make it tough to get through everything on the to-do list, but honestly, Joe wouldn't have it any other way.