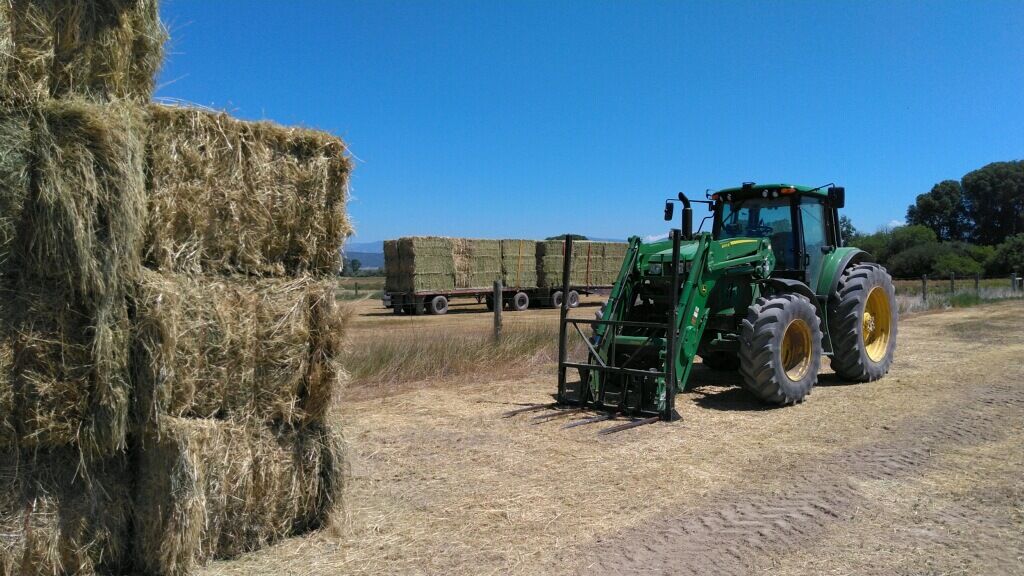 HELENA, Mont. – As the calendar continued to march into the heart of summer, Joe Dooling stayed busy making hay while the sun shined. Temperatures across most of Montana remained unseasonably warm as Joe worked at wrapping up his first cutting of hay right before the Fourth of July weekend.
"It's been miserably hot. I mean, it is great growing conditions for grain hay and alfalfa, so it's not worth complaining about. You just manage it," Joe said astutely during a phone update on July 2.
While Joe reported on his crop condition, harvesting progress, and weather, the sound of his beeping tractor could be heard in the background. Every beep indicated the creation of a new large square bale, or "brick" as Joe likes to call them.
"First cutting is almost done and overall yield has been good," he said.
Continuing, Joe said it is very rare for him to be done with first cutting before the Fourth of July, but above normal temperatures coupled with winds have made for quick drying hay. He has been clipping along at a steadily rapid pace since first cutting began, so he was looking forward to taking a little time for rest and relaxation over the Fourth of July weekend and attending the rodeo in neighboring Lincoln, Mont.
The weekend vacation was much appreciated because it won't be long until Joe will start back into his fields again for second cutting.
"On a year like this where we have been fertilizing between cuttings, it is popping back really quick," he stated.
Joe has been working hard to coax every blade of hay out the ground that he can. He has great concern for his fellow agriculturalists as the widespread drought across the west continues to worsen and he firmly believes it is his duty to try and help as much as he possibly can.
"I've never gotten this many calls for hay in my life. It's hard for me to manage because I don't even know what to tell people," he said solemnly.
Joe had all of his hay pre-sold weeks before he began first cutting, but the realities of this year still weigh on him. He said that even Canada is facing drought and running tight on hay supplies.
"What saved us in 1988 is we pulled hay out of Alberta and I called my buddies up there and they are having the same problem with this drought," he said.
Those on the Helena Valley Irrigation District are pulling more water than ever before, but thankfully, water supplies are continuing to hold. The irrigation district was down for a week at the end of June during a crucial time and Joe hopes the week without water didn't negatively impact the barley crop too much.
"That week was pretty miserable. It was 103 or 104 degrees with the wind blowing and that is exactly what malt barley doesn't want," he explained.
The barley crop was looking really good up until its week without water, so Joe is optimistic. In addition to his malt barley, Joe's newly-seeded alfalfa is coming along really well. The cattle, too, seem to be surviving despite the heat, so Joe is keenly aware of his blessings.
Ranching and farming is a life filled with ups and downs, but even so, Joe and Julie Dooling wouldn't trade this way of life for the world.