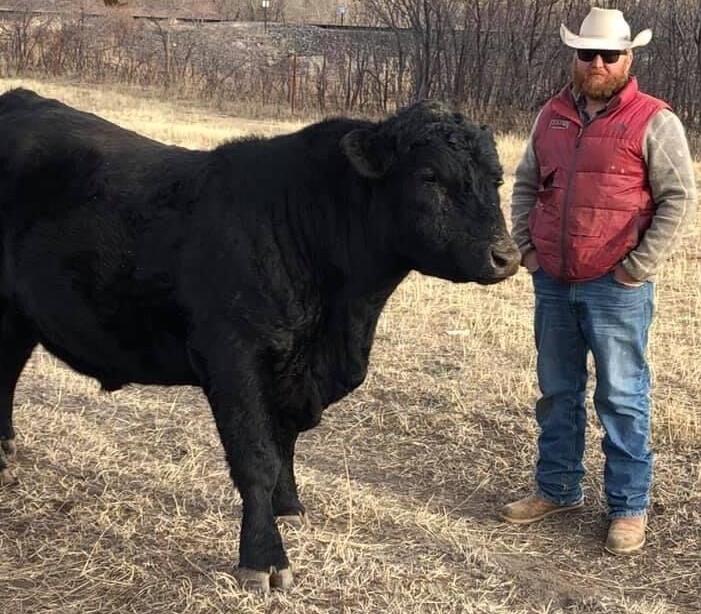 SPRINGDALE, Mont. – Life on the Felton Angus Ranch continues to clip along. Christmas was filled with family and memories and with their 48th annual bull sale a little less than one month away, Jim Felton's days are now as busy as ever.
During a phone update, Jim reported the weather in his neck of the woods remains unseasonably mild. The open winter has certainly had its advantages and some of his commercial cows have been able to stay out and graze longer, but the time is about to draw nigh.
"We are probably going to have to bring the rest of the cows in from the hills and start feeding them next week," Jim said on Dec. 31.
Jim already has quite a few bovine on feed at the moment and every sampling of cattle gets a different feed ration. Hay bunks close to the feedlot are filled with a buffet of different grain and roughage options that must be loaded into feed trucks and fed every morning.
"My fat cattle just get ground hay, barley, corn and modified distillers' grain. The bulls are getting ground hay, sugarbeet pulp, a little bit of modified distillers' grain, a little bit of corn and a little bit of corn silage. All of the up and coming feeder calves that I am growing up out in the field get ground hay, sugarbeet pulp and barley silage," Jim explained.
Attempting to keep all those rations straight takes some concentration, Jim admits, but with the advent of smartphones he and all the ranch employees can keep track of the required feed rations in the "notes" app on their respective devices.
The daily feeding of everything on the Felton Angus Ranch seems like a full-time job in and of itself and with so much going on Jim is eternally thankful that, for the most part, everything has been staying really healthy. He did have to doctor a couple calves on Christmas day, but a quick shot of Zactran and they perked right up.
After switching up his in-take vaccine program and finding huge success from using Endovac, Jim attests that calves in his feedlot stay really quite healthy. He also adds CattlActive to his feed mixtures as an extra immune system boost.
Turning to the upcoming bull sale, the next tasks that need accomplished include carcass ultrasounding and clipping the bulls.
Felton Angus prides themselves on breeding bulls for the commercial man. With that in mind, they opt to provide prospective buyers with real, tangible information in the form of carcass data from an ultrasound. It certainly takes some time and effort on the part of Felton Angus to procure that kind of individualized data on their 250 head sale offering, but they are more than willing to do it for their customers.
"If I can put an actual ribeye size and percent IMF in front of prospective buyers instead of a bunch of EPDs, I feel people understand that better," Jim said.
After being ultrasounded for carcass data, the sale bulls will need to be torched and clipped. It will take about three and a half days for the fitter to spruce up all the sale bulls, so it too is a bit of an endeavor and one that must be done before the bulls are videoed by a Superior rep.
Felton Angus is proud of their yearly sale bulls and they want to showcase their offerings to the best of their ability, but Jim will be the first to say, his family is not concerned with making sure they present the most dolled up bulls. Fitting the bulls will highlight their phenotypic strengths for sure, but when it all boils down, the Felton's just want to offer customers a bull that is ready to go to work for them.
"Our bread and butter is the commercial cow man and we better give them a bull they can afford that lasts, stands up and sires heavy calves. That's what people want," Jim said.
In addition to the feeding and all the bull sale preparations yet to be made, Jim was excited to report he has purchased a quad-axel cattle pot. The new ranch tool will certainly reduce animal freight costs and for that, Jim is most thankful.