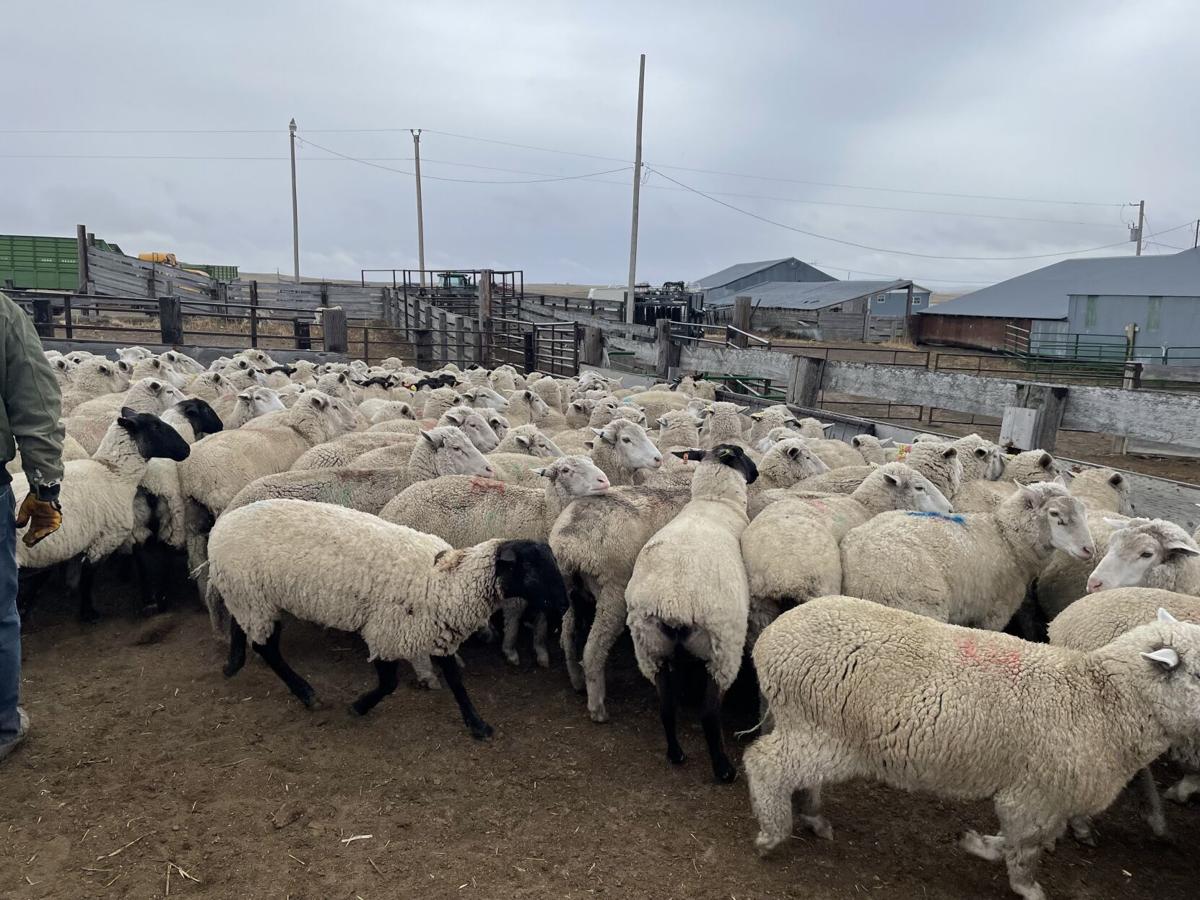 COHAGEN, Mont. – Out on the vastness of the Montana prairie, it is often joked there isn't much to stop the wind except for a barbed wire fence, and Mother Nature sure seemed to have a vendetta in mid-November as exorbitantly high wind speeds swooped across much of the state. On Nov. 16, wind gusts in parts of Garfield County nearly hit 70 miles per hour.
"A lot of dirt moved, more than we wanted to on our winter wheat fields," said Lane Green during a phone update on Nov. 21. "There is a strip down the middle of a few of them that the wind kind of bared off. The plants are still there, but I don't know if they have rooted far enough that they will survive."
Time will tell on the winter wheat, but Lane is fully aware he may be looking at reseeding the blank spots in the fields this spring.
Aside from listening to the wind howl, Lane and his wife, Krysta, have been busy wrapping up their operation's fall tasks. On Nov. 14, Lane turned rams out with the ewes, putting them on track to start lambing on April 10. To maintain genetic integrity across his sheep herd, Lane separates his sheep into different breeding groups.
Lane's Suffolk ewe lambs are turned in with a ram lamb for 12 days, the registered Targhee ewes are paired for 15 days with quality rams purchased out of the Miles City Ram Sale, and Krysta's black-faced mature ewes spend 15 days with a black-faced buck, as well. After the end of the first cycle, everything but the ewe lambs are turned in together for cleanup breeding.
Lane aims to keep his lambing period pretty tight and ideally likes to get through his sheep herd in 30-40 days. Proper management during the fall breeding season ensures that will happen come springtime.
In addition to turning rams out, the Green's also trailed their main cow herd home from their summer/fall pasture – a journey that is about 15 miles. After the trail, the cattle were preg-checked and cull cows were sorted out. Lane is once again pleased with the way his mature cows bred up despite the drought conditions.
"We targeted that we have enough hay to get 400 momma cows through until the first of June and that is pretty much what we ended up with once we sorted off the dries, cripples, and short-term cows," he explained.
With all the cows preg-checked and back at the home ranch, next on the to-do list will be to get all the calves sold. They will be running through the sale ring on Dec. 1 in Belle Fourche, S.D., which is roughly 238 miles away from the ranch. Belle Fourche is noted as being one of the hottest cattle markets in the northern Great Plains and the extra confidence Lane feels in the market there makes up for the added shipping costs.
Following the sale, the Greens planned on attending the Montana Wool Growers Convention on Dec. 2-4 in Billings, Mont. Lane is a producer representative on the Ram Sale board, so being a member of an industry grassroots organization is very important to him.
The Greens just started rolling out some hay to their younger cows to keep their body condition up. This is a mighty strong indicator that it won't be long before the rest of the cow herd is on feed. Until that time comes, Lane and Krysta will remain busy buttoning things up on the ranch before Old Man Winter official settles in.
"You are either getting ready for winter or winter is here," Lane concluded with a chuckle.