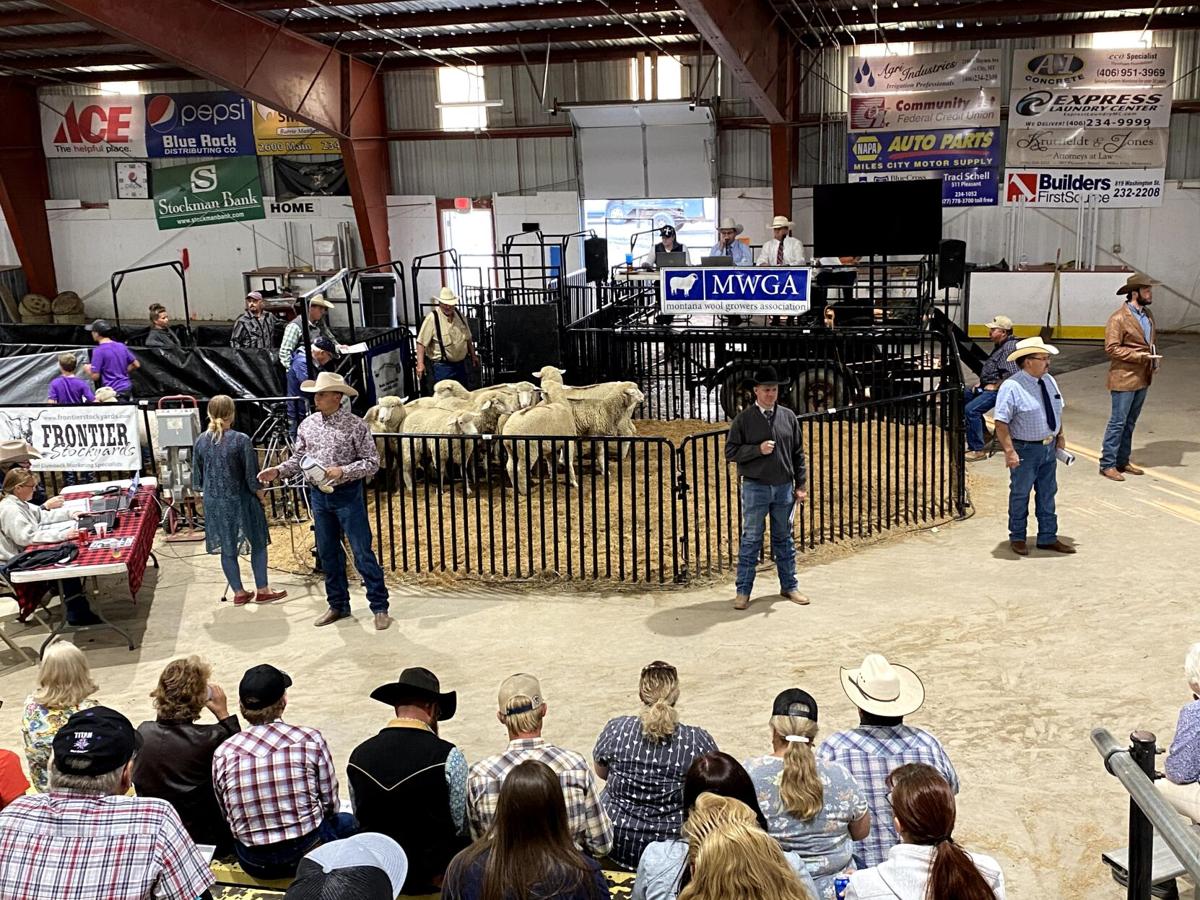 September is right around the corner and that means so is the prestigious Montana Wool Growers Association (MWGA) annual ram and ewe sales. To be held once again at the Eastern Montana Fairgrounds in historic Miles City, Mont., on Sept. 15-16, the 8th annual Ewe Sale and 96th annual Ram Sale are events not to be missed.
Sheep week, as it is affectionately called, will kick off on Wednesday, Sept. 15, with an educational program sponsored by Montana State University. The program will run from 9:30 a.m. to noon, with drought management being the main educational topic discussed. A free lamb lunch will follow the program.
The Ewe Sale Social will begin at 5 p.m. on Sept. 15, with the sale to start promptly at 6 p.m. The first lot in the sale will be the donation ewe, donated this year by John and Betty Sampsel, Hughes Newford Co., of Stanford, Mont.
"All of the proceeds from that ewe will go to help sponsor individuals who want to attend Montana Wool Grower events like convention and special meetings," explained Cheryl Schuldt, sale manager.
Following the donation ewe, 18 consignors will provide 885 head of ewes to be auctioned off. A total of 385 head will be offered onsite at the Eastern Montana Fairgrounds, while 300 head, consigned by Helle Rambouillet, and 200 head, consigned by Lehfeldt Rambouillet, will be offered offsite.
The Ewe Sale will feature both white- and black-faced breeds. The white-faced breed offerings, sold as yearlings, include Rambouillet, Targhee, and Rambouillet/Targhee cross breeds, and will sell in lots of 10 or 20. The black-faced breed offerings, sold as ewe lambs, encompass Suffolk and Suffolk/Hampshire cross breeds, and will sell in lots of five.
The offsite offering from Helle Rambouillet will be sold in four lots of 75 head and the Lehfeldt Rambouillet offsite offering will be broken into lots of 50. The winning bidder will have the option to take one or more lots at that price before bidding will be opened up again for the remaining lots.
While the sale offerings represent the finest range ewes born and raised in Montana, Schuldt said ewes from the sale have also been sold out of state.
"This sale is to service the Montana producers, but we are finding our sheep fit in nicely with those who raise sheep in the Dakotas and Wyoming. We've had sheep go to Nevada and Nebraska, as well," Schuldt said.
The 96th annual Montana Ram Sale will be held on Thursday, Sept. 16. This year's historic sale will have 25 different consignors, offering 295 head. Breeds represented will include Targhee, Rambouillet, Rambouillet Cross, Suffolk, Hampshire and Suffolk/Hampshire cross.
Like the ewes, all rams will be thoroughly examined by the sale vet prior to being ran through the ring. Additionally, sale manager Leah Johnson explained, the MWGA Ram Sale has prided itself on offering quality data-backed breeding stock. Many sale consignors have their flocks enrolled in the National Sheep Improvement Program (NSIP), so the rams will sell with accompanying Estimated Breeding Values (EBV).
"There will be lots of things to look at there – range index, weaning weights, yearling weights, wool microns and ribeye measurements," Johnson added.
Both Johnson and Schuldt articulated that lamb and wool prices are reaching historic highs right now. Although the Montana sheep industry has felt some blows in recent years, strong demand has led to positive markets and now is as good of time as any to be in the sheep business.
"The sheep market is the bright spot in agriculture right now," Schuldt stated.
With functionality and quality as the cornerstones of the sale, buyers can rest assured they are getting breeding stock that will be ready to go to work for them. With internet bidding again offered this year through Frontier Stockyards, you don't even need to be present in Miles City on the day of the sale.
All information regarding the sales can be found online at mtsheep.org under the events tab. In-person bidders can register for a buyer's number onsite just prior to the sale. Phone and internet bidders are encouraged to register for their bidder number with Frontier Stockyards at least two days prior to the sale. Registration links can be found at mtsheep.org or call Frontier Stockyards at (406) 234-8710.
The sale catalogs, including data, pictures, and videos will be available online at mtsheep.org or frontierstockyards.com on Sept. 2.