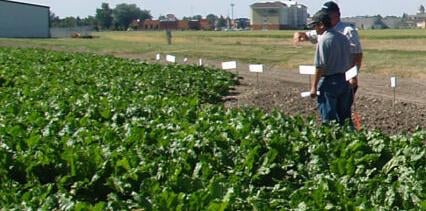 With the new Biden administration sworn into office, Scott Herndon, vice president and general counsel for the American Sugarbeet Growers Association (ASGA), believes there are opportunities ahead for beet producers.
"Joe Biden was elected president and we have nine new senators and several new house members, and what that means for us is we need to educate all those new folks," Herndon said at the 2021 Montana and Wyoming Malt Barley and Sugar Beet Symposium in January. "We can work with anyone and we know we will work well with the new administration."
Herndon believes the ASGA and other beet growers' associations need to be proactive with environmental and economical issues that will now come to the forefront.
"The key will be being proactive, and issues like climate change and sustainability have grown in importance," he said.
The ASGA has worked before with the Tom Vilsack, who was re-appointed as U.S. Secretary of Agriculture. Vilsack held the position under the Obama administration.
"We worked with him under President Obama and the Farm Bill, so that is good news," Herndon said.
In addition, the ASGA has been working on sustainability for some time now because that is what their customers and their customers' consumers want. While Herndon said it would be a new challenge working with the new administration, new ag secretary, new ag chairs and other members of Congress, "with each challenge, there is an opportunity," he said.
Herndon believes there will be opportunities with the renewed focus on bioenergy and climate.
"Agriculture has coalesced around voluntary incentivized-based measures," he said. "We want to make sure the government puts money in your pocket."
Incentivizing beet growers
One example is incentivizing beet growers with carbon credits.
"Sustainability has become a huge issue for us, but it is only a part of our success story," Herndon said.
In the private sector, ASGA joined a group called Ecosystems Services Market Consortium that plans to launch a market to sell carbon and water quality credits for the ag sector by 2022.
"They are establishing pilots nationwide, and I am trying to get a pilot for sugarbeet growers," he said. "Our overall goal for you, beyond selling sugar, is for you to have an additional revenue stream."
The Sugar Sustainability effort was one of the issues Congress oversaw in 2020.
The American Sugar Alliance (ASA), the combined beet and cane industry that works mainly on the Farm Bill, passed the Sugar Sustainability effort last year.
"For me, sustainability is broader than just environmental issues," Herndon said. "It is a three-legged stool. Sustainablity is social, environmental, and economical, with each leg having the same importance."
ASA "is framing our story" for Congress in sustainable ways, and is able to point to growers that are growing sustainably across the country.
"Sugar policy allows these growers to deliver all of these environmental, social and economic benefits," he said. "ASA is able to say U.S. sugar farmers produce 16 percent more sugar on 11 percent less land than 20 years ago, and they have increased yield by 29 percent, all while using fewer inputs. That is huge."
For beet growers, yield has increased by 31 percent.
The ASGA will also be working with different ag chairs in Congress for the next four years.
"Colin Peterson, who was the House Agriculture Committee chairman, lost his seat, so David Scott of Georgia is the new chair," he said. "We can work with whoever is there, but we have to position ourselves to address issues important to him."
In the Senate, Sen. Debbie Stabenow of Michigan is the new Agriculture Committee chair.
Working on several sugar issues
In addition to sustainability and climate, some of the issues the ASGA will work with Congress on include: sugar policy, management of the sugar program, trade, crop insurance programs, biotechnology, pesticides and water issues.
"For me, it is very interesting to represent an industry that has diverse regions because something that works in the irrigated west may not work in the non-irrigated east," Herndon said. "There are different farming practices and different climates, which makes it fun and challenging to take on."
Herndon defends the sugar policy in the Farm Bill, so it is important Congress understands the needs of sugar producers.
"Before COVID shut the world down, we visited 380 offices (in Congress)," he said. "You might have a skeptical staff member who doesn't understand farming, and we explain sugar is unique among commodities. Our sugar policy is a direct response to other governments, which directly subsidize their farmers. That is a compelling message."
Sugar growers talk to Congress
In 2018, U.S. Sen. Jon Tester asked Ervin Schlemmer, from Joliet, who is on the ASGA board of directors, to talk to Congress about the sugar policy in the Farm Bill.
"Ervin was very convincing and we gained a lot of supporters," he said.
"Having the growers come to D.C. is a huge opportunity for policy makers to hear from you how important these issues are," Herndon said, adding he works with others from the American Sugar Alliance, composed of sugarbeet and sugarcane states' associations and processors.
In the last Congress, the ASGA helped secure funds for the benefit of sugar growers and kept a tax from taking effect.
"Because we were able to partner with our (sugar) cane colleagues, we successfully fended off a tax on sugar policy," he said.
Defending the sugar policy
"It is our job to ensure USDA understands our very unique industry and the nuances of our industry, and we have done a good job of it," Herndon said.
Sugar policy gives sugarbeet farmers the chance to supply 85 percent of the U.S. markets.
"Our domestic farmers aren't always able to meet that supply, but they are given the opportunity to, and the rest is imported," he said.
Wholesale and retail U.S. sugar prices are the same as in other developed countries, which is "good for consumers."
That U.S. Sugar Policy helps when defending against ASGA customers who want the "U.S. market to be flooded with foreign dumped sugar."
There was a problem with Mexico violating U.S. trade agreements with sugar a few years ago.
"We have stability in the market now, and it was nothing our sugar growers did. Mexico was breaking our trade laws," Herndon said. "But we still have to explain and defend our sugar policy."
Sugar adjusts to COVID
In a time like COVID, the U.S. did not have disrupted sugar supply chains because of a flexible U.S. Sugar Policy.
But some things changed. Restaurants and schools did not need as much sugar.
"However, retail needed more sugar because people were baking at home," he said. "Large bags of sugar were shifted to small bags of sugar."
That shows that sugar producers and processors can adapt to the market, when necessary.
There was a huge freeze event (in 2019) and large numbers of beets were frozen in the ground.
When domestic sugar producers aren't able to provide all the U.S. sugar needed, foreign sugar can be brought in.
"We guarantee access to 41 countries through our trade policies," Herndon said. "We are not protectionists at all."
When trade agreements are renegotiated, "we want our domestic producers to not be affected, and we don't want foreign sugar dumped."
Crop insurance is important
Crop insurance is "always a moving target," he said.
In the past, farmers could only get crop insurance from private entities that weren't subsidized.
"Now farmers are encouraged by a partially-subsidized crop insurance program," Herndon said, adding Congress agrees that crop insurance should be a public/private partnership. "New commodities, like hemp, are now insured."
For 2020, Montana farmers bought some $33.44 million in total crop insurance protection for all crops, and paid part of that in premiums.
Defending GMOs
Regarding bioengineering, Herndon said anything derived from a bioengineered crop is to be labeled as "bioengineered."
An issue came up with GMO technology when the Vermont labeling law was coming on the books, giving cane sugar a significant premium of almost 8 cents a pound over beet sugar.
Beet customers were fearful they would have to do some disclosure between beet sugar and cane sugar.
"Congress rightfully did not think it was a good system for states to enact their own laws," Herndon said.
ASGA helped Congress pass a federal natural standard in bioengineering in July 2016 that nullified the Vermont law.
The final regulation to implement the law that said that, "only foods that contain bioengineered DNA or protein are required to be disclosed."
Since beet sugar contains no bioengineered DNA or proteins, it does not need disclosure.
"We felt that made sense because how could you say something is bioengineered if there is nothing bioengineered in there?" Herndon said.
Other countries recognize that sugar is sugar.
"We are proud of our GMO beets and we don't run from that, but the sugar in beets is the same as in cane or biotech beets," he said.
There continues to be lawsuits over GMOs, however, and the ASGA has asked to join lawsuits where they can defend GMO beets.
"The ASGA is not huge (in terms of acreage grown), so we depend on having alliances with other groups and work with them for our sugarbeet farmers," Herndon concluded.