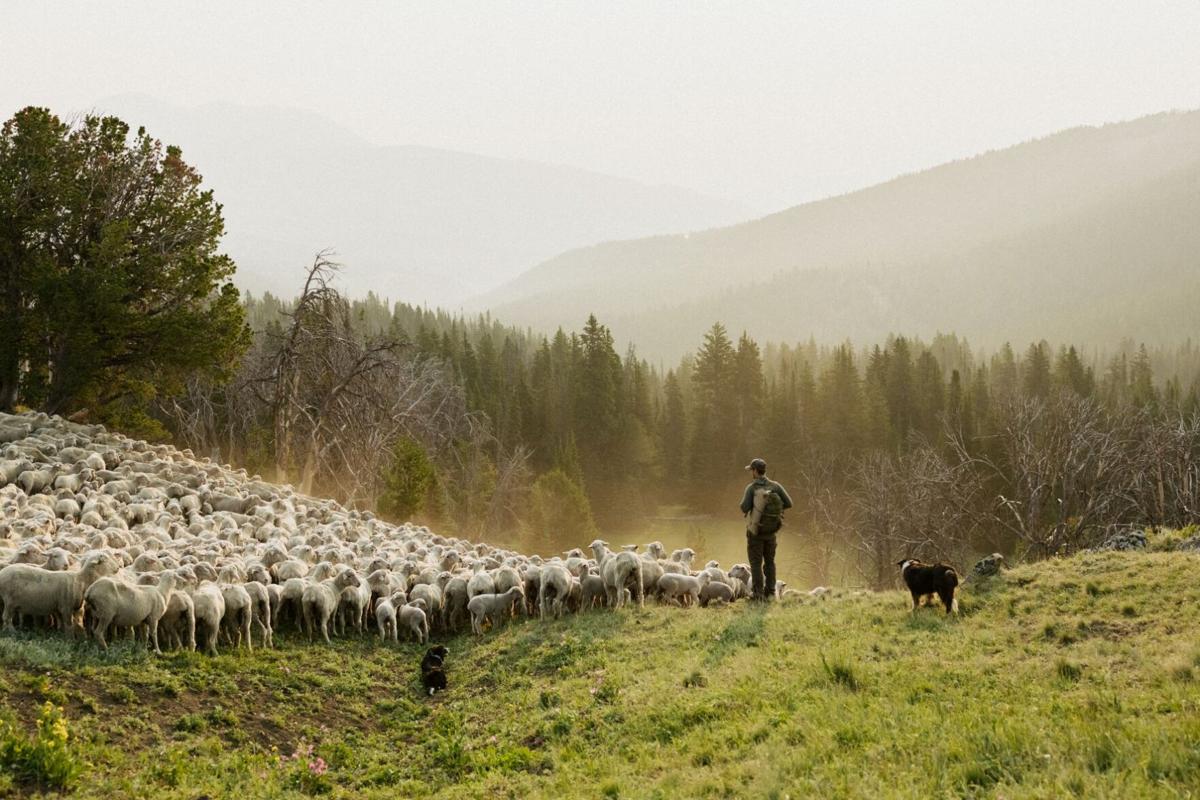 For generations, the Helle family has raised sheep in the mountains and valleys of southwestern Montana. Raising Rambouillet sheep, their operation consists of a large commercial flock, but they also maintain a top quality purebred operation, as well.
Rambouillet are a dual-purpose breed of sheep, producing a desirable carcass and fine wool fleece. The Helle family saw particular opportunity when it came to wool and decided several years ago to focus on improving wool quality traits in their herd through genetics.
"We were one of the first producers to really use quantitative genetics for sheep. We were already keeping records, but we started keeping computerized pedigree records," Evan Helle explained.
The problem with tracking genetics associated with wool is it didn't do any good unless the wool could be objectively measured. So, in the early 2000s, the Helle family imported a machine from New Zealand that used cutting-edge technology to scan wool samples and relay statistical data about the sample.
Combining the objective wool data with their already extensive pedigree data, the Helle family was essentially able to breed the "itchiness" out of their wool.
After working so hard to breed such a fine quality wool fleece, Evan's dad, John Helle, wanted to find a more direct-to-consumer way to market their wool. John tried a few different ventures, but nothing quite stuck until 2013 when he was approached by a brand developer. The two men spent a day skiing on southwest Montana's iconic Maverick Mountain, and by last chair of the day, the idea for a fully made in America wool clothing brand was born.
With the slogan of "sheep to shelf," Duckworth embodies the true essences of Americana. Beginning with source-verified wool, grown on the back of Helle Rambouillet in some of Montana's most rugged terrain and finishing with high-end, high-performance outdoor ready garments, Duckworth is a testament to grassroots, domestic brand development.
"We forged the entire supply chain in the U.S.," Evan said.
Duckworth is about more than fine wool garments, Evan attests. Through the company, the Helle family shares their production story. Consumers nowadays yearn for connection, and providing a product that is sustainably-sourced is an idea that really resonates. The marketing for Duckworth depicts pictures, videos, and social media posts of the Helles working their sheep as a family. Consumers of the product instantly discern they are buying a product that is made with deep care for the land and animals, and that Duckworth is a brand built on family values.
"Our demographic is the younger, more financially affluent generation, and a lot of times they are concentrated in these bigger cities. A lot of these people don't have a connection to agriculture, so we give them that insight into what it takes and where it comes from," Evan said.
The Helles shear about 10,000 head of sheep every spring just prior to lambing. The roughly 70,000 pounds of wool their sheep produce is tested, graded, and scanned right there on the shearing floor, and from that data it can be instantly determined what particular garment the fleece will be used for.
"That is an advantage we have with this company, manufacturing wise. We are able to tailor the wool lot to what garment we want to make. For example, we plan the parameters for the perfect wool for socks and then on the shearing floor the computer sorts out the perfect wool for socks. Then we send that wool that has been curated just for socks to the sock factory," Evan explained.
Although the concept may seem simple, it is that level of specificity and attention to detail that sets Duckworth apart from their competitors.
After being shorn, all the wool from Helle's sheep is then stored in a warehouse in Billings, Mont., and it is from that point it is distributed to various factories. Processing in the textile industry is highly specialized, so Duckworth works with 18 different factories across the eastern and southeastern United States.
The once mighty U.S. textile industry has seen a steady decline over the last century as more and more companies choose to outsource, but Duckworth is bucking the system by believing in the benefits of a strong domestic supply chain. From sheep to shelf, Helle estimates there are roughly 1,000 jobs associated with the entire Duckworth supply chain.
Duckworth Clothing Co. offers everything from socks to undergarments, to shirts to jackets, all with designs that are timeless, intentional, and functional above all else. Grown on the backs of sheep to help protect them from southwest Montana's harsh conditions and transformed into an item that can protect humans in the same way, Duckworth Clothing Co. provides customers with a product that showcases all of wool's natural abilities.