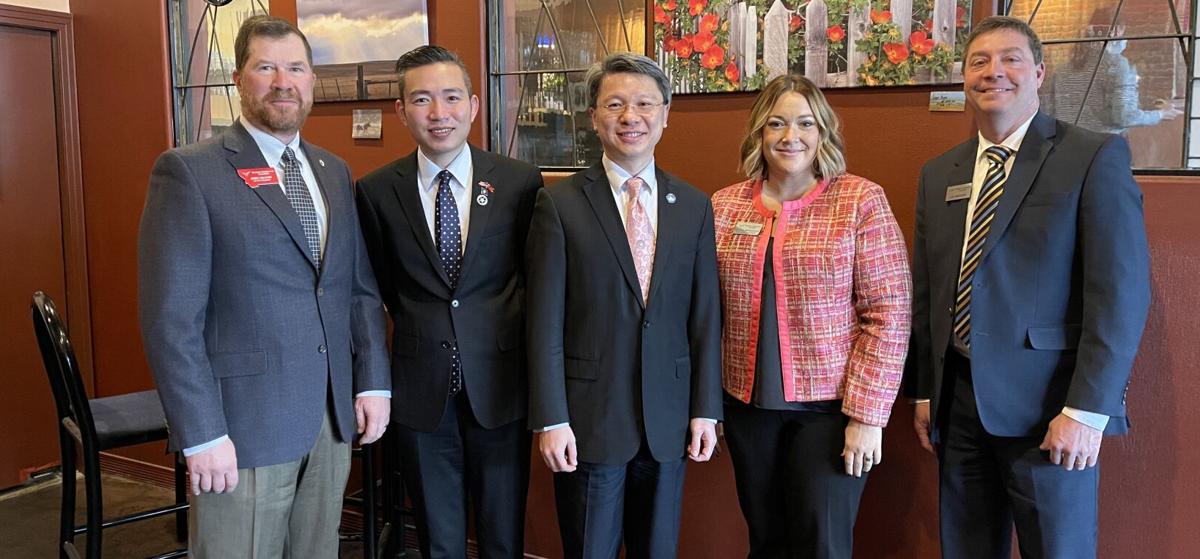 In a true celebration of National Ag Day on March 23, representatives from the Montana Grain Growers Association, Montana Farm Bureau Federation and the Montana Stockgrowers Association (MSGA) met in Helena with Taiwanese trade delegates, Director General Daniel Kuo-ching Chen and Vice Consul Ting K.T. Chen, from the Seattle-based Taipei Economic and Cultural Office. Grassroots leaders and the delegates enjoyed discussing the potential of fostering a bi-lateral trade agreement between the regions.
Taiwan and Montana have long enjoyed positive trade relationships, with Taiwan being Montana's fifth largest export market of agricultural goods. On a larger scale, Taiwan is the sixth largest export market for U.S. beef.
"Taiwan is a major important market and that trade of beef and variety meat has been growing significantly over the last 10 years," explained John Grande, MSGA's First Vice President.
The Taiwanese cuisine calls for such cuts of meat as short ribs, short plate and chuck, which are all value-added cuts the U.S. is more than happy to supply. It isn't only beef the Taiwanese have a hankering for though. The county is also a big consumer of U.S. soybeans, corn, and more recently, wheat, as the country is shifting from a rice-based diet to more of a noodle-based diet.
Grande was quick to point out that the trade door swings both ways. The United States sends the Taiwanese top quality food ingredients and in return the U.S. gets several electronics, semiconductors and car parts from Taiwan. Fostering a bi-lateral trade agreement is beneficial for both countries.
Montana has long been a premium grower of U.S. beef and wheat, so having a seat at the table with Taiwanese trade delegates has the potential to open up several opportunities for farmers and ranchers in the state. As a land-locked state it can be hard to distinguish Montana-specific grown products when it comes to international trade, but Montana's administration is exploring ways to add value to the state's agriculture industry.
Grande noted, Governor Gianforte is not only extremely supportive of Montana's number one commodity – agriculture – but he is also very passionate about marketing. Since taking office, Gianforte has sat down with Grande and other members of MSGA, urging them to work with his administration and find ways to facility and develop trade markets for Montana farmers and ranchers.
Discussions with the Taiwanese trade delegates were introductory and aimed more towards firstly establishing relationships, but there was light chatter of exploring specific Montana to Taiwan trade deals and re-establishing a Montana trade office in Taipei.
First opened in 1988, Montana maintained a trade office in Taipei until then Governor Brian Schweitzer abruptly shut it down in 2012. The office would be crucial for further facilitating and maintaining a bi-lateral trade agreement and Taiwan has expressed great interest in opening it again. But they aren't the only ones.
"Montana's legislative leadership and Governor Gianforte's Department of Commerce are looking into reopening that office, as well," Grande said.
A trade office in Taiwan not only makes trade negotiations easier, but it also presents Montana with the opportunity to establish a presence and develop market access in some of Taiwan's neighboring countries.
"Having a trade office in Taipei not only helps facilitate deals in Taiwan, but it can be a jumping off point into what they call the 'VIP nations' – Vietnam, Indonesia and the Philippians – as well as the other eight countries in the Association of Southeast Asian Nations," Grande said.
Grande and the other representatives from Montana's leading agriculture grassroots organizations hosted the two Taiwanese delegates for lunch were, of course, Montana-raised beef was served. Grande was pleased to observe that discussions were not focused on why Montana agriculture commodities are superior, but rather on what would be the best way to get Montana products directly to Taiwan.
"Those gentlemen have a great understanding of our agriculture. They really know the issues and we don't have a challenge in trying to market to them or convince them to eat Montana beef or bring in Montana wheat. They are believers in that already. It was just about facilitating how to get that done," he expalined.
As a rancher and industry leader, Grande said it was an honor to represent MSGA during the luncheon with Director General Daniel Kuo-ching Chen and Vice Consul Ting K.T. Chen. Continuing, he pointed out that exporting adds over $300 in value to every fat steer sold, so trade discussions like these are vital to Montana cattle producers.
On a more personal note, he expressed what a pleasure it was to get to know the two gentlemen from Taiwan.
"It was just a lot of fun to have the opportunity to get to know Director General Chen and Vice Consul Chen and get to learn more about their culture and teach them about (MSGA) members and the people that are out here raising that beef," Grande concluded.
By and large, the experience was a positive one and all parties are looking forward to further discussing the logistics behind a bi-lateral trade agreement between Montana and Taiwan.