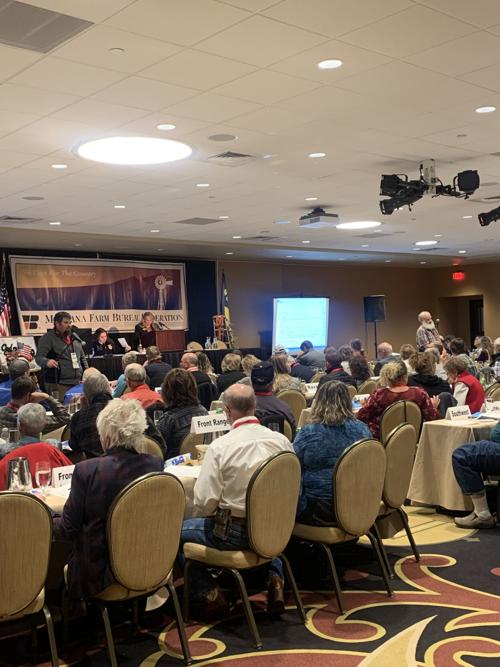 BILLINGS, Mont. – Agriculturalists from around the state convened in the Magic City on Nov. 8-11 for the annual Montana Farm Bureau Federation (MFBF) Convention. With a theme of "Celebrating Resilience," this year's convention offered attendees the chance to attend workshops, listen to keynote speakers, and most importantly, debate and establish policy.
Delegate representatives from each county brought forth industry-relevant policy and began discussion of the resolutions on Tuesday, Nov. 9. By the close of convention on Thursday, Nov. 11, several resolutions had been adopted.
Developing the policy resolutions that will help guide the MFBF into the future is a task not taken lightly by county delegates. For Margret Hebel, a MFBF member from Dillon, who served as a delegate for the Southwest Counties Farm Bureau, being a part of grassroots decision-making was her favorite part of this year's convention.
"I love the resolution sessions best. The breadth and depth of knowledge of the members is very impressive," she said.
Issues ranging from water rights to land use to livestock health to weather modification were all discussed. While opinions might have differed on specific issues, the entire resolution business was handled in a structured and cordial manner with the betterment of Montana agriculture the goal of each delegate.
In addition to grassroots policy development, new MFBF officers and board members were seated. Longtime MFBF president, Hans McPherson of Stevensville, retired from his position at the conclusion of the convention. Conrad wheat farmer, Cyndi Johnson, was seated as the new president – becoming the first female president the organization has ever had. Gary Heibertshausen, a sheep rancher from Alzada, was elected vice president.
Darcia Patten, a cattle rancher from Broadus, was elected as MFBF District 5 Director. Re-elected to the MFBF Board of Directors were Craig Blevins, District 1, a purebred Angus breeder from Ronan; Kris Descheemaeker, District 3, a cattle rancher from Lewistown; Joy DePuydt, District 7, a small grains farmer and cattle rancher from Saco; and Scott Stoner, District 9, who raises horses in Montana City.
Carla Lawrence, from Boyd, was re-elected as the MFBF Women's Leadership Chair, and J.M Peck, from Melrose, was re-elected as the MFBF Young Farmers and Ranchers Committee Chair.
The ever exciting Young Farmers and Ranchers Discussion Meet took place again at this year's in-person convention. The next generation of MFBF leaders competed for the keys to a brand new Polaris Ranger, and after two rounds of meaningful debate, J.M. Peck walked away the winner.
Peck will get to compete in the discussion meet at the American Farm Bureau Convention to be held Jan. 7-11, 2022, in Atlanta, Ga.
With fall cattle and field work winding down, now is the time of year producers participate in industry meetings. According to Hebel, involvement in grassroots organizations is as important as ever now as sharing agriculture's message becomes a necessity. Collecting together in an amplified voice is the most effective way to be herd.
"Agriculture people are notably independent, so I think something that is as easy to belong to as Farm Bureau is a good idea because it gives us all much more power in our speaking voice," she concluded.