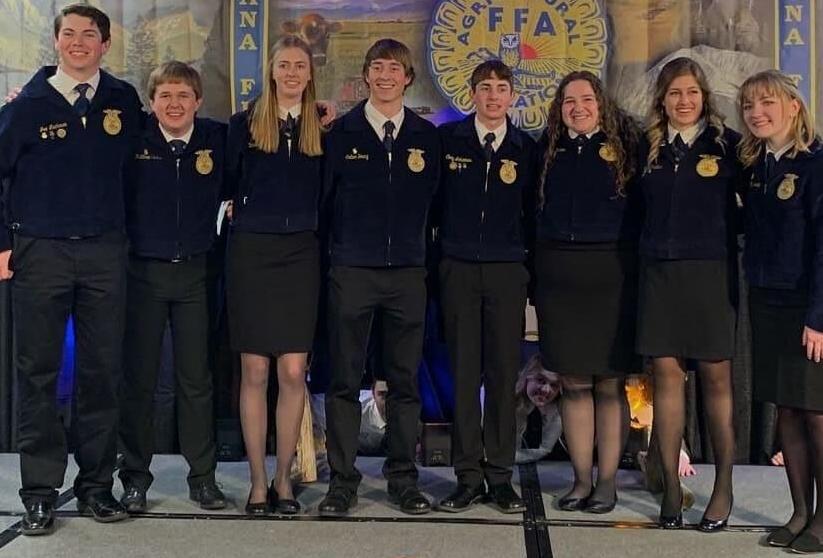 BILLINGS, Mont. – With a state theme of "Connected by Corduroy," the Montana FFA Association made the best of this COVID changed year by hosting at least a semblance of a state convention on April 7-10 in the Magic City.
"State convention capacity was limited to 400, which is about one-quarter of the members we typically have at convention," explained Jim Rose, Montana state FFA advisor.
Although in-person capacity for the 91st Montana FFA Convention was reduced, Montana FFA adopted an online convention platform so members from all across the state could tune in to watch the general sessions, listen to state officer retiring addresses, and cheer on friends and chapter members as they were awarded top honors in proficiency awards and career development events (CDEs).
"All in all, I believe the purpose of the convention was achieved and we are so much better off to have done that than not to have had a convention at all," Rose added.
Also in attendance at this year's state convention were National FFA Advisor, Dr. James Woodard, and National FFA Southern Vice President, Artha Jonassaint. This was the first in-person convention either had attended since assuming their positions with the National FFA Organization.
Rose noted this past year has been challenging for Montana FFA. With several in-person contests and leadership workshops cancelled or moved to online platforms, it has been hard to recruit new members into the organization and maintain enthusiasm.
Normally the state convention is the culmination of a member's hard work, but due to COVID-related restrictions, some state-level CDE's were held prior to the in-person convention. Only the top two individuals and teams from Montana's eight districts were allowed to compete at the state level.
"It was stated several times that the quality of these competitors was exceptional and because of decreased numbers the competitions ran very smoothly," Rose said.
State CDE winning teams and individuals will have the opportunity to compete at the 94th National FFA Convention set to happen on Oct. 27-30. National FFA is prioritizing the health of its members and is monitoring the current COVID situation closely. It is yet to be determined if National's will be a hybrid or strictly virtual convention this fall.
Despite all the adaptations that had to happen, one Montana FFA tradition was still executed this year. At the end of the final session of the convention on April 10, the eight current Montana FFA state officers retired their jackets and welcomed, with open arms, the eight new leaders selected to head the organization.
The 2021-2022 Montana FFA state officer team is as follows: Joe Lackman, President from Forsyth; Colton Young, 1st Vice President from Stillwater Valley (Absarokee); Danielle Horan, 2nd Vice President from Moore; Riley Prather, Secretary from Big Timber; Matthew Slivka, Treasurer from Winifred; Cody Johannes, Reporter from Huntley Project; Allison Denton, Sentinel from Lewistown; and Sydney Kirschten, Parliamentarian from Baker.
This new slate of charismatic individuals is tasked with leading their beloved FFA into a year of rejuvenation by again igniting passion for the organization amongst the members, alumni, and FFA supporters.
"As state FFA advisor, I am most looking forward to our entire state's membership to become re-engaged with all the activities that members have enjoyed in the past and will hopefully continue to enjoy in the future," Rose concluded.
Montana's nearly 5,000 FFA members maybe had to stay six feet apart this year, but thankfully no matter, they were still all "Connected by Corduroy."
Full results from the 91st Montana FFA State Convention can be found at theprairiestar.com within the online posting of this article.
Career Development Event Results are as follows:
Agricultural Sales CDE:
Joe Lackman - Forsyth
Daisy Becker - Kalispell
Thomas Becker - Kalispell
Brianna Rainey - Forsyth
Raey Hanke - Belgrade
Claire Standley - Missoula
Trevor Zimmerman – Missoula
Colter McWilliams – Missoula
Abby Knoll - Rapelje
Hailey Long - Kalispell
Team:
Kalispell
Missoula
Forsyth
Belgrade
Shepherd
Agronomy CDE:
Sage Willis – Shields Valley
Ethan Bay - Kalispell
Matthew Slivka - Winifred
Joel Warneke - Winifred
Wyatt Isaacs – Miles City
Isaac Amezcua - Stevensville
Reace Lannen – Shields Valley
Jesse Isaacs – Miles City
Kayla Haigh - Stevensville
Andi Estes – Shields Valley
Team:
Shields Valley
Miles City
Stevensville
Kalispell
Joliet
Agricultural Technology and Mechanical Systems CDE (mechanics):
Nolan Muggli – Miles City
Michael Sura - Lewistown
Coleman Gilman – Ruby Valley
Wyatt Muggli – Miles City
Tallon Hansen – Deer Lodge
Trace Martin - Lewistown
Aidan Thompson – Deer Lodge
Roy Murray – Miles City
Eli Schreher - Cascade
David Cross - Columbus
Team:
Miles City
Ruby Valley
Deer Lodge
Lewistown
Huntley Project
Agriscience Fair:
Overall winners in each area:
Animal Systems: Hailey Miles - Corvallis
Power and Technology Systems: Rudy Kummer and Wyatt Iverson – Bainville
Environmental Sciences and Natural Resources: Grant Wilcox - Corvallis
Social Systems: Lalia Smart and Natalie Campbell - Corvallis
Food Products and Processing Systems: Owen Dunn - Corvallis
Creed Speaking CDE:
Rylee Glimm - Kalispell
Grace Mosher - Shepherd
Emma Lou Slivka - Winifred
Jordan Leach - CJI
Jr. Creed Speaking CDE:
Claire Mumin - Shepherd
Molly Gilbert - Shepherd
Raygen Carrol - Cascade
Jake Morgan - Clarksfork
Extemporaneous Speaking CDE:
Miles Graveley – Deer Lodge
Jake Chulyak – Big Timber
Joe Lackman - Forsyth
Luke Ostberg - Fairfield
Farm Business Management CDE:
Rudy Kummer - Bainville
Brayden Young – Big Timber
Evan Heupel – Kalispell
Jake Chulyak – Big Timber
Braelyn LaRue – Big Timber
Matthew Slivka - Winifred
Payson Morgan – Big Timber
Kailey Brimmer – Miles City
Kaden Hansen - Bainville
Mackenzee Fabel – Ruby Valley
Team:
1.     Big Timber
2.     Bainville
3.     Kalispell
4.     Miles City
5.     Corvallis
Livestock Judging CDE: .
Jonna McCullough - Geraldine
Brighton Lane – Huntley Project
Sage Zook – Miles City
Kiley Smieja - Belgrade
Mollie Ruth – Big Timber
Collin Cox - Missoula
Tallon Hanson – Deer Lodge
Raenna King – Big Timber
Jake Stene – Big Timber
Ammarie Sowers - Missoula
Team:
Big Timber
Miles City
Missoula
Huntley Project
Cascade
Parliamentary Procedure CDE:
Kalispell
Shepherd
Bainville
Ruby Valley
Prepared Public Speaking CDE:
Matthew Slivka - Winifred
Brighton Lane – Huntley Project
Hailee Varner - Wibaux
Danika Soper - Hinsdale
Conduct of Meetings CDE:
Shepherd
Joliet
Miles City
Corvallis
*The following career development events and leadership events happen prior to the State FFA Convention.
Agriculture Communications
Grace Orem – Cascade
Ellie Ward – Cascade
Sky Smith – Cascade
Lacie Selting – Fairview
Brealyn LaRue – Big Timber
Tie - Lauren Kjos – Fairview and Morgan Anderson – Big Timber
Hannah Hurley – Fairview
Kira Krug – Big Timber
Tie - Katie Skasick – Cascade and Chloe Gullikson – Fairview
Team:
Cascade
Big Timber
Fairview
Employment Skills
Lainey Kitzmann – Billings
Brianna Olstad – Shepherd
Lauren Kjos – Fairview
Gianna Boyd – Bainville
Katelyn Anderson – Shepherd
Hannah Griffin – Clarksfork
Sydney Wolsky – Corvallis
Paige Bender – Conrad
Hannah Sundheim – Fairview
Agriculture Issues
Teams:
Corvallis
Park City
Shepherd
Marketing Plan
Team:
Park City
Cascade
Little Big Horn
Meats Evaluation
Claire Standley – Missoula
Shaun Billingsley – Missoula
Morgan Anderson – Big Timber
Bailey Lake – Kalispell
Reanna King – Big Timber
Lilli Meigs – Missoula
Evan Heupel – Kalispell
Emma Habitts – Missoula
Jake Stene – Big Timber
Miles Graveley – Deer Lodge
Team:
Missoula
Big Timber
Kalispell
Miles City
Grass Range
Horse Evaluation
Colin Cox – Missoula
Wyatt Dooley – Gardiner
Amy Chilcote – Missoula
Ashlee Schumacher – Belgrade
Morgan VanDyke – Glendive
Tanaya Welsh – Kalispell
Tess Shaw – Roundup
Cody Carsen – Kalispell
Mackenzie Serrano – Roundup
Hannah Goffena – Roundup
Team:
Missoula
Kalispell
Roundup
Belgrade
Miles City
Vet Science
Morgan Corean – Grass Range
Nola Goss – Grass Range
Caden Seaholm – Grass Range
Aby Nowicki – Miles City
Bailey Uecker – Lewistown
Hannah Stolfus – Kalispell
Nyssa Shrairer – Corvallis
Audrey Erbaugh – Corvallis
Tie – Dacey Burkle – Plevna and Daniel Dorset – Kalispell
Team:
Grass Range
Corvallis
Kalispell
Plevna
Miles City
Forestry
Jaylea Lunceford – Mission Valley
Robert Mcray – Mission Valley
Logan Lahoug – Mission Valley
Joey Teselle – Belgrade
Raey Hanke – Belgrade
Aidan Thompson – Deer Lodge
Miles Graveley – Deer Lodge
McKayla Learn – Mission Valley
Aubree Boeher – Deer Lodge
Alex Tatarka – Belgrade
Team:
Mission Valley
Belgrade
Deer Lodge
Forsyth
Beaverhead
Food Science
Aryn Blanchard – Colstrip
Brianna Rainey – Colstrip
Bridger Gouchenour – Conrad
Brianna Price – Forsyth
Jaden Boardman – Park City
Sage Willis – Shields Valley
Amy Chilcote – Missoula
Claire Standley – Missoula
Kayla Johnson – Shields Valley
Gus Turner – Missoula
Team:
Missoula
Belgrade
Shields Valley
Forsyth
Colstrip
Floriculture
Thaddeus Miller – Joliet
Sophia Schumacher – Plevna
Olivia Collins – Joliet
Nyssa Schrairer – Corvallis
Paige Shaw – Miles City
Jaeda Paul – Plevna
Claire Standley – Missoula
Cadence Anderson – Miles City
Delaney Bauwens – Joliet
Amelia Schrairer – Corvallis
Team:
Joliet
Miles City
Plevna
Forsyth
Corvallis
The Beaverhead chapter from Dillon took home the title of Star Chapter.  Coleton Sherman of Mission Valley of Ronan was named Star Greenhand with Emily Niebur from Big Timber being announced as the Star in Agribusiness.  Montana's Star in Agriculture Placement went to Matthew Slivka of Winifred, Bailey Lake from Kalispell earned the title of Star Farmer, and Braelyn LaRue from Big Timber earned the Star in Agriscience award.  Finally, the team sweepstakes title went to the Miles City FFA Chapter followed by Kalispell in second and Missoula in third.  The sweepstakes award recognizes the chapter who places highest in four of the five major state convention competitions.  The individual sweepstakes winner was Claire Standley from Missoula followed by Raey Hanke from Belgrade in second and Miles Graveley from Deer Lodge in third.