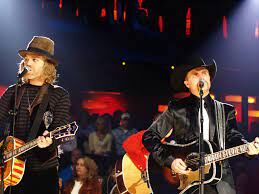 GREAT FALLS, Mont. – There is something about live concerts during a Montana summer that just seem meant to be. 2020 was a summer to reckon with as everyone longed to sing along while watching their favorite artists belt out songs. Well, the wait has been arduous, but live music and performers will once again grace the Pacific Steel and Recycling Arena at Montana ExpoPark for the 2021 Montana State Fair, July 30-Aug. 7.
No fair is complete without a stellar concert lineup, and this year's Montana State Fair will not disappoint. The first performance of the week on Saturday, July 31, will be the country superstar duo, Big and Rich. Made famous for their hit song "Save a Horse, Ride a Cowboy," Big and Rich have made a name for themselves by breaking the assumed norms of country music. Their music nods to many different genres, including pop and rock. Garnering several country music award nominations, Big and Rich are respected among fans for their staunch support of America, as well as active duty Armed Forces and Veterans.
Joining Big and Rich on stage will be DJ Sinister, host of the hot new syndicated radio program, "Country Fried Mix." DJ Sinister is noted for his astute ability to mash-up, remix, and rearrange beats to already well-known country songs. Country Fried Mix offers radio listeners a fresh, unconventional alternative to country music.
Also part of the evening lineup will be Cowboy Troy. Donning a cowboy hat and wowing audiences with his rapping, Cowboy Troy is the self-proclaimed founder of "hick-hop." He has been collaborating and touring with Big and Rich for several years.
The Big and Rich concert, with special guests DJ Sinister and Cowboy Troy, will begin at 7:30 p.m.
Straight from the Las Vegas Strip, entertainer Terry Factor will be performing at 7:30 p.m. on Aug. 1. Combining ventriloquism, comedy, singing and undeniably impressive celebrity impersonations, Factor sky rocketed to fame after winning America's Got Talent in 2007. With a "cast" lineup that includes many notable celebrities, Winston the Impersonating Turtle, Wrex the Crash Test Dummy, and others, Factor and his sidekicks are sure to capture hearts and conjure a laugh or two along the way.
The Montana State Fair would not be complete without a 1990s country music legend, and this year Travis Tritt will deliver all the country music feels on Monday, Aug. 2, at 7:30 p.m. Mentored by such country greats as Waylon Jennings, Kenny Rogers, and Charlie Daniels, Tritt has been a member of the Grand Ole Opry since 1992. Recording songs with hints of southern rock, blues, and gospel sounds, Tritt is best known for his hits "It's a Great Day to Be Alive," "Help Me Hold On," "Best of Intentions," and "Anymore." Tritt is sure to remind audiences why they were drawn to country music in the first place.
On Tuesday, Aug. 3, the four-time Grammy Award winning Australian duo, for KING & COUNTRY, will be on stage starting at 7:30 p.m. Comprised of brothers Joel and Luke Smallbone, for KING & COUNTRY is a Christian pop duo taking the world by storm. Currently on the road with their Burn the Ships world tour, for KING & COUNTRY already has 40 sold-out shows. With a cumulative 826 million on-demand streams and an airplay audience of 5 billion, for KING & COUNTRY is a world-wide music phenomenon you won't want to miss.
Brothers Pete and Sam Loeffler of the rock band Chevelle will entertain fairgoers on Friday, Aug. 6, at 9 p.m. Chevelle boasts an impressive discography collection that has achieved, multi-platinum, platinum, and gold certifications. The duo released their ninth studio album, Niratias, on March 5, 2021.
Last but certainly not least on the 2021 Montana State Fair entertainment lineup will be America's Got Talent Season 14 (2019) winner, Kodi Lee. As a blind and autistic musical savant, Lee won the hearts of America shortly after his America's Got Talent audition. Lee possesses rare musical gifts like perfect pitch and an audio photographic memory – meaning he can recall songs after only one listen. With commanding musical expression and a passion for all types of music, Lee is as much an inspiration as he is an entertainer. He will perform on Sat., Aug. 7, at 4:30 p.m.
All performances will take place at the Pacific Steel and Recycling Arena at the Montana ExpoPark. Tickets can be purchased online at www.tickets.goexpopark.com or by calling the Box Office at 406-727-1481.