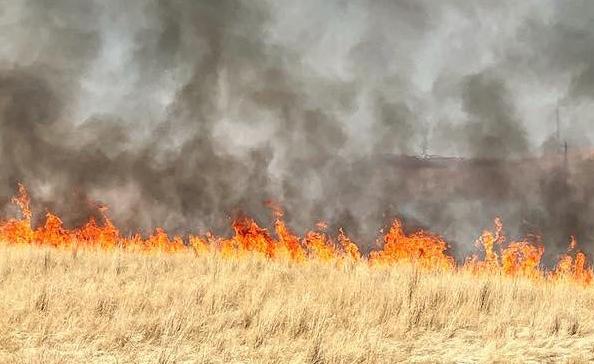 SIDNEY, Mont. – Some 746 acres of grassland involving four landowners was burnt in a grass fire west of Sidney, Mont., on March 4.
No one was injured, including livestock, according to the fire report.
"We have been super dry this year and dry conditions played a role in the fire," said Kale Rasmussen, Sidney Fire Marshal. "We haven't had much for snow this winter."
Temperatures were around 60 degrees the afternoon of the fire, with minimal wind.
The wildland fire was called in at 12:03 p.m., located near the intersection of County Roads 143 and 323. An oil well flare accidentally ignited the fire, according to the marshal's report on the fire.
Firefighters were assisted by volunteer county firefighters and trucks, along with volunteer farmers/ranchers on the scene, some of who run the satellite fire trucks.
The blaze was seen for several miles and was eventually contained by 3:17 p.m.
Whitney and Dylan Klasna, farmers/ranchers near Lambert, were heading home when they saw the fire.
"We figured out where the fire was and hurried home to dig out our satellite fire rig out of our shop," Klasna said. "Thankfully, the pickup fired right up and we made our way back to the fire. Thanks to all who helped."
Rasmussen said they have a few satellite fire rigs located around the county, and without them they couldn't hope to tackle wildland fires/rural fires.
"The five satellite rigs are usually the first out there on the scene. They see the fire right away, and are able to knock back the fires. They do amazing work and save us so much time," he said. "We are grateful to them, especially for these grass fires in dry conditions."
In addition to satellite rigs, Sidney's five grass fire rigs, a tanker, a super fire truck, and a side-by-side responded. The fire chief takes his own vehicle out and sets up incident command to send firefighters where they are needed.
"Our smaller trucks hold 250 gallons of water and our old fire truck holds 1,500 gallons. We have a brand new super fire truck that holds 1,500 gallons," Rasmussen said.
The Yamaha Rhino side-by-side was sent to the perimeter to knock down the cow manure piles, which flame easily.
Along with Sidney, Culbertson sent two fire trucks and Fairview sent three fire trucks and a tender. Lambert sent two fire trucks and a tender and Richland County sent three road graders and two tenders. Don Franz (oilfield service) sent two Quick Attack trucks and two people.
"We had a lot of firefighters and vehicles fighting the fire, and this was a big one for us," Rasmussen said. "The quick action by all made a difference and we were able to contain it. It would have been worse if we hadn't had all the help we had."
Mop up of the fire was completed by 5:17 p.m.
"Thankfully, we got a nice rain on March 16, and it drizzled all day. I hope that helps the dry conditions," he added.