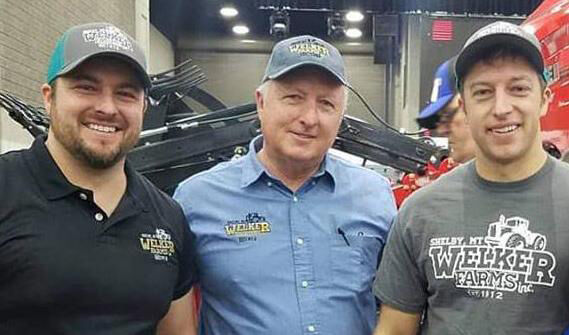 Bob Welker and his two sons, Nick and Scott, owners of Welker Farms in north central Montana, were the keynote speakers at the annual Indiana Corn and Soybean Forum.
The Welkers, who were producers last year for The Prairie Star's Producer Progress Reports, have become well known to the farm community through several social media sites, including having hundreds of thousands of viewers on their YouTube channel.
Speaking from their farm, the Welkers answered several questions on the "Movin' the Pile" podcast during the forum.
The Welkers had a good harvest in 2020, with mostly adequate moisture. For the first time in 30 years, they added two new grain bins to the farm, and also used a Loftness Ag grain bagger to store more grain.
What will be new in 2021 on the Welker Farm?
"I think we are going to try some early, early, early corn," Bob said, as Nick and Scott laughed. "It has to be really early corn."
That will be a change from their normal winter wheat, spring wheat and pulse crop rotation.
In 2020, for their pulse rotation, the Welkers planted chickpeas.
Nick said the majority of the audience that follows them on YouTube are farmers.
"It is amazing how much of our audience are either people who grew up on farms or are people living or working on a farm," Nick said.
Nick said the rest of the audience is connected to agriculture in some way.
"I would say that farmers are probably 60-80 percent of our audience. The rest of our audience is connected to farming," he said. "We have a large amount of truckers. We run a lot of big rigs and big machines, and they like that."
At the end of the 2019 growing season, the Welkers partnered with Case IH to use some of the company's newest technologies in precision ag farm equipment to seed and harvest. They also attended farm shows for Case IH.
But Bob said they were surprised other farm manufacturers and equipment dealers contacted them this year to try some of their new ag products as a result of the Case IH partnership.
"We get to experience a number of products that normally we would not," Bob said. "And with that, other (farmers) get to experience that, as well."
The Welkers have enjoyed talking about farming at the Case IH booth at farm shows. They've been able to go places they have never seen before.
"Case IH gave us the opportunity to go to shows and meet other farmers. It was eye-opening – we (farmers) have a connection with each other," Nick said. "Some of these guys (that come up to the Welkers at farm shows) are young farmers, from 5 years old on up, that play our farm on Farm Simulator, and they are getting to see what a farm is like and what it takes to farm."
Bob pointed out he feels the reason that their YouTube channel stays popular is because the videos contain content, entertainment and cinematic aspects.
Scott said each member of the family has their own strengths and weaknesses on the farm.
"If we know that someone is capable of doing something better, we hand it off to them," he said.
Scott broke his arm this year working in the shop on an engine, so he has a safety message for other farmers.
"I did break my arm in half. It was a reaction, I reached in there to stabilize it and it broke," Scott said. "We live in a dangerous environment. We get comfortable in our environment and sometimes we don't step back and think about things. But we have loved ones who love us dearly. We need to step back, think about things first, and say, 'I could probably put a safety chain on that before I crawl underneath the engine.'"
Scott said he realized he could have lost his arm.
"Stay safe, seriously, and take a few minutes to sit back and think about it. We need to be careful," Scott added.
Nick said Scott is the best one on the farm to fix any vehicle.
"He can take a vehicle in and gets it going and gets it back out in the field," Nick said.
Scott said it is amazing how alert their audience is.
"There are some really smart people out there. They will point out something we forgot to grease and we will say, 'I wish they would have told us that before we got started,'" Scott said, with a laugh.
Bob added sometimes he wants to say how he would do things, but he stops himself.
"As fathers and dads, you really need to let them (your sons) do it and let them grow. We need to let them enjoy the fruits of what we enjoyed," Bob said.
Bob, who is a third-generation member of the farm, said he has been transitioning the farm to his sons.
"Being in farming with your sons is not happening as much as it used to be," Bob said. "We (at Welker Farms) consider ourselves living a dream."
Bob wants to give that "farm stewardship" to his sons.
"When you have your family coming up, they want to see the farm succeed as much as you do. I want to give that farm stewardship to capable hands and I am doing that," he said. "I am confident that it is happening."
Scott said they are willing to "try to take that torch."
"We want to pass the farm on to future generations, our sons and daughters, too," Scott said, who had a new baby this past year.
Nick said a lot of people recognize "we are a family farm and they support that. The vast majority of people have been very supportive of what we are trying to do."
Bob said other families watch to see how they handle day-to-day difficulties with farming – and with each other.
"Families are looking to see how we handle the struggles that go on in the farming community," Bob said. "The commonality is that we are family. We have faith, family and have fun. We have accountability to our families, our Lord and our audience."