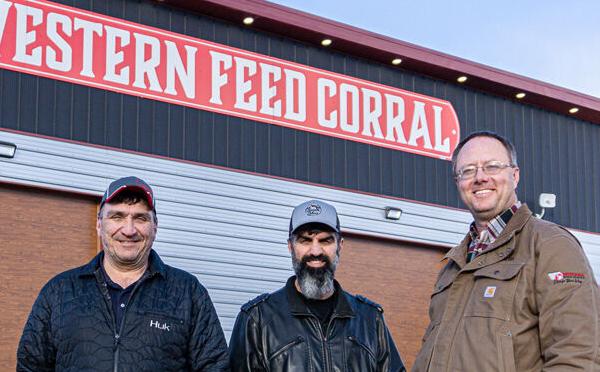 GREAT FALLS, Mont. – The three owners of the new Western Feed Corral, Justin Okes, and brothers, Ben and Nate Stoltzfus, understand what cattle – and other livestock and pets – need at all stages of their growth.
Western Feed Corral opened in April 2020, to service cattle producers and others who lost their feed store in Great Falls when Soder's Fleet Supply closed.
Okes, the former manager of Soder's, partnered with the Stoltzfus brothers to start the new feed store business in the area.
"There was a need for Purina's established customers to have a place to buy feed and they were very loyal customers," Okes said. "We are very appreciative of the customers that followed us here – as well as the new customers we have gained since – and we're excited about the new venture."
This will be the first MAGIE for Western Feed Corral, but Okes participated in the MAGIE in the Soder's booth previously for four years.
"I will be at the MAGIE for my fourth year as an exhibitor, but my first year as one of the owners of the Western Feed Corral," Okes said. "I am really looking forward to meeting our loyal customers at the MAGIE, many of whom came over to us when Soder's closed."
Many farmers and ranchers in the Great Falls area have chosen Western Feed Corral for their livestock feed.
Western Feed Corral is a master dealer for Purina Land O Lakes, and in addition to beef and dairy cattle, the store has the feed for hogs, goats, sheep, horses, poultry, rabbits – along with pets, including cats and dogs – and more.
They also offer a large selection of feeds and supplements for beef cattle, including mineral protein tubs, liquid feeds, nutritional supplements, calf creep feed, finishing feeds and feeds for growth and development.
In fact, they offer feeds for all kinds of animals.
"Purina also has a division for exotics called 'Mazuri' and we have that. One of our customers has a wallaby," he said. "Our slogan is, 'If it eats, we can feed it.'"
Besides owning a feed store with his two friends and partners, Okes operates a cow/calf operation with his wife, Kristin, in the Sun Valley, on the land where his wife's family grows wheat.
"My wife and I have four children, and we focus on cattle and hay and a few hogs," he said, adding they had 220 hogs at an earlier time when the market for hogs was better.
While Okes has worked off the ranch in retail for some 20 years, he was waiting for an opportunity to start his own business.
Okes was the assistant store manager for Big Bear in Great Falls for 14 years, and then managed Soder's Fleet Supply in Black Eagle for three years.
When the Soderman family, who owned Soder's Fleet Supply, retired and closed the store, he was left looking for additional work off the ranch.
With his experience in retail, Okes was hired as a dealer representative for Montana Shed Center, which sells all sizes of sheds.
"As it turned out, the owner of Montana Shed Center was connected to feed, because his father owned a feed store in Pennsylvania and he wanted to open a feed store, as well," he said. 
Okes' past experience at Soder's presented an opportunity to run a feed store.
"Nate, Ben, and I worked for Montana Shed Center, so we're like a family. We started the feed store in a shed from Montana Shed Center, and we received our first delivery of Purina feed on April 15, 2020," he said. "Our first order was for five pallets of feed. Then we sold a semi-load of feed and kept going from there."
They quickly outgrew the shed as so many customers were coming to buy feed, and before long, they realized they needed a larger building.
They leased a larger building and opened Western Feed Corral at 2715 Vaughn Road in Great Falls in September of 2020.
"We were growing so much that we hired two outside sales representatives to help ranchers and farmers with what they needed. Their names are Joshua Dobbin and Melissa Jendro," Okes said.
New customers continued to choose Western Feed Corral for their feed needs, and within a few months, the Stolzfus brothers and Okes realized they were outgrowing that location.
The landlord "was gracious enough" to let them out of their contract so they could build their own building.
"We knew we wanted to build a building, so it could be the size we needed for our customer growth," Okes said.
Recently, they broke ground on the new building, which is situated on five acres.
"We started in a shed, moved to a larger building, and now we have grown so much that we are breaking ground on a new 12,000-foot building."
The new building is expected to be finished in April of this year.
"It is located right across the street from our current location, so customers won't have a problem finding us," he said.
They are continually growing the feed offerings and more at Western Feed Corral.
"We are a master dealer for Purina and we will continue that and expand and improve on our current feed line," Okes said.
In addition to feed, Western Feed Corral has added a line of livestock handling equipment, such as fencing supplies, gates, chutes, feed bunks and more – plus a hardware selection.
"I have ties to agriculture, and it gives me a leg up on what other ranchers/customers need for their livestock because I have the same needs for what I need on our ranch," he said.
There will be even more products for customers to choose from in their expanded building.
 "We have so many loyal customers from Soder's that are coming to buy their feed here," Okes said. "And everyday, we are seeing new customers walk through the door, and we are so excited and encouraged to see new customers and we want to be able to offer them an expanded product line."
The three partners feel rewarded every day with their new business.
"I am not referring to that in a monetary sense. Seeing our customers' needs being met is a rewarding experience for us," he said.
For those who want to find out about the new feed store, Okes encourages them to stop by and see the Western Feed Corral booth at the MAGIE.