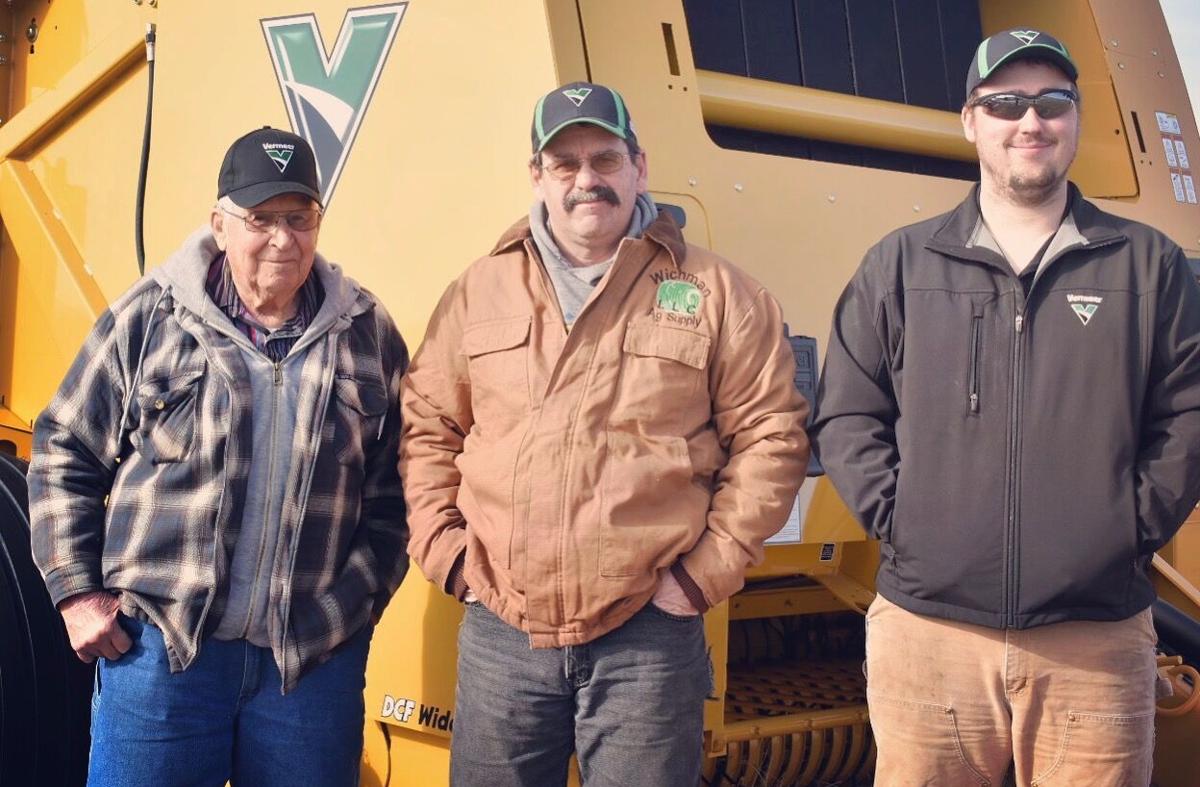 For three generations, the Wichman family has worked hard to provide quality Vermeer agriculture equipment and top-notch customer service to farmers and ranchers. A deep-rooted, generational agriculture family themselves, the Wichmans embarked into the ag supply business in the early 1970s.
"When Vermeer first came out with the round baler, my grandfather, Gene, saw it working and he got one thinking it would really revolutionize haying here in central Montana. After owning one himself, Grandpa wanted to offer the baler to others, so he took on the Vermeer line," explained Walter Wichman, who is the third generation in the family business.
Walter's father, Greg, took over the family business, Wichman Ag Supply, in 1991. In 2016, after graduating from MSU-Northern with a Diesel Mechanic degree, Walter joined the business, as well. In addition to the ag supply business, both Greg and Walter operate a ranch and do custom trucking on the side.
Growing up immersed in agriculture, Walter always knew without a doubt that he would follow in the footsteps of his father and grandfather.
"I always really enjoyed the equipment and the cows. I started baling when I was 10 and started working on other people's equipment by the time I was about 15. So it was always a passion," he explained.
Wichman Ag Supply operates out of a shop on the Wichman ranch with all of the in-house equipment parked neatly alongside the road, easily visible to passersby. In keeping with the quality customer service, Wichman Ag Supply prides themselves on maintaining an extensive parts inventory.
"Our parts inventory has got to be one of the largest in the state for Vermeer," Walter said.
Being centrally located in Hilger, Mont., allows Wichman Ag Supply to offer their parts and expertise to a wide service area spanning an estimated 100 miles in any direction.
"We've got customers from Big Sandy to Cody, Wyo., to Jordan and Circle and all the way up to Great Falls, Conrad, and Cut Bank," Walter explained.
With a service area that vast and diverse, Walter keeps pretty busy, especially during haying season.
"We are everyone's best friend come June and July," he said with a chuckle.
As an independently-owned Vermeer dealer, Wichman Ag Supply is able to provide a more personal level of customer service. And, being as the Wichman family is also in production agriculture themselves, Greg and Walter intimately understand the value of time and therefore work diligently to remedy broken-down equipment as fast as possible.
2021 proved to challenge Wichman Ag Supply's top quality customer service. Supply chain issues made it extremely difficult to maintain their impressive parts inventory and sourcing new equipment was a challenge, as well. The Wichmans were resourceful with their expertise, and although the drought was an industry heartbreak, the dry conditions and reduced yields did put less demands on equipment.
"Looking back, I don't know if any of the dealers or manufacturers could have remotely kept up with the producers in the state if this had been a normal production year," Walter noted.
Saying goodbye to 2021 and looking happily to 2022, Wichman Ag Supply will be making their annual trek to Great Falls for the 2022 MAGIE. The business will have equipment parked outside of the Pacific Steele and Recycling Arena and Walter will be inside working at the Vermeer booth.
"We really like going to the MAGIE because it is one of those times of the year when everyone can get out and see everybody. It is a lot easier for the customer and us to be able to come to one spot," Walter concluded.
Wichman Ag Supply will be on hand at the MAGIE to discuss and brainstorm ideas, as well as displaying some new equipment available from Vermeer.
For more information on Wichman Ag Supply, please visit wichmanagsupply.com.