Rodeo fans were re-energized, when the International Pro Rodeo Association hosted a public rodeo in Locust Grove, Oklahoma over Mother's Day weekend.
The festivities came after a two month COVID-19-imposed hold. The rodeo known as the Annual Roundup for Jesus, was one of the first events to allow spectators.
"The stands were full down both sides of the arena with a lot of people standing. Everything went really well with big crowds and really big contestant numbers," IPRA general Dale Yerigan. "Obviously, I hope there's no repercussions down the road."
Meanwhile, the Professional Bull Rider's competition the same weekend at Lazy E Arena in Guthrie, Oklahoma was closed to fans.
"We will take it day-by-day and week-by-week and make a safe and responsible decision to buck bulls in front of fans when the time is right," PBR commissioner Sean Gleason said. "We will continue to plan and strive to bring our fans more great bull riding in the future, doing so safely and responsibly."
In some parts of the country, it's going to take a while for things to get started, Yerigan said.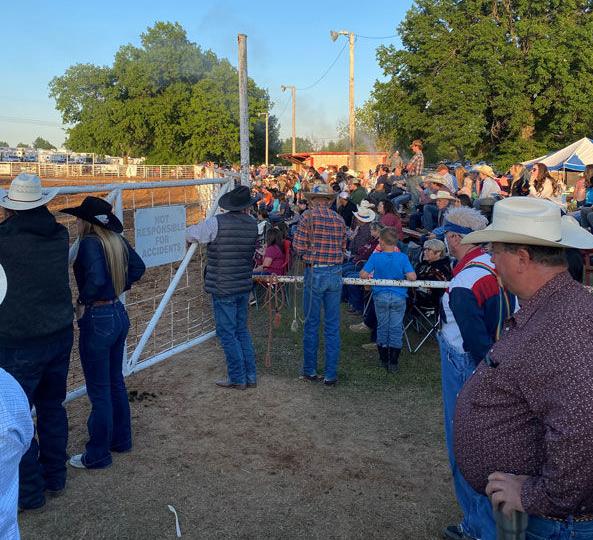 "We're all having to wing it in these unprecedented times," he said.
IPRA had a rodeo in Georgia in late May and several on the schedule in June.
IPRA's Miss Rodeo USA, Brooke Wallace, who was crowned with her title in January, has had an unprecedented year to serve as queen. The 25 year old from Wallace was the first Kansan to become Miss Rodeo USA.
After working virtually to promote rodeo and agriculture through social media, she said she was thrilled to get back to the rodeo.
"To say I've been ready to get on the road and back to the rodeos is an understatement," she said, adding that weekend in Locust Grove reminded her how much she missed working rodeos.
Being crowned the 55th Miss Rodeo USA was a shining moment for Wallace, but she said it didn't come as a suprise.
"Since I've been working for five years for a title of this caliber, I've been in a mental mindset preparing to win," she said.
When they called her name, her family told her, "You didn't look surprised," she said.
"I'd worked hard and was confident, so when my name was called, I was prepared and excited," Wallace said.
Still, in the rush being crowned and being whisked away to go to an event, it didn't really sink in until a couple days later when she got home," she said.
Wallace was born and raised on a farm east of Salina; in central Kansas.
"Both of my grandparents had farmed and raised cattle. At my parents' house – we had horses, chickens too, but horses were the biggest."
For more than 20 years, she competed in English and western style riding events.
Eyes will be on Wallace's attire as rodeo queen. She creates many of her own designs – both for the Miss Rodeo USA pageant and at rodeos. Fashion is in her future, too. Wallace graduated from Kansas State University with a degree in fashion design in 2017. Next year, she plans to start a customized rodeo and western wear business.
As queen for the remainder of the year, Miss Rodeo USA is focused on her plan and inspiring youth through her new platform she calls Dream Bigger.
"The idea is to push ourselves to do more," Wallace said.
Doing more and getting back to business is important for rodeo queens like Wallace, and for most every person associated with rodeos.
"Our riders, stock contractors and many crew don't get paid if we don't have PBR events," Gleason said. "We're a family, and in hard times, you work hard to get your family back to work and help them through challenging times."