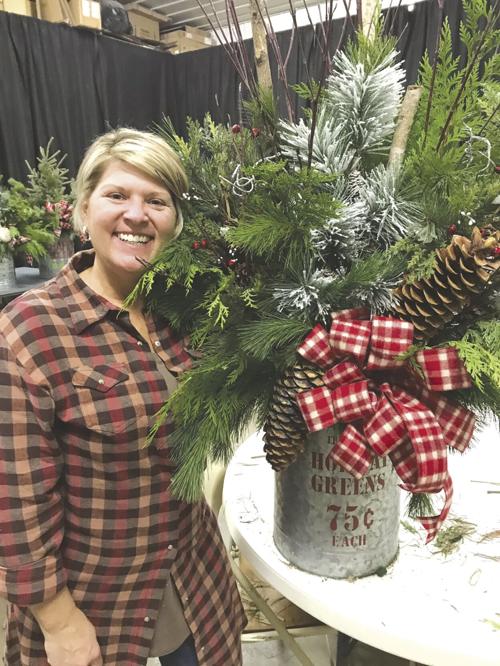 Huron nursery offers online tutorials for popular front porch décor
People are eager to add a bit of cheer to this glum year, and one local nursery is big on helping creative types decorate for the season. This year, it's moving its popular porch pot arrangement class online.
"I think we need that," said Julie Hoffmann, who owns East River Nursery in Huron with her husband Delbert. "That beautiful porch pot, it just gives people hope, it gives people comfort, it gives people joy to see those beautiful arrangements people are putting their heart and soul into."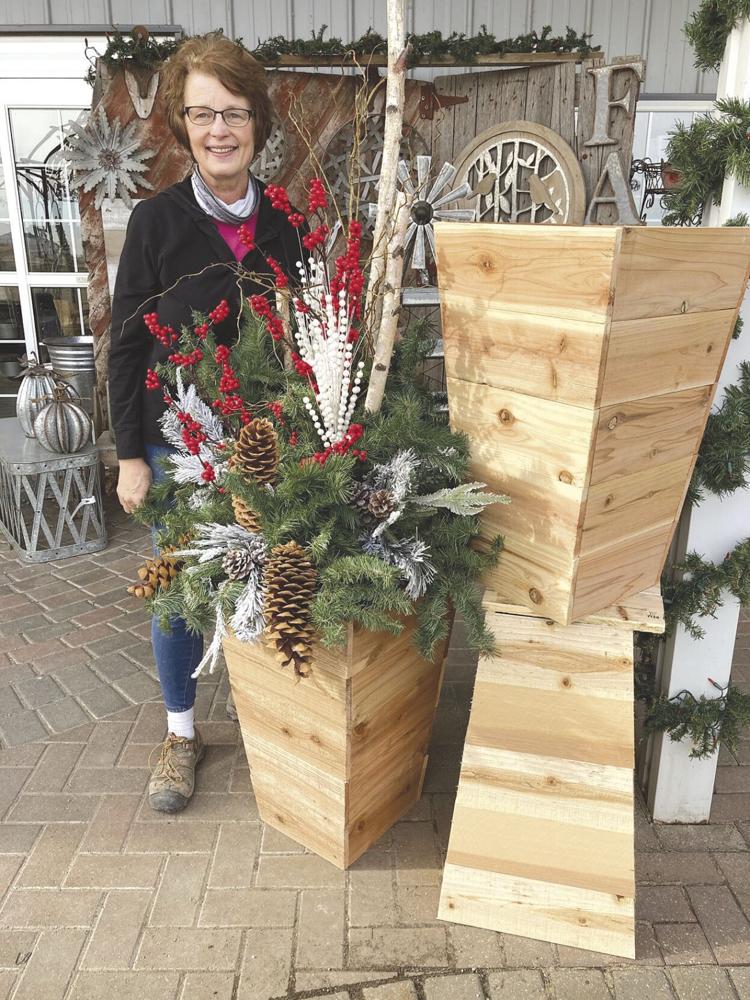 Typically the East River Nursery, located along Highway 37 south of Huron opens one of its warehouses for classes. The business, now in its 37th year, hosts individual and groups from all over eastern South Dakota to learn how to make wreaths, centerpieces or a welcoming porch pot with fresh greenery. They've had sorority and PEO clubs, ladies groups, and friends and families that travel from as far as Aberdeen or Sioux Falls to participate, Hoffmann said.
Last year, the garden center hosted six to eight evening classes with about 25 people per class. Participants work elbow to elbow, creating things together.
"That's what made it so much fun," Hoffman said.
The COVID-19 pandemic put a damper on in-person classes this year, but the Hoffmanns found a fix. They have spent most of the year adapting their business to operate safely in the pandemic. Hoffman catalogued all of their greenhouse inventory this spring so customers could order online and pickup curbside. It made sense to offer the popular porch pot class online.
"We still wanted to offer classes that people can watch," Hoffman said. "People are going online and learning new things."
She saw the demand this spring when people tuned in for classes on planting herbs and starting seeds. They were especially popular with families schooling from home, she said.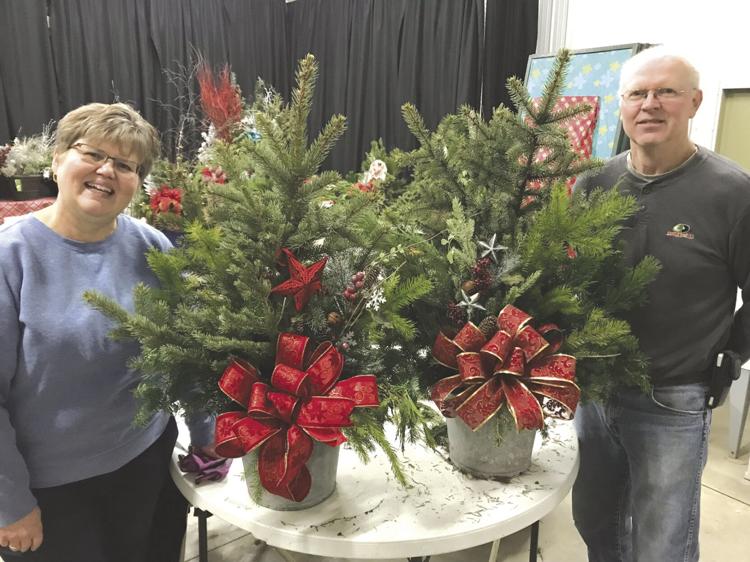 "People are looking for outlets to be creative," she said.
For the porch pot classes, customers can order their Christmas greenery and decorations online at eastrivernursery.com for pickup or delivery. Then, they can tune in to one of two Facebook Live tutorials for tips on how to put your arrangement together.
Classes are scheduled for Saturday, Nov. 21 and Tuesday, Dec. 1 at 6:30 p.m. Search @EastRiverNursery on Facebook. The videos will be available as a resource afterward for those who couldn't make the live event or for someone needing a refresher.
Hoffmann enjoys seeing the end product people come up with. Some enjoy the traditional pine boughs, red ribbons and giant pinecones while others go for a modern look with a monochromatic scheme using white birch logs, frosted branches and black ribbons.
"Everybody has different tastes, and that's what makes it fun," Hoffmann said.
You can make your arrangement with things you already have at home. People personalize their pots by putting their arrangements in old wooden crates, galvanized tubs and buckets. Ribbons and ornaments can be reused from year to year.
In one tip Hoffmann offered on Facebook already this fall was to repurpose the decorative grass you've enjoyed all season long. Purple fountain grass has been a popular choice for containers, but it's not winter hardy, and by now it's dull and brown. Rather that pull it out and throw it away, Hoffman says it can be spray painted a festive burgundy.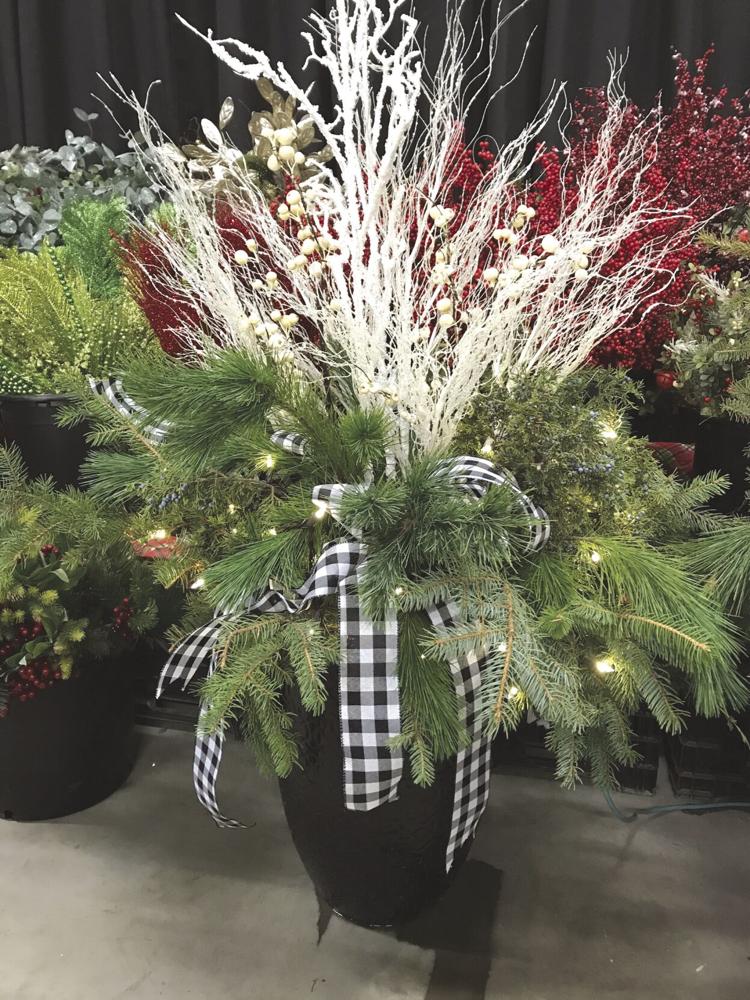 "Stick the greenery right into the soil, add a bow and a few pinecones and you've got a great Christmas arrangement," she said.
Farm families with shelter belts often have some great greenery options right outside their doors, she said. Cut stems from cedar and berry juniper trees can be used in winter decorating. Spruce tips are a popular option.
"Just pop them in a pot and you pretty much have an instant arrangement," Hoffmann said.
When ordering greenery online, East River Nursery offers guidance on what to use indoors and what's best for outside. Colorado spruce, for example, will lose all of its needles within a week if it's in the indoor warmth, Hoffmann said. Noble fir clippings, on the other hand, have fragrant and long lasting needles great for indoor or outdoor arrangements.
East River Nursery also offers a Christmas tree in a bag. The kit comes with a 6 ½-inch European cypress, ornaments and a string of LED lights. It's a fun activity for kids to put together or a good option for people in nursing homes, Hoffmann said.
Christmas is a busy season for East River Nursery, which has a large gift shop offering many Christmas collectables. It's been a busy year all around for the business. Staying at home prompted people to focus on their lawns and gardens. Vegetable sales almost doubled, Hoffmann said, and their landscaping crew is booked into next year.
As the holiday gift giving season ramps up, Hoffmann encourages shoppers to support local businesses. It's the locally owned shops that are often the ones supporting little league teams and fundraising auctions, she pointed out.
East River Nursery will be hosting a few of its annual holiday shopping events with face masks required to encourage safety. The annual Christmas open house is Nov. 27 and 28, and the collectors weekend open house is Dec. 4-5.
"People aren't giving up on Christmas," Hoffmann said.
Janelle is editor of the Tri-State Neighbor, covering South Dakota, southwestern Minnesota, northwestern Iowa and northeastern Nebraska. Reach her at jatyeo@tristateneighbor.com or follow on Twitter @JLNeighbor.