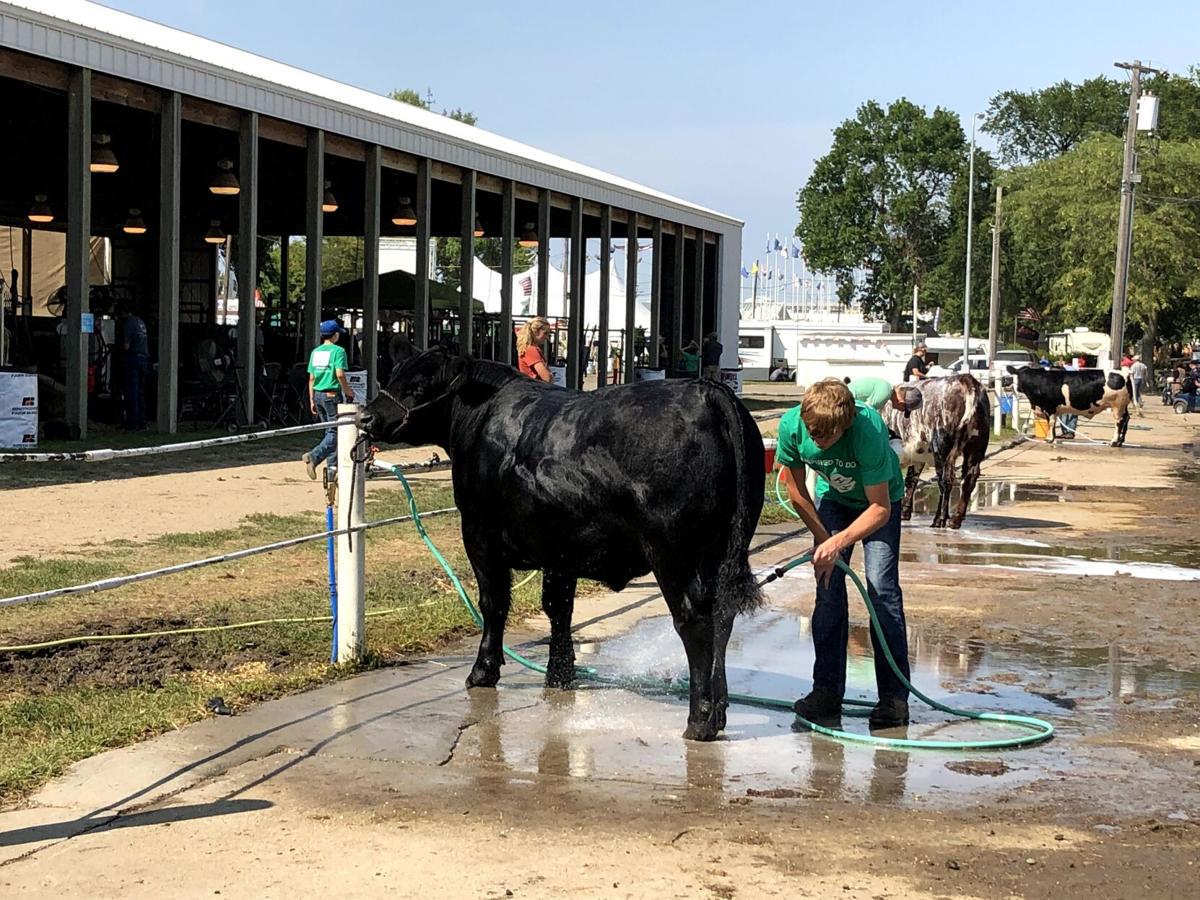 Without the Open Class Beef Complex at the South Dakota State Fairgrounds, there's some shuffling of livestock and show dates at this year's State Fair, which runs Thursday, Sept. 2, through Monday, Sept. 6.
A fire destroyed the Beef Complex last October. State officials and supporters organized a fundraising campaign that brought in $4 million worth of private donations toward the $19 million needed for a new and upgraded facility. The Legislature and insurance payments covered the rest.
There will be a groundbreaking ceremony for the new Dakota Events Complex – or DEX – Sept. 2 at 1:30 p.m. on the east side of the FFA Ag Adventure Center. Construction will start after the fair, and the new building will be ready for the 2022 fair. The facility will have two arenas and seating for 7,000.
Going without the largest show arena on the fairgrounds this year means livestock exhibitors will get an early start to fair week.
The open class beef show got underway before the fair's official start. It started Aug. 23 and will run through Sept. 1 in the 4-H Livestock Complex. Then 4-H kids will carry on with their shows from Thursday through Monday.
"We're working side by side with 4-H and FFA to pull off our typical word class shows here," assistant fair manager Candi Briley said.
The sheep barn will host its last shows this year. It will be torn down after the fair to make room for the DEX.
The FFA Ag Adventure Center continues to add new offerings. This year there's a new grain bin gazebo outside the building.
"They're always working on ways to continue to connect agriculture and where food comes from with fairgoers," Briley said.
South Dakota was one of a few states that hosted a state fair amid the COVID-19 pandemic in 2020. Attendance was down from the typical year, but livestock shows had strong attendance, Briely said.
"This year, we look forward to welcoming some of the folks that had to miss or chose not to come out to last year's fair," she said.
State Fair organizers are continuing their efforts to provide a safe and clean environment. Clean teams will be sanitizing bleachers, benches and other high-contact areas. Hand sanitizing and washing stations will be available throughout the fairgrounds.
Some fun new events have been added for this year's fair. The South Dakota Retailer's Association is putting on a grocery bagging competition at 1:30 p.m. Friday on the Freedom Stage. Contestants will be judged on speed, technique, style and uniform bag weight. The best bagger will move on to the national competition.
The Freedom Stage will also host country artist Jessica Lynne Witte with two performances Thursday, Sept. 2. Magician Michael Mezmer will perform "DangerMagik" Sunday and Monday in addition to a Sunday hypnosis show.
Fair favorites Mogens Heroes will be at the De Smet Farm Mutual Insurance Stage for three performances a day Sept. 2 and 3.
Four the second year, there will be a horse soccer tournament where teams of three on horseback will take to the pitch with a giant soccer ball. The competition is set for 6 p.m. Saturday, Sept. 4 in the Hippodrome.
The Hippodrome is also the sight for the Ranch Rodeo at 11 a.m. Sunday, Sept. 5. Rodeo lovers can also see the South Dakota Timed Event Championship Rodeo for teens at 10 a.m. both Saturday and Sunday in the North Arena. A team roping competition will be 10 a.m. Friday, Sept. 3 in the Hippodrome. Cowboys will show off their sorting and penning skills in competition 10 a.m. Wednesday and Thursday, Sept. 1 and 2. The Turn and Burn Barrel Race is at noon Saturday, Sept. 4 at the Hippodrome.
The bull riders have a go in the grandstands Wednesday and Thursday nights at 8 p.m. during the Red Wilk Construction Tuff Hedeman Bull Bash. Tickets are $20 for adults and $12 for kids.
Grandstand concerts include Bret Michaels on Friday, Dustin Lynch Saturday and Jon Pardi Sunday. Concerts start at 7 p.m. and require a separate ticket in addition to fair admission. Monday's entertainment is the ATV Big Air Tour at 1 p.m. Admission to watch the ATVs jump is free.
The beer garden area has renovated restrooms. Beer lovers will also enjoy the craft beer barn, which opened last year next to the wine pavilion.
State Fair daily admission is $6 for adults, $4 for kids 6-15 and free for kids 5 and under. A daily family pass for two adults and up to four kids is $20.
For more information on State Fair events, contact the fair office at 800-529-0900 or visit www.sdstatefair.com.
Janelle is editor of the Tri-State Neighbor, covering South Dakota, southwestern Minnesota, northwestern Iowa and northeastern Nebraska. Reach her at jatyeo@tristateneighbor.com or follow on Twitter @JLNeighbor.