Members of a small country church near Howard, South Dakota, were sorry to see the church's final service come on a June Sunday two years ago, but something that happened during the Lord's Prayer made it feel like the generations of church members were watching over them.
In honor of their ancestors who founded the church in 1881, they recited the prayer in Norwegian. As they did, a ray of sunlight shined over Jesus's head on the altar painting – a depiction of Jesus praying in the Garden of Gethsemane, according to those at the service. There was a mummer through the pews as people took notice.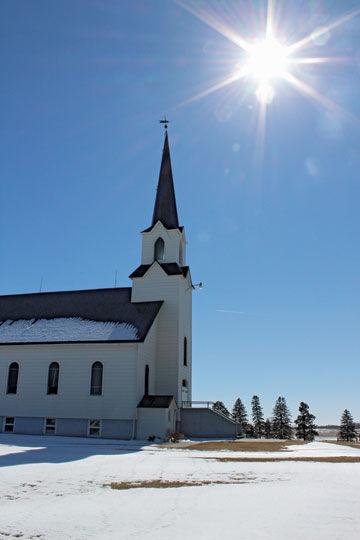 "To me, it was the Lord's way of saying, 'Everything will be OK,'" member Carol Grove said.
It was a ray of hope at a sad time. Members described closing the church felt like a death in the family. They shed tears at the final service.
"How could you not?" said Grove, whose husband, Lyle Grove, is a lifelong member, known for sharing his musical talents with his guitar.
Belleview Lutheran served the community for 135 years. The white church with the tall steeple sits on a hill off what's known as the Norwegian oil road north of Howard. The church and many of the farmsteads around it where built by families who emigrated from Norway.
The first settlers came via Wisconsin, and they were anxious to start a church once settled in the Dakota Territory. The first pastors visited from Volga and Flandreau, and services were few and far between.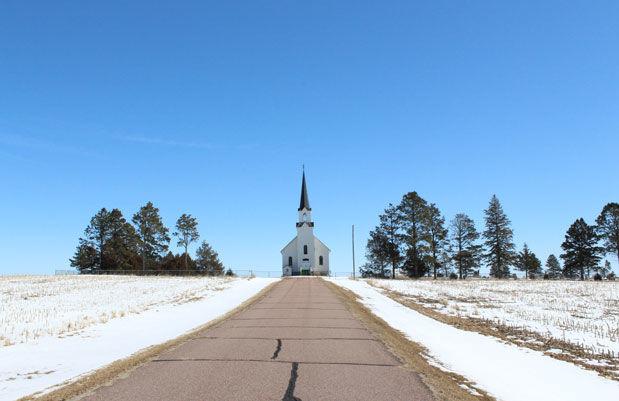 As the congregation planned for a church building, one member donated six acres of his farm land. First, the cemetery was consecrated. To raise money for the church building, a plot of wheat was planted and money raised from selling the crop went to the building fund, according to a history booklet compiled for the church's closing. The profit amounted to about $500 in the first year, but the next year wasn't as successful because a hail storm destroyed most of the crop. The ladies of the church contributed $450 from selling their sewing projects.
Built in 1886, the building was designed after a painting of a church at Vereide in Nordfjord, Norway, where the founders came from. It was named for Belleview township.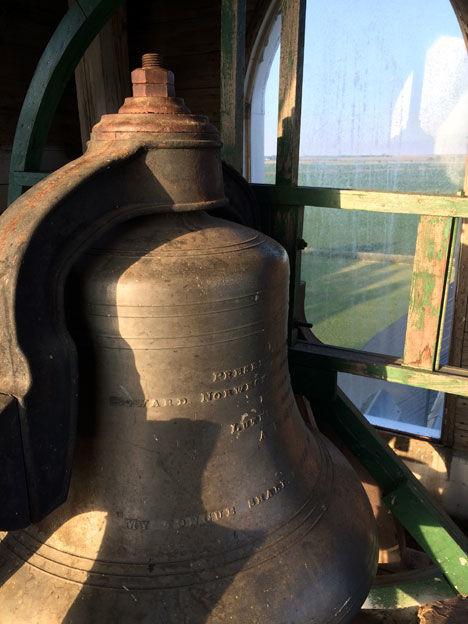 Rick Senner has been pastor in Howard since 2011, covering Bethany Lutheran and seeing over Belleview's final service. His favorite part of serving the country church, he said, was standing on the front steps and looking out over the farmland, trying to imagine what it looked like 130 years ago when the church was built.
Norwegian traditions carried through the years. The fall lutefisk supper was a big to-do. Notes from the 1948 event showed that the ladies prepared 630 rolls of lefse, 59 pounds of butter, 47 quarts of cream, 40 chickens and 70 pies.
By selling their goods and tickets to the meal – costing $1.50 per adult – they brought in $870. It made for a good fundraiser after accounting for just $46 in expenses. The biggest expense was ground beef, sold for 29 cents a pound. Twenty pounds of apples cost $2.25, 10 pounds of sugar cost 92 cents, and six pounds of coffee was $3.
Another annual fundraiser was a basket social. Ladies would prepare a meal in a basket, filling it with fried chicken, sandwiches, fruit and cake. Husbands would usually buy the basket their wives prepared, but not before a neighbor bid on it to drive up the price – all for a good cause.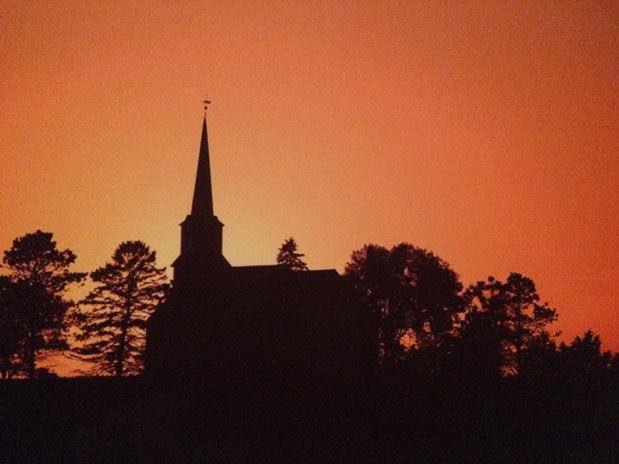 When there wasn't a formal meal, it was common to have a potluck.
"If we had some kind of excuse, we had a potluck," said Larry Riden, another lifetime member.
His mother was the Sunday school superintendent, and he was expected to be there each week. He couldn't skip.
"I just about had to be dead," he said with a laugh.
Dick Erickson was also lifelong member. As a sports fan, the softball tournament at August ice cream social was his favorite church activity. The boys played the dads on a neighbor's pasture.
"I think we won most of the games," Erickson said, admitting that the dads took it easy on them.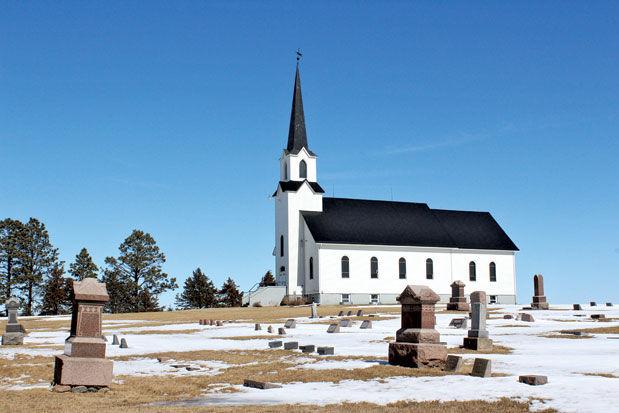 Another favorite time was the fall picnic when they would have a bonfire and games including a fishing pond and a treasure hunt where kids would try to find money in a straw pile. The fall picnic was a tradition that carried on until the church's final years.
Lyle Grove likes to think back on his days in Luther League. After the meetings, they would play games such as "wink 'em." One of the boys would stand behind an empty chair while others sat in a circle. He'd pick a girl and wink at her, then she would have to run to the empty chair without being tagged.
The boys also had a tradition of sitting in the balcony as soon as they were old enough for their mothers to let them. They would still cause trouble from time to time, making noise during a sermon and carving their initials into the wooden rail.
Former members are raising money to mark the church's history with a monument. It will list the 28 pastors who served there, plus the seven members who became pastors and feature a quote from an early pastor whose descendants still live in the area today. They hope to have it ready by Memorial Day this spring.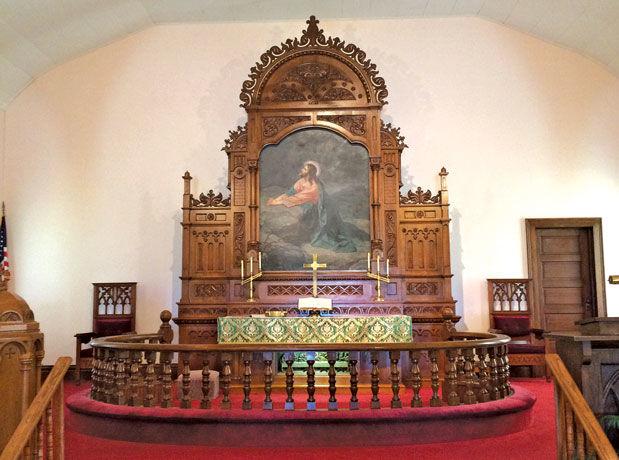 Today, the church sits empty, its windows darkened and its pews removed. Those iconic parts of the church will be preserved, though. Some pieces of the church will follow members to Bethany Lutheran, Belleview's sister church in Howard, with which they have shared a pastor for more than 100 years.
Belleview's stained glass windows were donated to a church in Northrup, Minnesota, that rebuilt after a fire. The antique light fixtures, baptismal font and communion dishes went there as well. One window was reserved for Bethany Lutheran. The long, narrow window with the white rose of Martin Luther's Seal was once above the door at Belleview Lutheran.
The carved wooden alter was donated to the South Dakota Cultural Heritage Center in Pierre. Museum director Jay Smith said he's glad the altar will be preserved, though the center doesn't have set plans for how or when to display the piece.
"It's an exemplary piece from a point in time in our nation's history and in our state's history that shows the importance people placed on religion," he said over the phone. "You can just feel how powerfully imbued it was from the people who let it go."
The altar was not the church's original. It was purchased in 1917 with a major improvement project at the church. An addition was built, and the church was raised to add a basement at that time.
The church paid $525 for the altar piece, and it's now worth more than $10,000, according to a church history book. The lower portion features a ceramic relief of the Lord's Supper and the painting of Jesus praying in Gethsemane is on the upper back panel. It was painted by Herbjorn Gausta, a Norwegian-born artist with a studio in Minneapolis.
Stained glass wasn't added until sometime in the late 1940s or around 1950, when the church also got new pews, an electric organ, a new piano, hymnals and an updated kitchen and running water to new basement bathrooms.
The Luther League donated the church bell in 1898, inscribed with the words "My tongue shall speak of thy praise." The bell will be placed at Belleview's sister church in town, where most members now attend.
"We're looking forward to seeing the bell out at Bethany and hearing it," said Deanna Erickson. She became a member when she married Dick Erickson and spent many years teaching Sunday school and Bible school. For years, she and the other teachers wrote the Christmas program for the kids to perform.
Members bid on other church furnishings when Belleview closed. Brenda Donahue got creative with the pews she saved from the church. Cut into smaller sections, she used some as chairs at her kitchen island, some were turned into end tables for the couch, another piece made a step stool, and the hymnal holder now stores files.
"I used every piece of it," she said.
Donahue wasn't a member at Belleview Lutheran, but her grandma was. She went to church with her as a little girl and knew many members as her neighbors.
"You felt like home when you went there," she said.
Prayers on the Prairie is a regular feature of the Tri-State Neighbor, taking the places of the Crop Watchers report during the winter season. If you have a suggestion for a rural church to feature here, contact Editor Janelle Atyeo at 605-335-7300 or jatyeo@tristateneighbor.com.