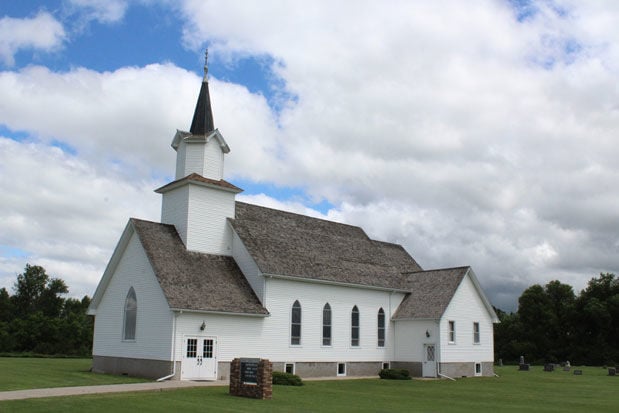 A church can feel like home, and for Jaimie Odde, it was a cure for homesickness. 
Odde grew up in Sioux Falls. Her husband's family ranch and a teaching job brought her to the Pollock area in north central South Dakota. She also grew up hearing her grandpa Leroy Iseminger preach, so when she was looking for a church to attend, he referred her to a friend who pastored in the area. He told her she had to go to Norway Lutheran, located north of Glenham, South Dakota.
"I was awfully homesick," Odde said of that time.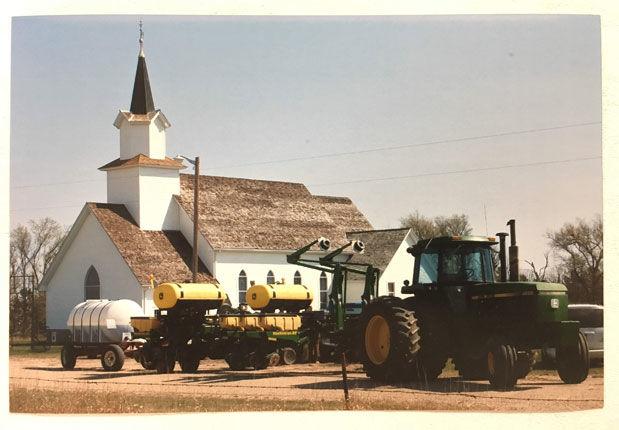 But her first visit to Norway Lutheran changed her mind. Seeing that white country church on the prairie was a comfort.
"I knew I was home," she said.
Ten years later, she's rooted in the community and taking steps to become a pastor.
Odde is part of Luther Seminary's Kairos program, which allows students to work toward a Master of Divinity while working, raising a family and preaching. Taking classes remotely allows her to serve a rural area that's in need of a pastor.
She and three other lay pastors cover seven churches in northern South Dakota – between Groton and McLaughlin and Pollock to Pierre.
"Those churches would most likely be empty if not for this project," Odde said.
The Norway Lutheran congregation is made of a mix of families who have been part of the church for generations and new families. There's also a mix of young and old. Four members are in their upper 80s. Jaimie and her husband John Odde are raising three young kids, ages 7 to 7 months.
For young families, Norway Lutheran makes an effort to include programs for kids. A multi-grade Sunday school is held for kids from pre-school age to upper elementary. They have a scholarship program to help kids attend Lutheran Outdoors summer camp, and the youth group goes to a national gathering every three years.
The church has unique approach to vacation Bible school. Instead of dedicating a few days during a week of summer vacation to Bible lessons, Norway Lutheran puts on family fun nights throughout the summer. They host a Bible study with a craft, supper and outdoor games.
Today, about 45 people attend the remote rural church for Sunday worship. They come from Mobridge and Java and other small communities.
"It's kind of become a destination church," lifetime member Lorraine Anderson said.
Her great-great-grandfather was among the church's founders. E.B. Espeland was among the 37 adults and 25 children that made up the early congregation. They were among Scandinavian settlers who filed homesteading claims upon arriving in the area around 1884. The next year, they met to organize a Lutheran congregation.
The early years were a struggle financially because crops were ravaged by drought and grasshoppers, according to a history article recorded for the church's 75th anniversary in 1960. Funding construction of a church was out of the question, so members met in homes and schoolhouses.
It wasn't the unified group churchgoers were looking for, so they reorganized in 1896, and things got rolling to build a church. J.S. Sand donated three acres, and a subscription was stared to raise the $800 needed for the building. By the following year, they had enough to go to work on a 40- by 30-foot building. The building was nearly half paid for by the time they held the first service in the new building.
Early plans were to build the church out of "russerbrick" – a mix of hay, straw and clay formed into bricks and dried. They eventually settled on a wood-frame structure.
During a coffee break one afternoon, the wind blew so hard that the structure, sitting on rollers, moved to its current spot – or so goes the story that's been passed down by word of mouth for generations.
"You could either call it divine intervention and the wind," said Lorraine Anderson.
A parsonage was built on a donated five-acre plot in the years following. Because they shared a pastor with another church, the congregation decided in 1928 to sell the house and use the proceeds to dig a basement under the church building.
At times, the Norway Lutheran pastor served up to seven churches as once. Bethany Lutheran in Selby was an early sister church, was Trinity Lutheran in Mobridge. Today it's a joint parish with Redeemer Lutheran in McLaughlin. The churches are 50 miles apart, so to foster a sense of a larger church community they hold a service and potluck each summer at a park or along the Missouri River.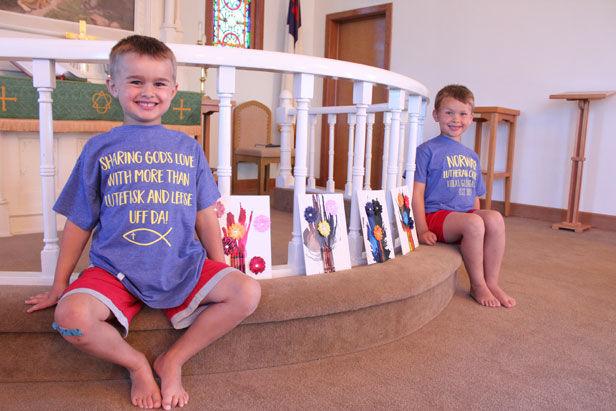 Each spring, the church dedicates a Sunday to giving thanks for farmers' work caring for the land and providing food. Rogation Sunday, held in late April, marks a time of prayer. It also coincides with the start of planting season. Farmers brining their seeds and park their equipment in front of the church for a special blessing.
Gardeners get in on Rogation Sunday, too.
"By the way, the blessing on your tomato plants really works," member Tomi Travis said with a smile.
The church contributes globally, too. They support global ministries through ELCA (Evangelical Lutheran Church in America) programs and the Lutheran World Relief.
Three church members have gone on to become pastors.
"I think that's quite a remarkable feat," member Mary Sue Fonkert said.
Molly Anderson and Marilyn Brockel have long served as the church organists. The entire congregation makes an effort to provide special music. Known as the Norway Lutheran Family Choir, adults join Sunday school kids for special songs. Anyone who can sing is invited, and half the church gets up when it's time to perform.
"It's fun," Fonkert said.
A Gold Star plaque outside the church recognizes two church members who lost their lives in World War II. One was buried in France and was later brought back to his home church as his final resting place.
Odde likes to think of the member's ancestors buried in the cemetery surrounding the church during communion Sundays. Having them nearby is like they are joining their loved ones for the "communion of saints," she said.
The church has been a stop for visitors from Norway as part of Norse Host Fest. A Fargo tour company arranges visits each September, showing the area's Norwegian heritage and learning about the church's history.
Odde has fully embraced the church and likes to show Norwegian pride. She created matching T-shirts for the Fourth of July parade, and the church sold them to raise money to send kids to the national youth gathering in Houston. The saying on the back of the shirt in an ode to favorite Norwegian food:
"Sharing God's love with more than lutefisk and lefse, Uff da!"
Prayers on the Prairie is a regular feature of the Tri-State Neighbor, taking the place of the Crop Watchers report during the winter season. If you have a suggestion for a rural church to feature here, contact editor Janelle Atyeo at 605-988-7868 or email jatyeo@tristateneighbor.com.
Janelle is editor of the Tri-State Neighbor, covering South Dakota, southwestern Minnesota, northwestern Iowa and northeastern Nebraska. Reach her at jatyeo@tristateneighbor.com or follow on Twitter @JLNeighbor.