A small church in the northern reaches of South Dakota is looking toward the future.
Young families make the church a lively place. Parents of young kids are stepping into leadership roles as church deacons, and older generations are working to make a welcoming atmosphere for kids.
The Lowry Pilgrim Community Church sits on the edge of Lowry, population six, located about 20 miles from the Missouri River in northern South Dakota's Walworth County.
It's a small, white building with a bell tower and gothic windows in stained glass. The sanctuary is simple, in the fashion of when it was built by German-speaking immigrant families in the early 1900s.
One newer addition is in the grassy lot next door. Brightly colored swings, slides and a rainbow-striped jungle gym provide a place for kids to play.
Lifetime members Calvin and Marcella Huber purchased the old school lot next door to the church and put up the playground. Marcella taught first through eighth grade in the two-story school that once stood there. Now, she tends a flower bed on site, adding to the color, and Calvin built the raised bed out of field stone.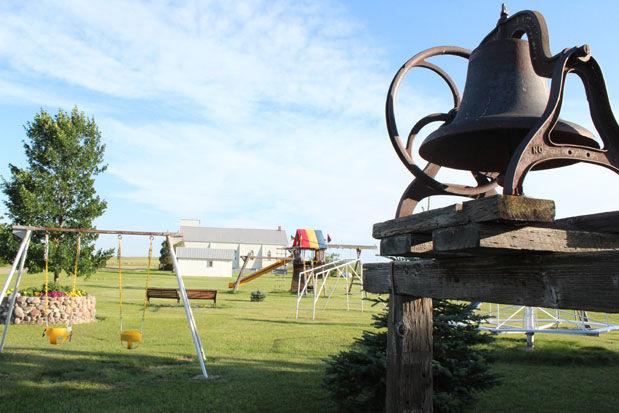 The Hubers are happy to see kids being raised in the church.
"It livens up the church so much," Marcella said.
Brett Huber is the grandson of Calvin's late brother, Mel. He is one of two family men and farmers from the younger generation taking a leadership role as a church deacon. Brett said he's thankful for being part of the church.
"It's neat to see how god serves this church over the years," he said.
Luke Perman is also serving as deacon, a role his great-great-grandfather held when the church was first founded. He said it's an honor to be a part of the tradition.
"It's humbling to be able to serve in ways that have been modeled for us through generations," he said.
Today there are four generations of Permans still active in the church.
"That's really special," said Luke's mom, Garnet Perman. "That legacy that gets handed down at church is part of the family experience."
She teaches Sunday school year-round, and her husband Lyle shares a children's message each week during the service.
"I like telling stories," he said.
Sometimes his stories get lively. Sharing in God's creation, he's brought birds, snakes and ants to help illustrate his stories. It does wonders to get kids' attention and make the lesson stick, he said. Others are on the edge of their seats, too.
"The grandmas in the church get pretty nervous that you don't drop this container of ants," Lyle said.
The church was founded May 20, 1901 as a Congregational Church. The original names was Pilger for people who found themselves "Pilgrims of the land." Sermons and meeting minutes were her German until the late 1940s when a vote of the church board prompted them to switch to English mid-meeting, according to the minutes.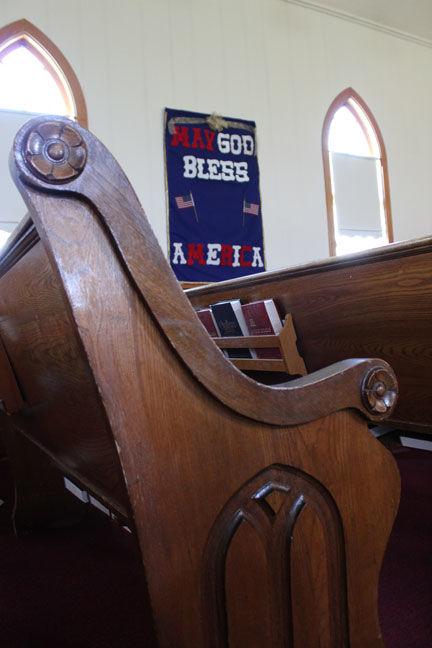 It was Lutheran for a while and since the late 1990s, it has been the nondenominational Lowry Pilgrim Community Church.
When the congregation first organized, services were held at the home of Jacob Bieber, who eventually donated the property for the church building. It was built in 1910 for $2,000, and much of the labor was done by church members. The church cemetery is out of town, on the road to Lyle and Garnet's Rock Hills Ranch.
Lyle fondly remembers attending vacation Bible school and enjoying recess by fishing in the creek behind the church.
Eighth grade confirmation has long been a big milestone for the church members, and mission Sunday is another tradition that carries on each fall. The church supports missionary efforts in Budapest, Hungary and the Trails End Ranch youth camp in Montana.
In the spirit of community, the church holds a potluck on the first Sunday of each month.
"We've got good cooks," Lyle said.
It also provides support for those young families. A Mom-to-Mom meets monthly to encourage mothers of preschool-aged kids.
About 12 families attend today, drawing 30 or so people to Sunday services. About half of them are young kids.
Calvin Huber remembers the church in darker days from his youth. In the early 1930s, a swarm of Mormon crickets invaded the area.
"It was like an army," he said. "We came out of church one morning and they were on the move."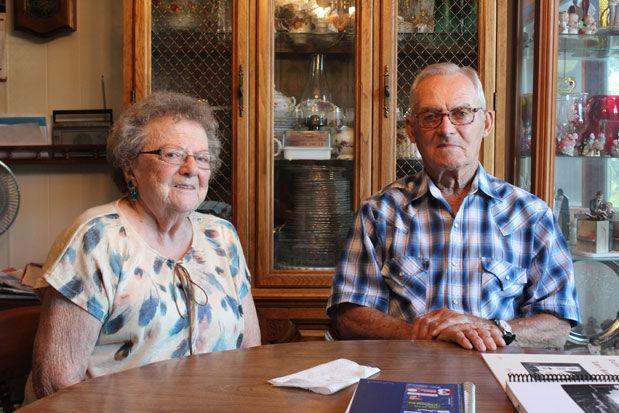 World War II brought emotional, trying times, as well. Five or six church members went to war, Calvin estimated. Not knowing how the war would turn out, the church held revival meetings and people would pray on their knees for a favorable outcome. It was traumatic for the young men, Calvin said, but the church was a comfort.
"We're very fortunate to have an upbringing like that," he said.
The Hubers are a musical family. Calvin and Marcella were part of a mixed quartet with Calvin's brother, Mel. Their daughter directed band, and now a granddaughter is following in her footsteps. Calvin remembers having to keep his enthusiasm in check when singing hymns.
"You didn't want to get too peppy in church," he said.
Music was important from early on. Marcella's dad would pick up her and her sister in Gettysburg so they could be home for choir practice Friday nights. No baseball or football games for them.
Garnet remembers decades ago when the members would spontaneously break out in song as people were coming to church. They'd sing an eight-part harmony in German.
"It was just beautiful," she said.
The congregation occasionally sings German hymns today, as a nod to the ancestors that founded the lively little church in Lowry.
Prayers on the Prairie is a regular feature of the Tri-State Neighbor, taking the place of the Crop Watchers report during the winter season. If you have a suggestion for a rural church to feature here, contact editor Janelle Atyeo at jatyeo@tristateneighbor.com.